Cast of homeless people wows opera lovers during two-week residency in Covent Garden
A charity, inspired by the disparaging words of a Tory MP, is changing lives through classical singing
Kitty Knowles
Wednesday 11 June 2014 17:35 Comments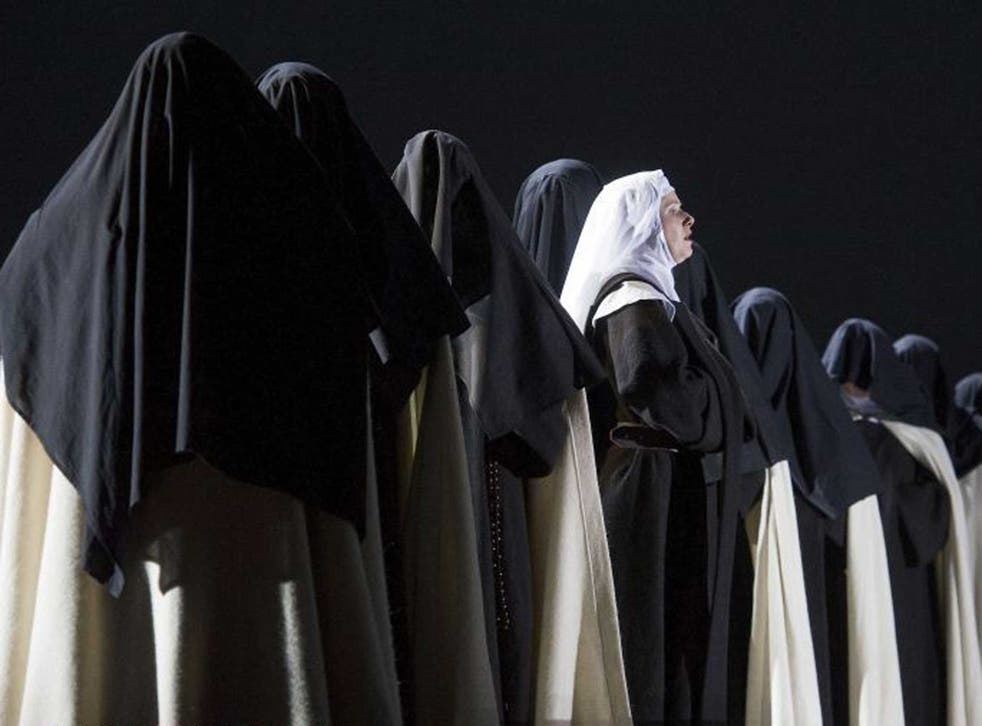 Sir George Young, the Tory MP who once said the homeless were "the people you step over coming out of the Opera House", could not have been more wrong.
On Wednesday, homeless and ex-homeless performers will take their final bow on the main stage of the Royal Opera House after a successful run of Francis Poulenc's Dialogues des Carmélites. Sir George's remarks, no thanks to him, will have changed many lives for the better.
Members of the Streetwise Opera charity have performed beside long-term unemployed Londoners, students from the Central School of Speech and Drama, and ex-prisoners from the Synergy Theatre Project during a two-week residency at Covent Garden. "When you have been invisible and then you stand up and people look at you with respect and love, it's a very powerful feeling" said Germaine, a member of Streetwise Opera.
The 60-year-old joined the group four years ago after being cast out from her family home with her partner. "We felt quite abandoned," she says. "My husband, who has since died, was on the streets and I was sofa-surfing. It was the lowest ebb of our life." She has now found accommodation in Lambeth, south London, and said that attending Streetwise made her feel empowered. "When I'm on stage I sometimes think 'you all used to spit and laugh at me'," she says. "But now, when I look at where I am, I have a sense of pride – that feel-good factor."
Matt Peacock first assembled Streetwise Opera 14 years ago after discussing Sir George's comments with residents at The Passage homeless shelter in Victoria, London. "One of the residents read out that quote from a newspaper and it got everyone chatting," he says. "Some thought it was a typical view – looking down upon homeless people – but when we saw it, we thought it was an opportunity to change people's attitudes."
Streetwise Opera now tours the UK and has performed in theatres such as the Almeida in north London and the Sage Gateshead. According to Mr Peacock, simply engaging with a new activity can help people who have been homeless restore their dignity and purpose.
Tyrone Paul, 37, became a member of the Dialogues des Carmélites cast through the London-based Synergy Theatre Project. The east Londoner, who served five years in prison after becoming embroiled in a fight, said that opera has given him a new emotional outlet and a clean slate.
"The audience also has no idea about my history, they accept me as a performer, the same as the professionals next to me," he says. "It's exhilarating, as soon as curtain goes up, I just become a part of it."
Robert Carsen's production of Dialogues des Carmélites is set to music conducted by Sir Simon Rattle, and depicts the violent upheaval of the French Revolution. A spokesperson for the Opera House said: "Dialogues des Carmélites is a powerful story, made more raw by such a stripped back mass of people. The performers showed huge commitment to the work they were doing – many people have left the auditorium in tears."
Register for free to continue reading
Registration is a free and easy way to support our truly independent journalism
By registering, you will also enjoy limited access to Premium articles, exclusive newsletters, commenting, and virtual events with our leading journalists
Already have an account? sign in
Join our new commenting forum
Join thought-provoking conversations, follow other Independent readers and see their replies