Die Frau ohne Schatten, opera review: An ideal cast make for a breath-taking performance
Royal Opera House, London
Michael Church
Saturday 15 March 2014 20:38 Comments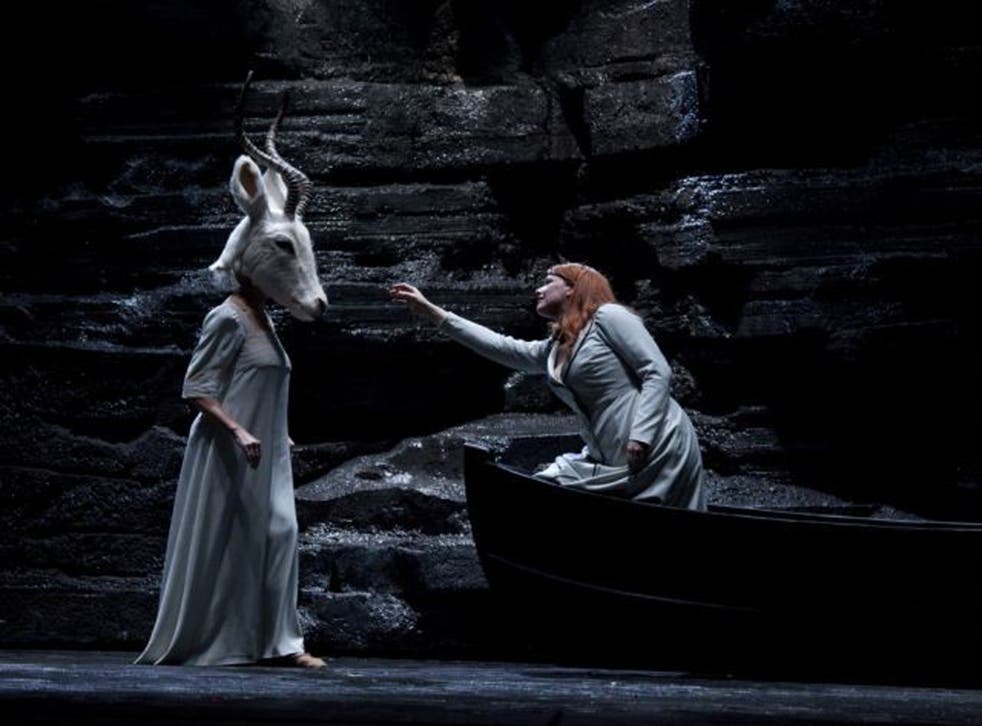 Richard Strauss called Die Frau ohne Schatten his 'problem child', but only because he lavished such care on it. He and his librettist Hugo von Hofmannsthal spent six years honing the psychological and dramatic elements in this masterpiece of symbolist opera.
Their idea of a shadow opens up philosophical realms far beyond its literal sense in the action. The Empress is trapped in a split identity, half spirit and half human, and has no 'shadow', meaning she's infertile: according to the law of her Spirit World, if she doesn't conceive, her human husband will be turned to stone. In pursuit of a shadow to liberate the man she loves, the Empress, accompanied by her evil Nurse, visits the human world where they find Barak the dyer and his shrewish wife – childless because she refuses him intercourse – and they bribe her to sell her shadow. Realising at the last moment that this would destroy Barak's hopes of paternity, the Empress pulls back: this moment of empathy signifies that she has become human.
Echoes of The Magic Flute come thick and fast, with a magical ordeal triumphantly undergone, and climactic enlightenment taking place in a temple with the future beckoning like a golden river; in both works a high-born couple and a low-born one resolve their problems in an act of communal redemption.
The libretto is very specific about the gaudiness of the dyer's atelier and about the grand transformations which the audience should see. David Hockney, designing Covent Garden's previous production, took this as his cue for a majestic explosion of colour, turning Barak's lair into an Aladdin's cave and the river into a molten torrent.
Director Claus Guth and his designer Christian Schmidt draw inspiration from the symbolism itself – after all, this is the Vienna of Freud and Jung - to portray the story with Magritte-like clarity as the Empress's therapeutic dream, with the curtain rising on a sanatorium where she lies sick and hallucinating. The humanoid creatures she conjures up – most notably her husband's falcon and the gazelle in whose form she had been captured for matrimony – enact a hieratic drama which a giant revolve shifts between worlds of thought and feeling. The Empress and the Wife are here presented as twins, sometimes even finishing each other's phrases. It's an ingenious conception, if also a pleasurably mystifying one, and the cumulative effect is richly suggestive.
With an ideal cast, and with the great Semyon Bychkov in the pit, we get a breath-taking performance. Johann Reuter's Barak grounds everything with the generous warmth of his sound, Johan Botha gives the Emperor's arias a compelling sweetness, and the voices of the unborn children ring out like a prophecy. Michaela Schuster's sulphurous Nurse makes an ideal foil to Emily Magee's Empress and to Elena Pankratova's Wife: these three performers play off each other to intensely dramatic effect. From the clarinet's menacing threats to the earth-shaking orchestral power of the denouement, Strauss's musical spell holds us enthralled from start to finish.
Register for free to continue reading
Registration is a free and easy way to support our truly independent journalism
By registering, you will also enjoy limited access to Premium articles, exclusive newsletters, commenting, and virtual events with our leading journalists
Already have an account? sign in
Join our new commenting forum
Join thought-provoking conversations, follow other Independent readers and see their replies