History is made as premiere of Beethoven's sublime lost hymn shows him in a new light
Choral piece was found in a handmade sketchbook belonging to the composer
Paul Vallely
Friday 26 October 2012 00:02 Comments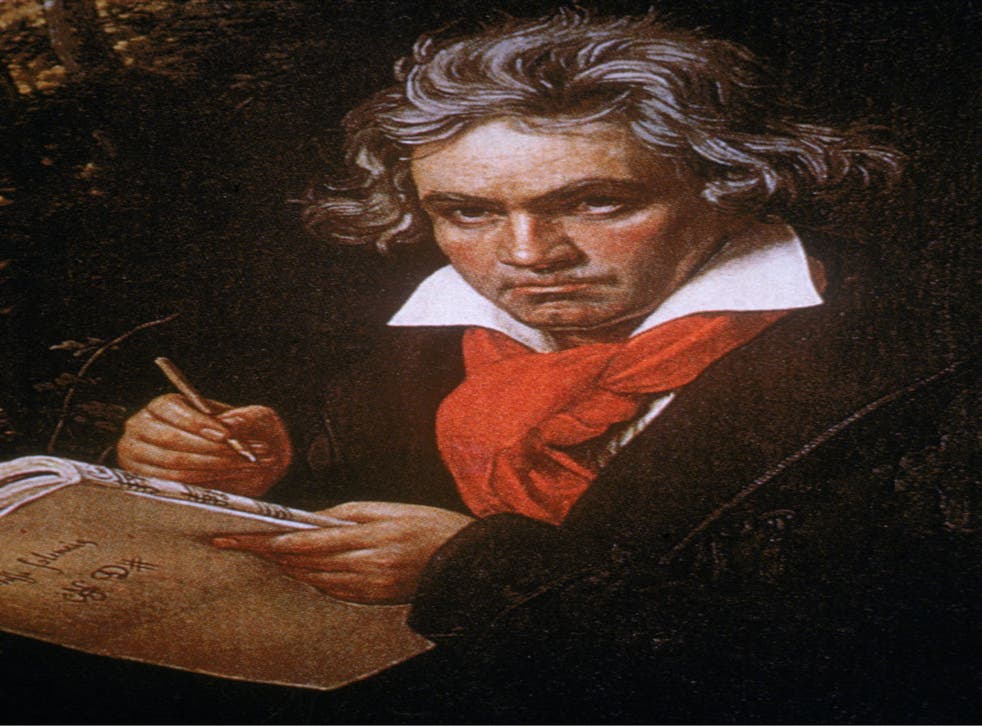 The premiere Ludwig van Beethoven had in mind should have taken place in the Gothic splendour of Olmütz Cathedral. But the first known performance of his newly uncovered setting of a piece of plainchant took place in a modern, pine-clad lecture theatre in Manchester yesterday.
The great composer is thought to have written the work for his patron, Archduke Rudolf of Austria, on the occasion of the Hapsburg prince's enthronement in 1820 as Archbishop of Olmütz in Moravia, in what is now the Czech Republic.
The piece – believed to be a setting of the "Tantum Ergo" by the mediaeval saint and scholar Thomas Aquinas – was unearthed recently by Professor Barry Cooper, of Manchester University's music department. One of the world's leading experts on Beethoven, he was looking through a handmade sketchbook belonging to the composer which is lodged in the Berlin State Library. Yesterday's performance revealed a stately, reverential, almost funereal setting of the fifth verse of the Gregorian plainchant "Pange Lingua".
The choir of 10 students, accompanied on a portable organ, unveiled a work of simple yet sublime chordal nobility quite unlike what the audience might have expected. "I was very surprised when I found this," Professor Cooper said. "I didn't think he'd written anything like this. If I hadn't seen it in his own handwriting I wouldn't have believed it was by him." The harmonisation of the ancient tune is simple, though Beethoven has added chromatic ornamentation to the plainchant line.
"Beethoven did not scorn simplicity," Professor Cooper said. "Not many people realise he set 179 folk tunes – more than anything else he ever did."
The slow choral style of the piece echoes his later 1825 masterpiece, the Opus 132 string quartet, but apart from this new piece there is no known setting of a hymn by Beethoven, who died in 1827. The sense of history was tangible in the university hall yesterday as the choir performed the piece – which lasted no more than two minutes – three times, once at the faster speed at which plainchant is sung today, and twice as the slow heavier devotional pace at which Beethoven's contemporaries would have heard it.
"There's lots of stuff in the 1,000 pages of Beethoven sketches waiting to be discovered," Professor Cooper said. "I'll keep on looking anyway."
Register for free to continue reading
Registration is a free and easy way to support our truly independent journalism
By registering, you will also enjoy limited access to Premium articles, exclusive newsletters, commenting, and virtual events with our leading journalists
Already have an account? sign in
Join our new commenting forum
Join thought-provoking conversations, follow other Independent readers and see their replies