I'm going it alone: celebrated musical duo Claudio Abbado and Hélène Grimaud split over solo
The dispute appears to have been over the choice of a cadenza in a Mozart piano concerto they were to record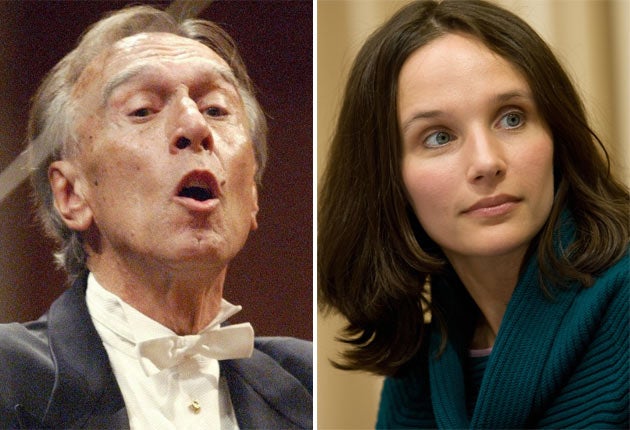 It was supposed to be a dream collaboration: a series of rare performances featuring the world's greatest conductor and a globally celebrated pianist, coming together for four concerts in London and Switzerland and appearing in a forthcoming record release. But after an artistic bust-up, the pair are now "taking a break from each other", resulting in the scrapping of their joint plans.
The conductor Claudio Abbado, considered by many to be the best in his field, and the pianist Hélène Grimaud, an intense but popular French musician, have pulled out of a forthcoming recording by the Deutsche Grammophon label that was due to be released this autumn.
Abbado has dropped Grimaud from appearing as a piano soloist with his celebrated Lucerne Festival Orchestra at an October concert at London's Royal Festival Hall, leaving 2,500 fans who have paid up to £85 a ticket disappointed. It was announced yesterday that pianist Dame Mitsuko Uchida will replace Grimaud in London. In addition, Grimaud will no longer appear at three concerts due to take place at Switzerland's Lucerne Festival next week, where she will be replaced by Romanian pianist Radu Lupu.
A statement on the Southbank Centre's website reads: "It is with deep regret that Claudio Abbado and Hélène Grimaud have announced that, due to artistic differences, they will not be able to collaborate as originally planned". The Centre said it had no influence over the decision.
A source close to the recording of a Mozart piano concerto for Deutsche Grammophon said their differences occurred over the choice of cadenza – a passage of music which can involve a soloist playing in a virtuosic style unaccompanied by an orchestra. Grimaud is sometimes criticised for her "hard-hitting" approach to certain pieces. The Independent's review of Grimaud's October appearance at Royal Festival Hall criticised her "over-pedalling" and "strident touch".
"They needed a break from each other," said a source close to the recording project. "It was his project and the decision was he would invite other soloists for the concerts".
The spokeswoman said such concerts were planned "far in advance" and it was unknown whether two musicians would "buzz off each other" or "fall apart". "It's called human nature," she added.
Last year Grimaud axed months of appearances after being diagnosed with cancer. This latest cancellation is not believed to be health related.
"Abbado is very persuasive and a charming man. Even though it is rare, if you have two very strong personalities coming together sometimes this sort of thing happens," said Jeremy Nicholas, a critic for Gramophone magazine.
The Conductor vs The Pianist
Claudio Abbado The 78-year-old conductor has taken leading roles with the London Symphony Orchestra, Chicago Symphony Orchestra, Vienna State Opera and the Berlin Philharmonic. After serious illness he founded the critically-acclaimed Lucerne Festival Orchestra in 2003.
Hélène Grimaud The 41-year-old began playing the piano aged seven. She studied at the celebrated Conservatoire de Paris and has enjoyed a long, if turbulent, career. She suffers from synesthesia – she sees manifestations of sounds and colour – and in 1999 founded a wolf conservation centre in New York.
Join our commenting forum
Join thought-provoking conversations, follow other Independent readers and see their replies