Mediaeval Baebes to tour England's cathedrals amid unease over their 'sexy' image
The singers insist that they aren't a Satanic cult
Adam Sherwin
Monday 07 October 2013 17:40 Comments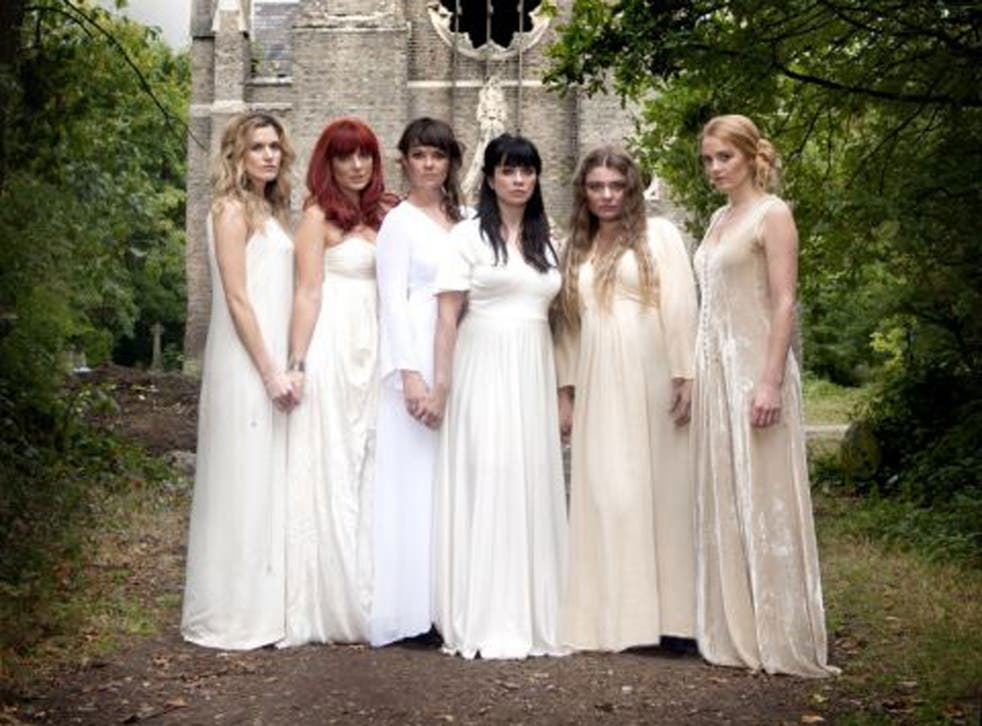 For many, cathedrals provide a retreat for quiet prayer and contemplation. But that is set to change when Medieval Baebes, the all-female "pagan" singing group, notorious for bringing sex appeal to Madrigals, take over England's most sacred halls of worship.
The Baebes, a six-strong vocal group, who perform 13th century devotional songs and poetry in Latin, Middle English and medieval German, bedecked in diaphanous robes, will deliver their unique take on traditional Christmas carols during a Winter tour of cathedrals.
Booking the Baebes is the latest attempt by Britain's cathedrals to capitalise on an attendance boom. The number of people visiting each week has soared by 35 per cent over the past decade, according to Church of England figures. Cathedrals which have made a concerted attempt to reach out to younger members of the congregation have benefited the most.
However the Baebes, whose tour will include Peterborough, Norwich, Leicester and Gloucester cathedrals, have vowed not to tone down their act. A member of the Ely Cathedral congregation resigned in opposition to a performance by the Baebes, who have not received a universal welcome from the Christian community. At a church performance in Rochester, two vergers stood by the stage ready to rush in and cover the girls up believing they would take all their clothes off.
"They wanted to make sure we didn't perform a striptease," Katharine Blake, the Baebes founder and musical director, told the Independent on Sunday. "At Ely Cathedral they thought we were a Satanic cult."
Their image can be misleading. "Some of the girls have been into paganism over the years but they've never been Satanists," Ms Blake promised. "That's something people get into to spice up their sex lives. What we do is showbiz – medieval style."
The Baebes will perform seasonal staples "Away In A Manger" and "Ding Dong Merrily On High". Accompanied by lutes and hurdy-gurdy, they also promise songs "with a more pagan feel" such as Musa Venit Carmine, an ode to the Maypole's fertility rituals.
The classically-trained Blake, who fronted the cult band Miranda Sex Garden and sang backing vocals for Nick Cave, said the Baebes do not seek to shock on stage. "We have a sexy, playful image. There is a lot of excitement when we are all on stage. I like to dress like a fairy princess. We are a bit of a cult but without a religion attached."
The Baebes' tour begins in November and they hope to be invited to perform a song from their Of Kings And Angels album on The X Factor.
Their tour will only enhance the cathedral boom – according to Cathedral Statistics 2012, weekly attendance across 42 cathedrals grew to 35,800.
Cathedrals are also filling the gaps left by youth centres facing funding cuts. Liverpool Cathedral, the UK's largest, has extended its café offering and attracted more than 200 people to a special youth service it called Night of the Living Dead.
Whilst not all members of Ely Cathedral welcomed the Baebes, the venue still packed more than 700 people into its pews last year by showing the opening night of the Olympics on a big screen.
Register for free to continue reading
Registration is a free and easy way to support our truly independent journalism
By registering, you will also enjoy limited access to Premium articles, exclusive newsletters, commenting, and virtual events with our leading journalists
Already have an account? sign in
Join our new commenting forum
Join thought-provoking conversations, follow other Independent readers and see their replies