Virtuoso's trip destroys priceless Stradivarius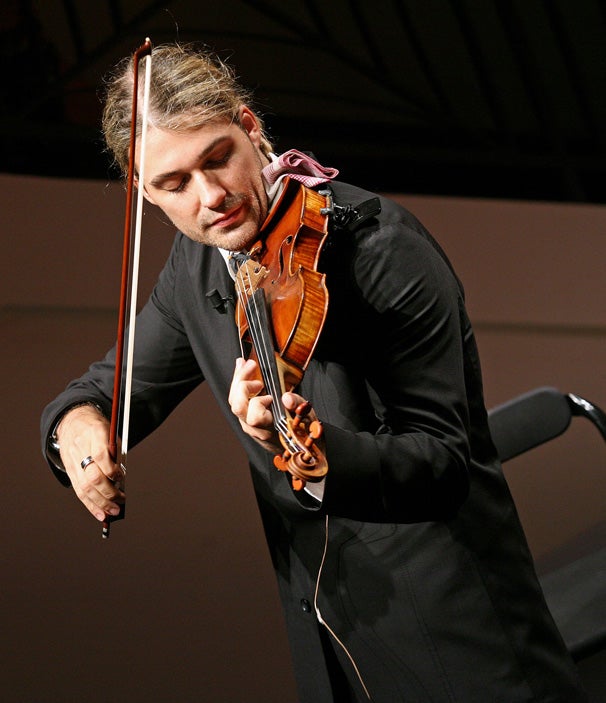 As a former child prodigy blessed with chiselled good looks, they called him the David Beckham of the classical violin. Now he is more likely to be known as the lad with the broken Strad.
David Garrett, 26, one of the nation's foremost young concert performers, had an accident that every world-class musician must dread: at the end of a concert at the Barbican he tripped and landed on his violin.
The instrument is a 290-year-old Stradivarius, so rare that it would be almost impossible to estimate its value. Certainly there are people who would have gladly paid hundreds of thousands of pounds for it, before its glamorous owner did a turn as Mr Bean.
Now he has a badly damaged violin that will be out of use for at least eight months, and may never sound the same again. He is also facing a £60,000 repair bill.
The accident threatened to leave the musician without a suitable instrument to play tomorrow night, when he is due back at the Barbican to perform Bruch's Violin Concerto. But help has come from J&A Beare, the violin dealers of Marylebone, who have arranged to have another Stradivarius flown in from Milan to be loaned to Garrett. The instrument, made in 1718, will be accompanied by a three-man security team watching over Garrett's every step.
When he was just 14 years old, the German-born prodigy was the youngest ever artist to be signed up by Deutsche Grammophon. At the age of four his father gave him a violin, and by the age of eight, he had a management team and was playing solo with of the world's leading orchestras. Later, he moved to New York to study, supplementing his student grant by modelling.
"I was all packed up and ready to go when I slipped," Garrett told the Evening Standard. "People said it was as if I'd trodden on a banana skin. I fell down a flight of steps and on to the case. When I opened it, the violin was in pieces. I couldn't speak and I couldn't get up. I didn't even know if I was hurt – I didn't care. I've had that violin for eight years. It was like losing a friend."
The violin, known by its sobriquet San Lorenzo, is one of about 600 surviving instruments made by Antonio Stradivari. In May 2006, the Hammer Stradivarius made in 1707 sold at Christie's in New York for £1.8m, a record for a musical instrument at auction, while the previous year the Royal Academy of Music bought the Viotti violin for £3.5m.
The nearest another musician has come to suffering a similar disaster was when Peter Stumpf, a performer from the Los Angeles Philharmonic, came home tired one evening in 2004 and absent-mindedly left his 1684 Stradivarius cello on his front doorstep. Video security footage showed a youth stealing it and struggling to escape on a bicycle, crashing into dustbins on his way.
It was found three days later by a nurse, who gave it to her boyfriend, a carpenter, who offered to turn it into a CD rack. It was returned only slightly damaged.
In 1999 the world-renowned cellist Yo-Yo Ma left his £1.25m 1733 Stradivarius cello in the boot of a New York taxi. A huge crowd gathered outside his hotel the next day to see it returned in a black police sedan.
Join our commenting forum
Join thought-provoking conversations, follow other Independent readers and see their replies