Present Laughter review, The Old Vic: Andrew Scott shines in glorious, revelatory production
The Sherlock and Fleabag star's performance reconfirms he's a consummate stage actor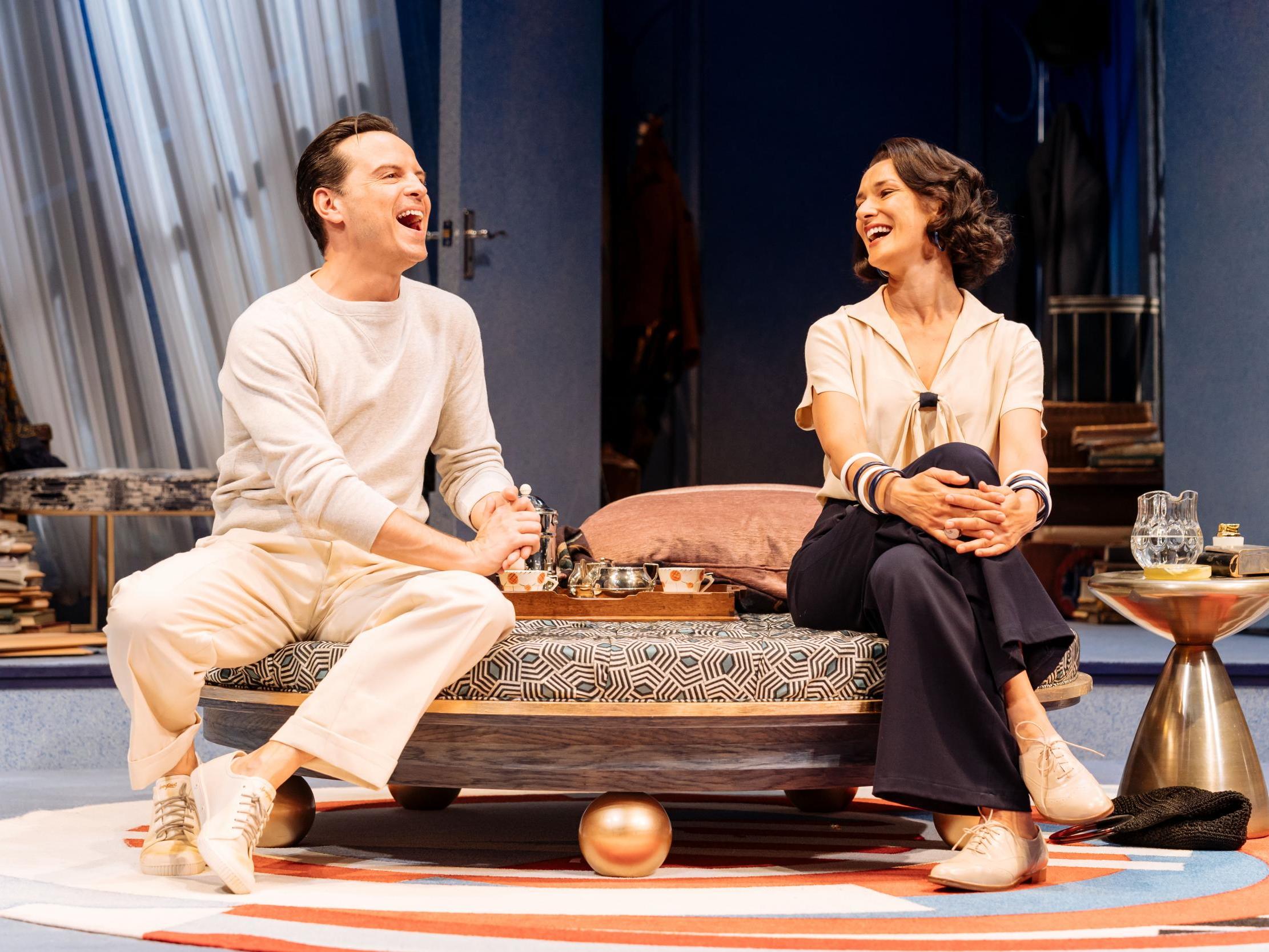 There's an abundance of laughter – present and deliciously incorrect – in Matthew Warchus's glorious revival of semi-autobiographical play Present Laughter by Noel Coward (first produced in 1942). It focuses on a self-involved 41-year-old matinee idol, who finds his reputation for professional discipline undermined by the early stirrings of a midlife crisis.
Playing this clever, economically revealing caricature of Coward's real-life persona is Andrew Scott, best known to the general public for his drolly wicked turns as the priest in Fleabag and as flirty villain Moriarty in Sherlock. This production reconfirms, though, that he is a consummate stage actor. No one can elicit as many colours and tones as he can from operating at the comically frantic end of the psychological spectrum.
Coward wrote the character to provide himself with a whacking star part. And the result was duly lauded. But the author, whose stunning comic timing is immortalised on YouTube, could never have aspired as an actor to Scott's range, which includes Shakespeare, O'Neill, Ibsen, Chekhov, and astonishing feats in new plays by the likes of Mike Bartlett and Simon Stephens. A revelatory production can often mean a heavy one, but here it all unfolds in an appealingly giddy spirit. Until Warchus disclosed it in a lovely, warm programme note, I had simply never noticed that the surname of our hero, Garry Essendine, is an anagram of "neediness".
Coward's comedy asks us to wonder: who needs whom most – the sun or the planets that orbit it? Garry's ego is supported by an entourage of long-suffering devotees, headed by his secretary Monica, played by the blissfully funny Sophie Thompson. The character is resigned to the fact that a large part of her job is damage limitation, and Thompson beautifully suggests that Monica loves Garry dearly, and that her little tart comments are a way of keeping resilient. "[Garry]'ll be getting fat and flabby if he's not careful," says one of the other devotees. "I wish to God he would," is Monica's heartfelt comment.
40 of the greatest plays ever written
Show all 40
You know exactly what she means. This production is forthright about what is communicated only in code in the original: Garry likes going to bed with men as well as women. One of the remarkable things about Scott's performance is that it starts off in groggily gale-force diva fashion (his Garry emerges from slumber wearing the scant remnants of a pirate costume he must have partied in the night before) and nonetheless manages to find light, shade and contradiction in the character – however high our hero gets on histrionics.
Scott excels in those moments where Garry, who is forever trying to sculpt his hair into a shape that roughly suggests respectability, is caught out by his devious double standards. For example: arms forked upwards in operatic rebuke at the ingratitude and slipping standards of his court, he suddenly espies and surreptitiously pockets the giveaway car keys of the man he most recently bedded.
The performances are superb across the board, and I have never seen the careering farce-momentum that the piece develops played with a lovelier disciplined abandon. Indira Varma captures just the right note of bitter, almost unscrupulous, protectiveness of her ex-husband.
Best of all is Luke Thallon's sublimely funny take on Roland Maule. He's the dowdy, talentless would-be playwright who travels from Uckfield to petition Garry. Roland is supposed to represent the callow complacencies of the New Wave theatre of ideas. The joke is that he suffers a Damascene conversion from smug superiority to abject fandom; Thallon hilariously suggests a man who is simultaneously close to orgasm and nervous breakdown. Terrific fun; warmly recommended.
To 10 August, oldvictheatre.com. NT Live in cinemas 28 November
Join our commenting forum
Join thought-provoking conversations, follow other Independent readers and see their replies