Ariadne auf Naxos, Glyndebourne Festival Opera, review: Strauss's masterpiece emerges mysterious and suggestive
Katharina Thoma's original production of Richard Strauss's late-Romantic opera explores high and low art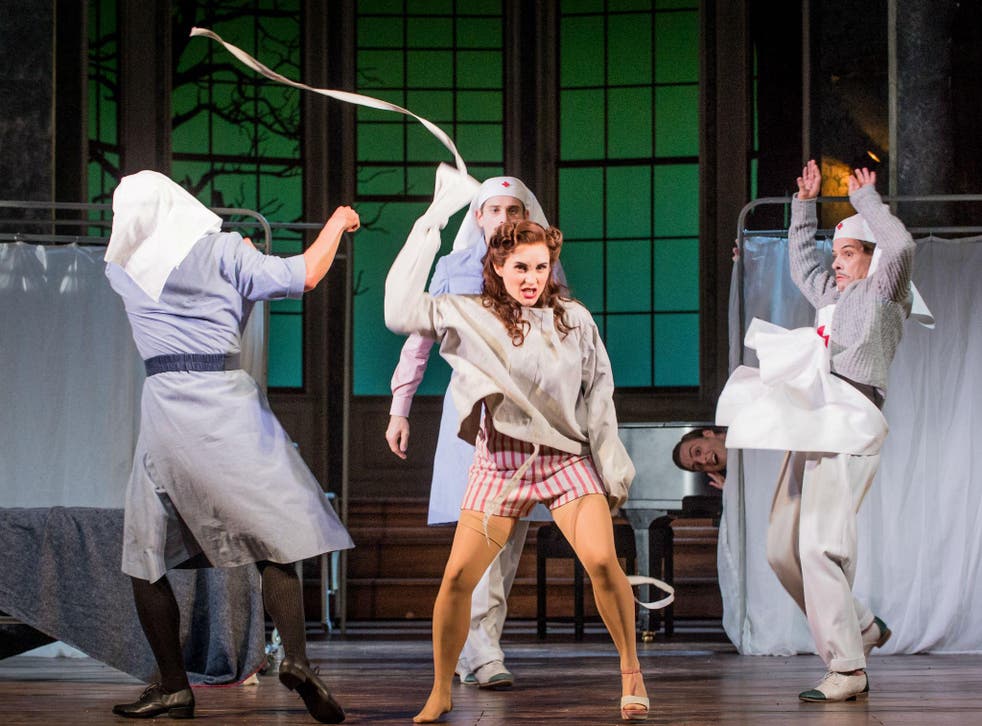 Katharina Thoma's production of Strauss's Ariadne auf Naxos harnesses a fascinating strand of social history. In 1940, with opera off the menu, Glyndebourne became a reception centre for evacuee children. Thoma has slightly altered this function to make it a hospital for casualties of the Battle of Britain, and that is now the work's framing device.
In the original libretto two simultaneous competing 'operas' – one high tragedy, the other ribald comedy – become entangled: in Thoma's reworking, the debate is about therapy rather than art, and Julia Müer's set becomes a ward with nurses tending the wounded. The comic business – wittily choreographed by Lucy Burge – has the dramatis personae arriving with competing claims on costumes, wigs, and space; every so often a potted palm makes its own exasperated comment by wilting dramatically.
Now in revival, this show works better than ever, but the suggestion by some reviewers that Lise Davidsen sings everyone else off stage is wide of the mark. She may indeed drown AJ Glueckert's Tenor with the Wagnerian sumptuousness of her sound, but otherwise she fits gracefully into an exquisitely balanced ensemble under Cornelius Meister's musical direction. Angela Brower, in her first aria as the Composer, perfectly catches the evanescent beauty of the music's shifting tones and moods, and casts her own spell over the Prologue. Erin Morley's effervescent yet vulnerable Zerbinetta does the same for the Opera, with Hyesang Park mellifluously and mischievously leading a trio of nurses, and four song-and-dance comedians pushing the plot along at a cracking pace. With the inimitable Tom Allen as the Dancing Master, Strauss's masterpiece emerges mysterious and suggestive.
Register for free to continue reading
Registration is a free and easy way to support our truly independent journalism
By registering, you will also enjoy limited access to Premium articles, exclusive newsletters, commenting, and virtual events with our leading journalists
Already have an account? sign in
Register for free to continue reading
Registration is a free and easy way to support our truly independent journalism
By registering, you will also enjoy limited access to Premium articles, exclusive newsletters, commenting, and virtual events with our leading journalists
Already have an account? sign in
Join our new commenting forum
Join thought-provoking conversations, follow other Independent readers and see their replies