Classical review: I gioielli della Madonna - Incest and insanity... what an Italian job!
The first British staging since 1926 of Ermanno Wolf-Ferrari's mafiosi opera takes the crown for lurid incident and spectacle
Anna Picard
Saturday 27 July 2013 18:38 Comments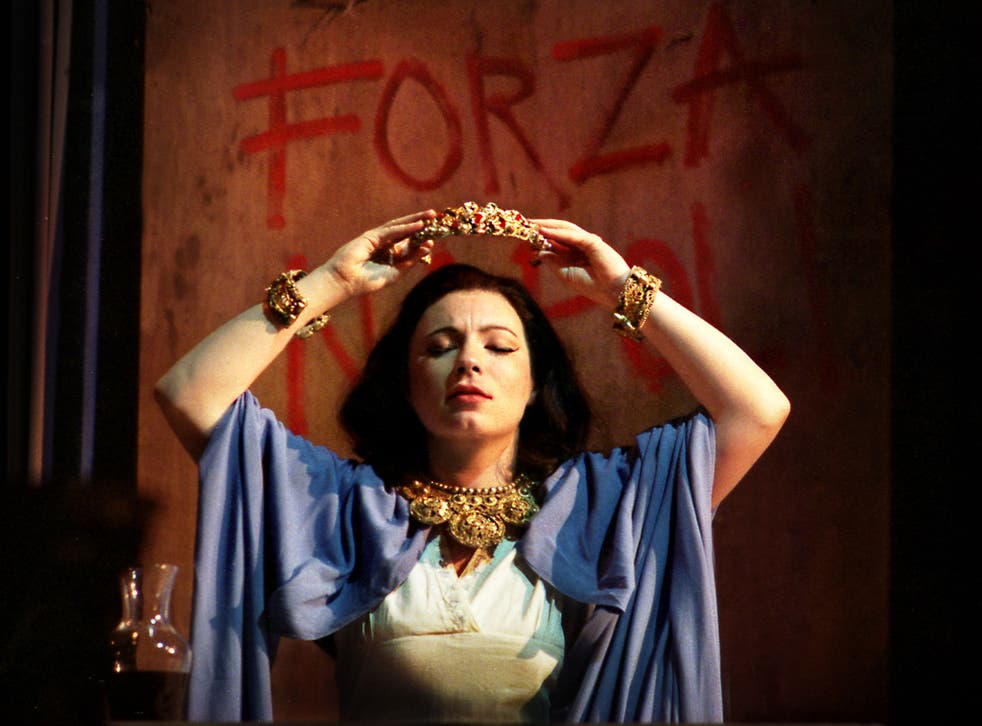 In The Promenade Ticket: A Lay Record of Concert-Going (1914), Arthur Hugh Sidgwick defines the intermezzo as "an interlude between the religious rejoicings which always begin an Italian opera, and the double-murder and suicide which generally end it". Ermanno Wolf-Ferrari's lurid Neapolitan tragedy I gioielli della Madonna lacks the traditional verismo double-murder but compensates with two intermezzi, dancing mafiosi, a profusion of on-stage bands and off-stage choruses, a jewel heist, semi-incestuous sex, a brace of suicides and a feast day procession in which street cries, dance and plainsong scorch the ears.
Like its German-Venetian composer, the opera is a hybrid. For every honeyed Italianate melody from the violins or touristic tarantella for the accordion, there is a smear of Salome-esque violence from the trombones or a sheen of Wagnerian profundity from the divisi cellos and violas.
The tarantella is key to this sweaty tangle of sacred and profane compulsions. In Martin Lloyd Evans's production, the first in Britain since 1926, the question is less one of how to use Opera Holland Park's wide stage than whether the stage can accommodate I gioielli. Jamie Vartan's set of scuffed walls, faded graffiti, food stalls and religious iconography is the backdrop for a Visconti-style passeggiata of flirting girls, matrons, children and an enthusiastic exhibitionist (Luis Gomes).
With a chorus of 70 and the City of London Sinfonia expanded to include tubular bells, extra brass and a pitipu under Peter Robinson's unflappable beat, the sound and spectacle of the procession of the jewelled Madonna leaves you gasping.
"I want craziness! Death to all men who stop me!" sings Maliella (Natalya Romaniw), the illegitimate urchin raised by devout Carmela (Diana Montague) as an act of gratitude for the Blessed Virgin's intercession when her infant son was ill. That son, the blacksmith Gennaro (Joel Montero), is now hot with unrequited lust for his foster sister. Hence it is he, not the swaggering camorrista Rafaele (Olafur Sigurdarson), who steals the jewels and deflowers the delirious Maliella. A ferocious performance from Romaniw sets the seal on a novelty that is surely unrepeatable.
Wolf-Ferrari may have slipped from the Proms schedule but Wagner prevails. Midway through the season in Sidgwick's diary, one of his six imaginary promenaders grumpily asserts that "scepticism, irreverence, disobedience to parents, lack of discipline, love of cigarettes, football matches and cinematograph entertainments ... are due to the influence of Mr Wagner." If this is true, big tobacco, the Premier League and the BFI will be laughing when Daniel Barenboim's Ring Cycle with the Staatskapelle Berlin – his first in the UK – concludes tonight. Such was the suppleness and transparency of the orchestral playing in Das Rheingold (Prom 14) (Royal Albert Hall, London *****) that the vocal lines carried with clarity and nuance to the Grand Tier – almost, in the cases of Iain Paterson's cool, contained Wotan, Stephan Rügamer's relaxed Loge and Ekaterina Gubanova's elegant Fricka, like lieder. I've had mixed feelings about Barenboim and Wagner, let alone Barenboim conducting Wagner – too much force of personality, too much monumentalism. Here, with the orchestra cast as the gold and the Rhine, I was struck by the delicacy and the steady curve of the narrative arc. Dinky Toy anvils aside, it was simply magical.
Back at Holland Park, another tale of transformations unfolded in Martin Duncan's al fresco staging of Will Todd's Alice's Adventures in Wonderland (****), the company's first commission of a new children's opera. As cast and audience move into Wonderland from the Grimthorpe pet-shop where Fflur Wyn's dreamy Alice first meets James Cleverton's melancholy Rabbit, the 12-piece orchestra slides from blues and show-tune to coloratura and klezmer under Stuart Stratford. Eye-catching designs from Leslie Travers and brilliantly characterised performances make for a toothsome tea-time treat. Watch out for those opposable thumbs.
'I gioielli della Madonna' Wed & Fri; 'Alice's Adventures in Wonderland' to Sat (operahollandpark.com)
Critic's Choice
Daniel Barenboim's BBC Proms Ring Cycle with Staatskapelle Berlin concludes with Götterdämmerung, Royal Albert Hall, London (Sunday). Daniel Harding conducts the Mahler Chamber Orchestra in music by Mozart, Schumann and Sibelius, Royal Albert Hall, London (Tues). Allison Bell, Chris Stark and The Orchestra Project present the world premiere staging of Gerald Barry's La Plus Forte for the London Contemporary Music Festival at Bold Tendencies, Peckham, south London (Thurs).
Register for free to continue reading
Registration is a free and easy way to support our truly independent journalism
By registering, you will also enjoy limited access to Premium articles, exclusive newsletters, commenting, and virtual events with our leading journalists
Already have an account? sign in
Join our new commenting forum
Join thought-provoking conversations, follow other Independent readers and see their replies