Classical review: The Michelangelo Sonnets - the nightclub angel and the janitor
An unusual recital in a haunted former mission hall supplies Shostakovich and Bach with a mop and bucket
Anna Picard
Saturday 06 July 2013 22:23 Comments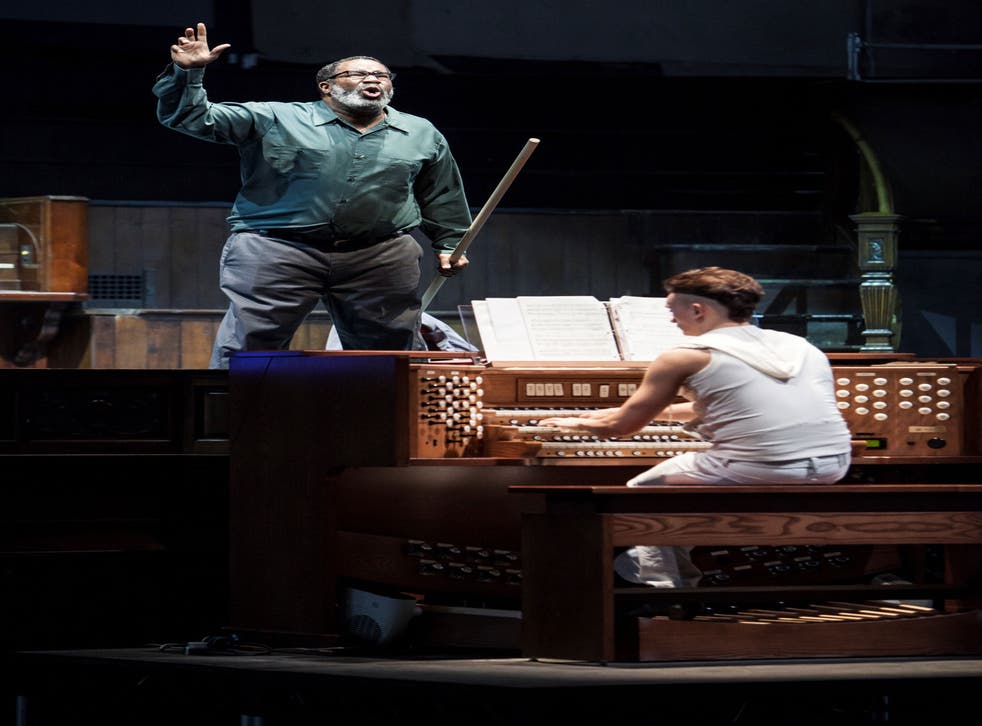 Dmitri Shostakovich was no stranger to decay. Assaulted by cancer, polio and heart disease, he set 11 poems by the Renaissance titan Michelangelo Buonarotti for bass voice and piano in the summer of 1974. The work synthesised the stained glass colours of Mussorgsky and the dying falls of Mahler and bridged the furious anti-death theatre of Shostakovich's own 14th Symphony and the wry goodbye of his Viola Sonata. A year later, the composer was dead.
Peter Sellars' staging of the Michelangelo Sonnets, with Eric Owens and the elfin organist Cameron Carpenter, pairs Shostakovich's songs with Bach's cantata "Ich will den Kreuzstab gerne tragen" in the dusty splendour of Manchester's Albert Hall, unseen for 60 years and now midway through restoration. James Ingalls' lighting scheme is spartan, the props limited to a mop, a bucket, a bin and a dust-sheet, the use of silence between movements provocatively stretched. But for the sequence of still photographs projected on the screen behind the performers – shots of abandoned properties in America's Rust Belt and tender close-ups of Owens' skull, hands, ear, heavy torso and greying beard – we could be intruding on a moment of complete privacy.
Foregrounded on the organ bench, his feet and hands conjuring a strange facsimile of Shostakovich and Bach's instrumentation, Carpenter might be an angel en route to a nightclub, Owens a janitor. Bach believed in an afterlife. Shostakovich did not. What links the two works here is their focus on duty: the ache of physical labour, the carrying of a real or metaphorical cross.
Carpenter is a sensitive musician – almost too sensitive as he glosses the pipe organ's habitual blurt with an artful swirl of stops. As the mop becomes a cross and the dust-sheet is turned into a block of marble and a winding sheet, Owens' voice rings out like that of a preacher, tireless and majestic, heavy as polished oak. The former mission hall's resident poltergeist Reverend Collier, whose ghost was reported to be vexed by the transformation of the downstairs library into a bar, did not disrupt the premiere.
The tragédie lyrique is a thing apart from opera seria, its scalding ricochet from blithe dance to complex recitative closer in tone to Monteverdi than to Handel. Jean-Philippe Rameau was pushing 50 before he wrote his first opera, Hippolyte et Aricie, an example of tragédie lyrique. Along with a tempest and a chain of pretty dances for lovesick shepherds, sailors and boisterous huntsmen, he devised a series of soundworlds for guilt, terror and shame, brilliant and blisteringly dissonant. The furore over his harmonies would last for a decade.
Conducted by the man who restored Rameau to prominence, William Christie, Jonathan Kent's Glyndebourne production focuses on spectacle. The Prologue takes place in a giant fridge (designs by Paul Brown), where Arcadians in white fake fur shiver under the chaste dictates of Diana (Katherine Watson) until Cupid (Ana Quintans) bursts out of an egg to defrost them. Hades is the greasy back of the fridge, the Fates (Mathias Vidal, Aimery Lefèvre, Callum Thorpe) cartoon spiders, provoking laughter in a scene where we should share the horror of Stéphane Degout's Theseus.
In the modular domestic space of Act III, Ed Lyon's handsome, sincere Hippolyte mopes over Christiane Karg's sweet-voiced, earnest Aricie in a teenager's bedroom, while Sarah Connolly's Phaedra prowls below, her singing shapely and idiomatic. For all the fun with a salad crisper and an aquarium, the gawky keening of William Lyons' musette, the sobbing bass violins and fragrant flutes of the Orchestra of the Age of Enlightenment, the athleticism of Ashley Page's choreography, the gore of slaughtered deer and the suavity of the ensemble singing, the electric shock of Rameau's radical harmonies has been lost to cuteness, and a queen's incestuous desire reduced to a hot flush from a Pedro Almodovar film.
Kent has achieved the improbable in making David McVicar's scarlet- spangled Medea for ENO seem restrained by comparison.
'Michelangelo Sonnets' ends tonight (mif.co.uk). 'Hippolyte et Aricie' to 18 Aug (glyndebourne. com)
NEXT WEEK Anna Picard encounters Verdi's Macbeth, in south London
Critic's choice
Rising star Toby Purser conducts Messager's Fortunio in Daniel Slater's production for Grange Park Opera, Northington, Hampshire (Wed and Sat). Violinist Alina Ibragimova and pianist Steven Osborne contrast works by Prokofiev and Arvo Pärt in their City of London Festival recital, Goldsmiths' Hall, London (Tues).
Register for free to continue reading
Registration is a free and easy way to support our truly independent journalism
By registering, you will also enjoy limited access to Premium articles, exclusive newsletters, commenting, and virtual events with our leading journalists
Already have an account? sign in
Join our new commenting forum
Join thought-provoking conversations, follow other Independent readers and see their replies