Die Zauberflöte, Royal Opera House, London, review: It still packs its punch
Julia Jones conducts this production of Mozart's 'The Magic Flute' with Roderick Williams as Papagano who gives his comic all to the role 
Cara Chanteau
Monday 25 September 2017 12:45 Comments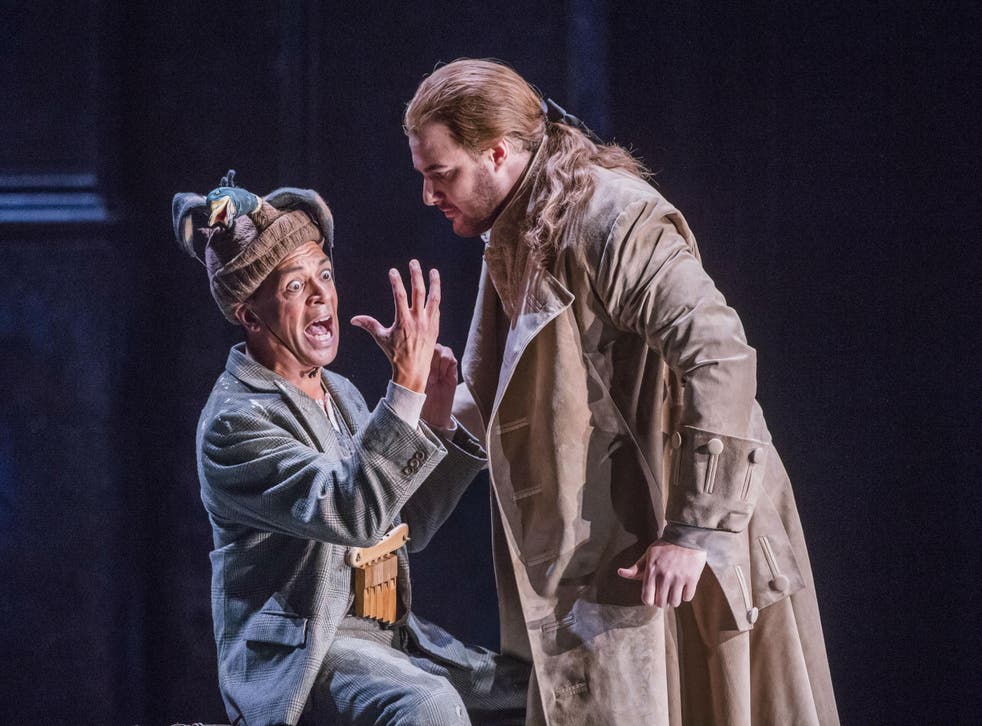 Two contrasting Magic Flutes are treading the boards in London. The first, the traditionalist take on Mozart's magical fable sung by world-class singers in David McVicar's highly popular Royal Opera House production, first seen in 2003, enjoying its sixth revival by Thomas Guthrie under the baton of British conductor Julia Jones, and still conjuring its magic amid John Macfarlane's back marbled Masonic halls replete with orreries and constellated night skies.
The magnificent un-PC-ness of the libretto still packs its punch "Without a man, a woman cannot fulfil her destiny", but this is more than offset by the charmingly ludicrous humour and luminous paeans to Enlightenment values threaded through the score. These are embodied by fine Finnish bass Mika Kares as Sarastro, and the three piercingly sweet-toned boys who guide the young lovers through their travails. Mauro Peter makes a regal Tamino, Siobhan Stagg a suitably vulnerable Pamina, while Roderick Williams gives his comic all to Papagano, and Sabine Deveilhe negotiates the Queen of the Night's stratospheric switchbacks with consummate skill.
A very different kettle of fish is Opera Up Close's Magic Flute, where a hard-working cast of six sing everything to a stripped-down orchestration for four players of piano, double bass, woodwind and guitar (including electric guitar) in an inspired English reimagining by Glyn Maxwell. The setting is a nightclub where Pamina is refused entry by the bouncer while Tamino enters, and the whole opera is recast as the dreams of each when they both repair to bed thereafter. Thus Tamino becomes both Monostatos (bad Tamino) and good Tamino in Pamina's dreams, Sarastro is a vagrant, the Queen of the Night a celeb diva – everything infused with a kind of mad dream logic. Standouts are Peter Braithwaite's Papagano with impressive stage presence, and the several excellent modern-savvy jokes too good to give away.
Register for free to continue reading
Registration is a free and easy way to support our truly independent journalism
By registering, you will also enjoy limited access to Premium articles, exclusive newsletters, commenting, and virtual events with our leading journalists
Already have an account? sign in
Join our new commenting forum
Join thought-provoking conversations, follow other Independent readers and see their replies