Don Pasquale, Royal Opera House review: Distractingly dreamy yet rescued by its performances
Don Pasquale has always invited playfulness, but Damiano Michieletto's take might be an experiment too far, writes Michael Church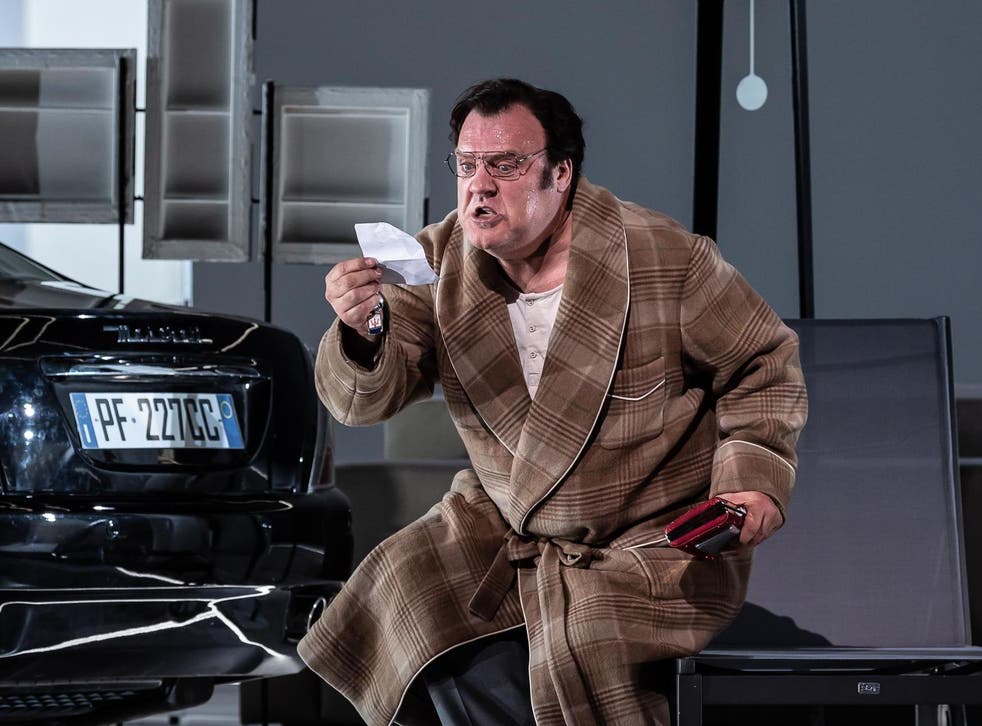 Gaetano Donizetti wanted his late masterpiece Don Pasquale – premiered in Paris in 1843 – to look bang up to date, and throughout its glittering afterlife directors have played fast and loose with its place and period. Recent British productions have included a giant 18th-century dolls' house at Covent Garden, Garsington's elegant Twenties Parisian cafe, and Holland Park's Casa del Fish'n'Chips on a windswept Clacton promenade.
Now we have Damiano Michieletto's Sixties take, in a house with no walls but a surfeit of furniture, and doors that permit Donizetti's games of domestic hide-and-seek. There are just five (plus chorus) in the cast, but Michieletto peoples his stage with dozens of non-singing extras plus puppets galore; Pasquale's silent maid is a sub-plot in herself, so prominently is she woven into the action.
The plot is based on a staple opera buffa idea. Portly old Pasquale decides to marry beautiful young Norina who is in love with his nephew Ernesto, but family friend Dr Malatesta sets up a deception: Norina will indeed marry Pasquale, and will lead him such a dance, as well as impoverishing him with demands for a ruinously expensive makeover of the house, that he will plead to be shot of her, thus allowing the young lovers to wander off happily into the sunset.
Michieletto has given himself licence to time-travel and to dream. For Norina's signature aria – a hymn to her own coquetry – she is transformed into a make-up artist on a fashion shoot, with the stage becoming a giant video screen onto which she is projected in close-up; the same technique is used to project the lovers in their climactic duet. But there are times when Michieletto's tinkerings are simply distracting, and we lose that sense of a claustrophobic world that is essential to the comedy. And it's a very mean comedy: Pasquale is set up for ridicule from the start, with everyone ranged against him. We are expected to enjoy his protracted humiliation, and even – in Michieletto's gratuitously sadistic final touch – his eventual confinement to a wheelchair. Ho bloody ho.
The 27 best opening lines in books

Show all 27
What can be enjoyed are the performances, including that under Evelino Pido in the pit. Ioan Hotea's sweetly sung Ernesto may suffer from slightly wonky intonation, but Markus Werba's Malatesta is smartly on-the-button throughout, and Olga Peretyatko's Norina offers a fine blend of vocal beauty and comic timing. Bryn Terfel's Pasquale – at first stumbling and self-important, then pathetically impotent – is a brilliant creation, more sympathetically imagined than any character he has incarnated thus far in his career.
Register for free to continue reading
Registration is a free and easy way to support our truly independent journalism
By registering, you will also enjoy limited access to Premium articles, exclusive newsletters, commenting, and virtual events with our leading journalists
Already have an account? sign in
Register for free to continue reading
Registration is a free and easy way to support our truly independent journalism
By registering, you will also enjoy limited access to Premium articles, exclusive newsletters, commenting, and virtual events with our leading journalists
Already have an account? sign in
Join our new commenting forum
Join thought-provoking conversations, follow other Independent readers and see their replies