Donnerstag aus Licht at the Royal Festival Hall, review: Few productions have such magnitude and ambition
Lea Trommenschlager, Damien Pass, and Hubert Mayer give heroic performances as mother, father, and son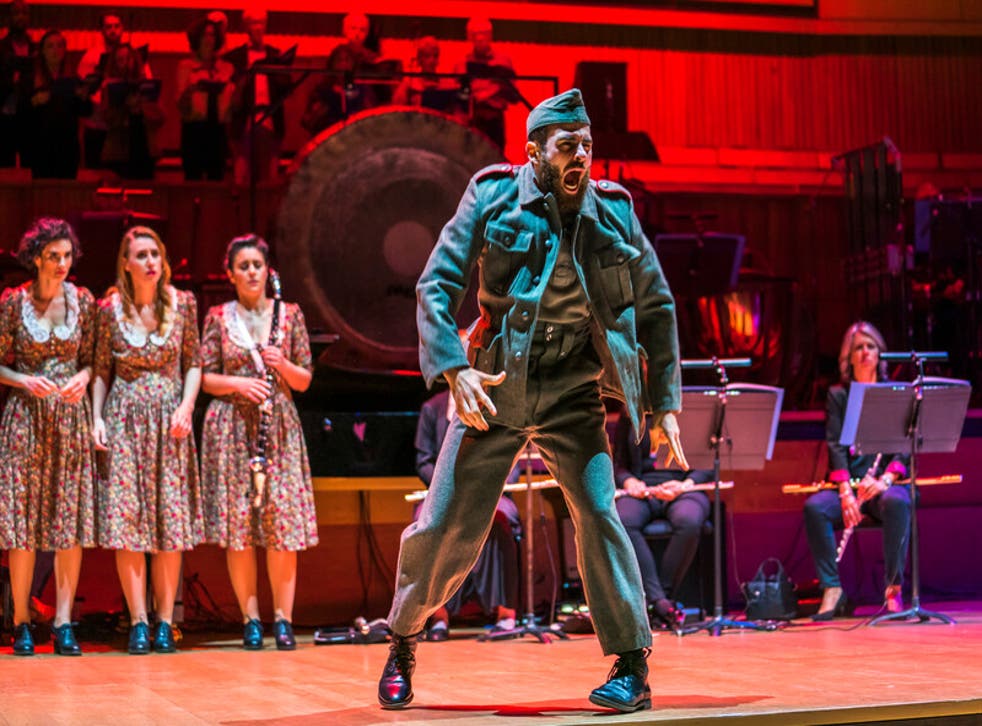 We gather in the foyer for the Greeting – a wind ensemble delivering a sludgy, desultory fanfare: not an auspicious start, but as we're here for the long haul, we dutifully decamp to the main hall, which is plunged in darkness. A boy with a torch creeps out and makes a cautious exploration of the stage, then the lights go up to reveal an ill-assorted couple addressing each other over the head of a tenor who is their little son. Their singing comes by fits and starts, while the air is filled with a soft ambient hum. The mother teaches the boy to sing, the father stands over him like a schoolmaster with a cane, and extols the Nazi Reich. Each character has an instrumentalist behind them – a trumpeter for the son, a trombonist for the father – who holds forth on their behalf.
Welcome to Donnerstag aus Licht, the fourth section of Karlheinz Stockhausen's seven-part magnum opus, which in total lasts 29 hours: we are here for just four and a half. The little family do what families do, but unhappily. The mother's singing becomes plaintively deranged, and white-coated figures drag her away; the father, barking out a song, goes off to war. We realise that this is autobiographical: the composer's mother loved him too intensely, went mad, and was "euthanised" by the Nazis, while his father loved the Nazis, and died for them on the Eastern Front.
40 of the greatest plays ever written

Show all 40
A dancer spins round the stage like a fairy; the original little boy (actually a girl) reappears and enacts a slow and hieratic piece of choreography; a Beardsley-style bird-woman comes on with a basset horn from which she extracts avian chirps, and the son eagerly questions her; the father gets shot and falls, gets shot again and falls again. We remember that the orphaned young composer spent the last days of the Second World War as a medical orderly picking up wounded soldiers and body parts on the battlefield. These are the experiences which we are now seeing surreally refracted through every sonic and theatrical weapon in Stockhausen's arsenal. Gradually, we realise that we are meant to regard the tenor, the trumpeter, and the original little boy as all being facets of a single three-in-one creature.
Act Two stars trumpeter Henri Deléger, who prowls the stage with mutes strapped like grenades round his waist. He uses his instrument like an offensive weapon, felling a tuba which noisily expires like an elephant, and leading other players to follow suit until the stage is covered with defeated instruments; it's all meticulously choreographed.
For Act Three the hall is filled with a confluence of screamingly amplified choruses and instruments, and the combined effect of live music plus recorded, sampled, and electronic sound makes a uniquely invigorating ambience. But here Stockhausen's mysticism kicks in. Paul Griffiths's programme essay tells us, in more detail than we can comfortably absorb, what Stockhausen was wishing to say about music, life, eternity, it all and everything; the Stockhausen aphorisms that are projected suggest that his homemade mumbo-jumbo was as absurd as that of any other religion. For the Farewell we decamp to a riverside terrace, where brass players send a vaguely utopian message out on the air.
The Royal Festival Hall will probably never again host a production with the ambition and magnitude of this one, so plaudits are in order. First to Lea Trommenschlager, Damien Pass, and Hubert Mayer for their heroic performances as mother, father, and son respectively; then to the dancers who hurled themselves fearlessly round the stage; then to the London Sinfonietta, the Royal Academy of Music Manson Ensemble, and Le Balcon amplified orchestra, supported by the New London Chamber Choir, all under the conductor Maxime Pascal and the stage director Benjamin Lazar. Stockhausen, who died peacefully in 2007 with a confident prediction of imminent revolution on his lips, would have been well pleased. He wouldn't have accepted that his lifelong crusade had ended up a blind alley.
The performance is repeated tonight (22 May)
Join our new commenting forum
Join thought-provoking conversations, follow other Independent readers and see their replies