Eugene Onegin, the Wormsley Estate, Garsington Opera, review: 'The close of the drama is riveting'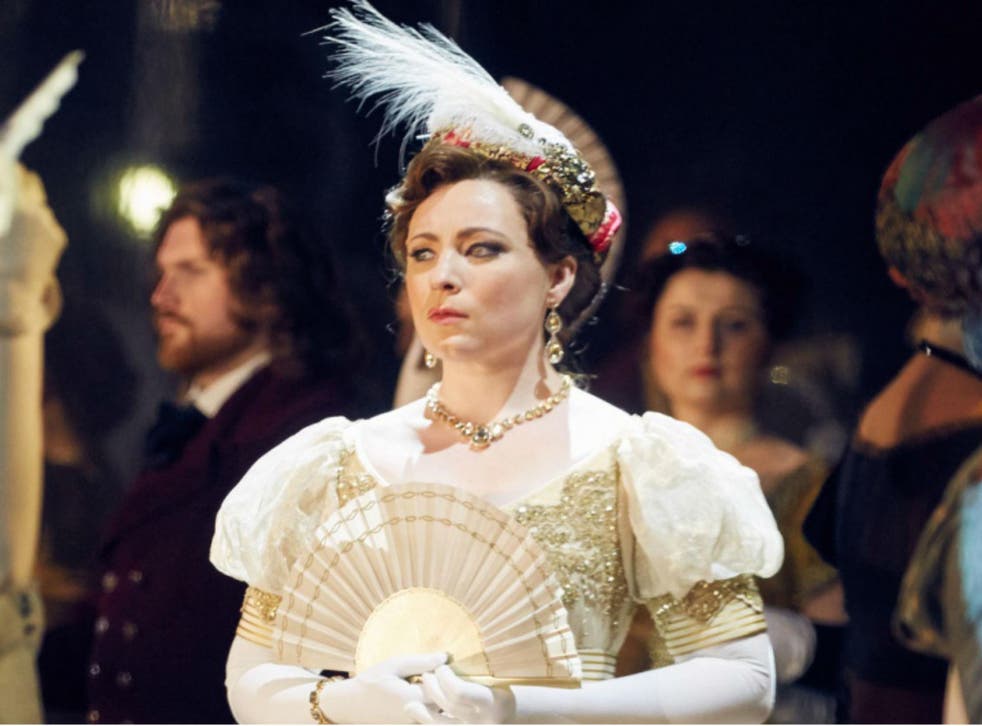 Negatives first. Michael Boyd's production of Tchaikovsky's flawlessly-constructed tragedy takes its cue from Kasper Holten's disastrous Covent Garden take, and pushes further in the wrong direction. Boyd's risen-again Lensky skips so obtrusively about the stage during Onegin's post-duel wanderings that the hero's grief is systematically upstaged, while the chorus is also systematically upstaged by dancers.
Liz Ranken's choreography is not merely ahistorical – mysteriously, her Russian peasants have all learned standard-issue contemporary-dance contortions – it's also grafted onto scene-shifting duties, with unintentionally hilarious results. And at moments when the whole stage should explode in joyful communal movement, imported classical dancers are out front doing showy pliés and arabesques, while the (excellent) chorus labour in the background.
Tom Piper's sets are aggressively spare – huge log-cabin segments wheeled into a variety of positions, with nothing to suggest a teenage bedroom for Tatyana's Letter Scene – while the direction ranges from convincing naturalism (for the duel) to portable-theatre clichés (a human stage-coach with umbrella wheels), and half-cock shots at surrealism (Tatyana suddenly materialising in the rafters). Furthermore, Douglas Boyd's conducting is a trifle coarse-grained.
So why catch this show? For a bubbly Olga (Jurgita Adamonyte), a foppishly tricked-out Triquet (Mark Wilde), and a Filippyevna whose contralto timbre is pure old Russia (Kathleen Wilkinson). Brindley Sherratt's Prince Gremin infuses his aria with a glow which reflects his triumphant, battle-scarred life. Oleksiy Palchykov's Lensky is somewhat under-characterised, but his pre-duel aria has a desperate beauty.
Then we have the principals. Natalya Romaniw may hail from Swansea, but she's the Tatyana of my dreams, with a rare combination of power, richness, and purity of tone. The marathon nocturnal aria in which she pours out her feelings and condenses them into a girlish letter is exquisitely delivered. Meanwhile Roderick Williams might have been born to play Onegin, whose elegant pompousness and arrogant predation gradually dissolve into heartbreak and black despair. Williams' movements have catlike grace, and his sound radiates noble warmth.
The way these singers play off each other at the close of the drama is riveting. Onegin's discovery that he is, at last, in love has searing force, as does Tatyana's admission that she still loves him; their final duet has immense pathos. For them alone, vaut le voyage.
In repertory until July 10. This production will also be screened in rural coastal areas including Skegness, Ramsgate, Burnham-on-sea, and Grimsby. www.garsingtonopera.org
Register for free to continue reading
Registration is a free and easy way to support our truly independent journalism
By registering, you will also enjoy limited access to Premium articles, exclusive newsletters, commenting, and virtual events with our leading journalists
Already have an account? sign in
Register for free to continue reading
Registration is a free and easy way to support our truly independent journalism
By registering, you will also enjoy limited access to Premium articles, exclusive newsletters, commenting, and virtual events with our leading journalists
Already have an account? sign in
Join our new commenting forum
Join thought-provoking conversations, follow other Independent readers and see their replies