Guillaume Tell, Royal Opera House, review: Gang rape and stripping naked of female actor met with boos
I predict some judicious re-direction before the show is broadcast on Radio 3
Michael Church
Wednesday 01 July 2015 15:21 Comments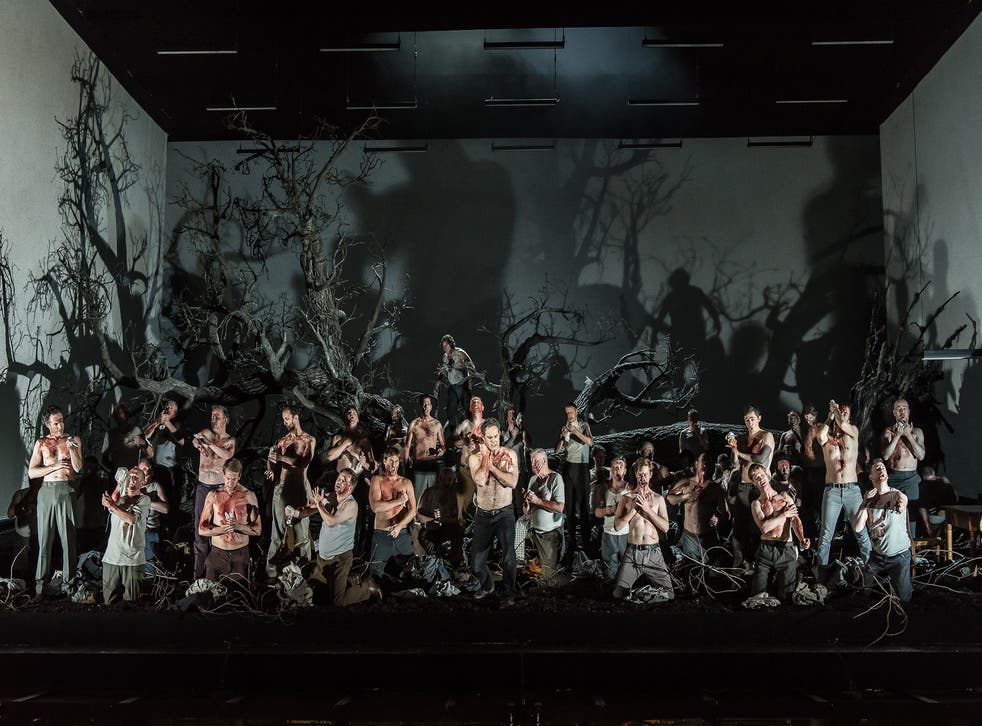 Some directors love to shock, but Damiano Michieletto got more than he bargained for when he staged the slaveringly-protracted stripping-naked of a female actor in a gang-rape chez the evil Gesler in Guillaume Tell.
The scene was one of those familiar standard-issue orgies which opera directors who are short of ideas fall back on when they want to spice up the action during an instrumental interlude, and the political cliché underpinning this one – power corrupts – had already been made ad nauseam. Then came the rape. In a spontaneous response I have never before witnessed at Covent Garden, the auditorium was suddenly swept by a hurricane of booing so loud, so angry, and so unanimous that the music was completely drowned.
This Italian director may have urgent things to say about the abuse of women in wartime but it took the gut reaction of 2,250 ordinary punters to ram home the offensive tastelessness of his depiction. The fact that the staging of the following scene was in itself pretty silly did nothing to help get the show back on track. And the next act contained a scene which seemed no less inappropriate: the mass-bathing of a group of nearly-naked four-year-olds, also laboriously protracted.
Yet there is also much to like in this production, which has allowed Antonio Pappano to see an opera he has long championed brought to the stage. While he shows the orchestral score to be a cornucopia of variegated beauties, the chorus rise splendidly to the challenge of their role as protagonists in this drama of oppression, resistance, and national rebirth. Gerald Finley in the title role finds a wonderfully dark resonance of tone which is offset by John Osborn's delicately inflected melodic line as the patriot Arnold, and by Malin Bystrom's majestic singing as the Austrian princess Mathilde. Meanwhile Sofia Fomina incarnates the boy with the apple on his head with beautifully-observed finesse.
The slowly rotating uprooted tree which dominates Paolo Fantin's symbolic designs permits – with Alessandro Carletti's resourceful lighting - some remarkable coups de theatre: transplanting Rossini's Swiss melodrama to Bosnia works very plausibly.
But the trouble is, this director never knows when to stop: his boldly inventive visual tricks sometimes misfire – the twee medieval archer who skips in and out of the frame gets tiresome - and his piling-on of period references contains so many conflicting allusions that we sometimes don't know whether we are in the mountains of the Valais or on the beach in Sousse. Gesler's paramilitary thugs could have been filmed in Syria yesterday.
This evening of extraordinarily fine music-making is due to be broadcast live on Radio 3 on July 14, but I'll be amazed if there isn't some urgent re-direction before that happens – despite Michieletto's defiant refusal to consider any changes after he faced his curtain call. Full marks to the gutsy Covent Garden audience, for reminding an errant director which way is up.
*
Update from Michael Church, 1 June, 3pm: Since this review was posted there's been a furious internet debate about this staging of a gang-rape (it's odd that Michieletto's long scene of near-naked children being bathed has escaped censure, since that is an even bigger affront to propriety).
But why has nobody thought to mention one of the golden rules of ancient Greek theatre, which held that sex and death should never be shown on stage? The Romans had a word for infractions of that rule – obscenus, meaning 'indecent', 'not be seen', hence our obscene.
And the rule is founded on a timeless truth, which is that suggestion (via reported events) is dramatically more potent than slavish – and in this case, slavering – realism. But of course realism is today's easy, lazy option.
Register for free to continue reading
Registration is a free and easy way to support our truly independent journalism
By registering, you will also enjoy limited access to Premium articles, exclusive newsletters, commenting, and virtual events with our leading journalists
Already have an account? sign in
Join our new commenting forum
Join thought-provoking conversations, follow other Independent readers and see their replies