Idomeneo, Royal Opera House, review: Coarsened by Kusej, but superbly sung
Some of the ideas in this production jar, but the music remains stunning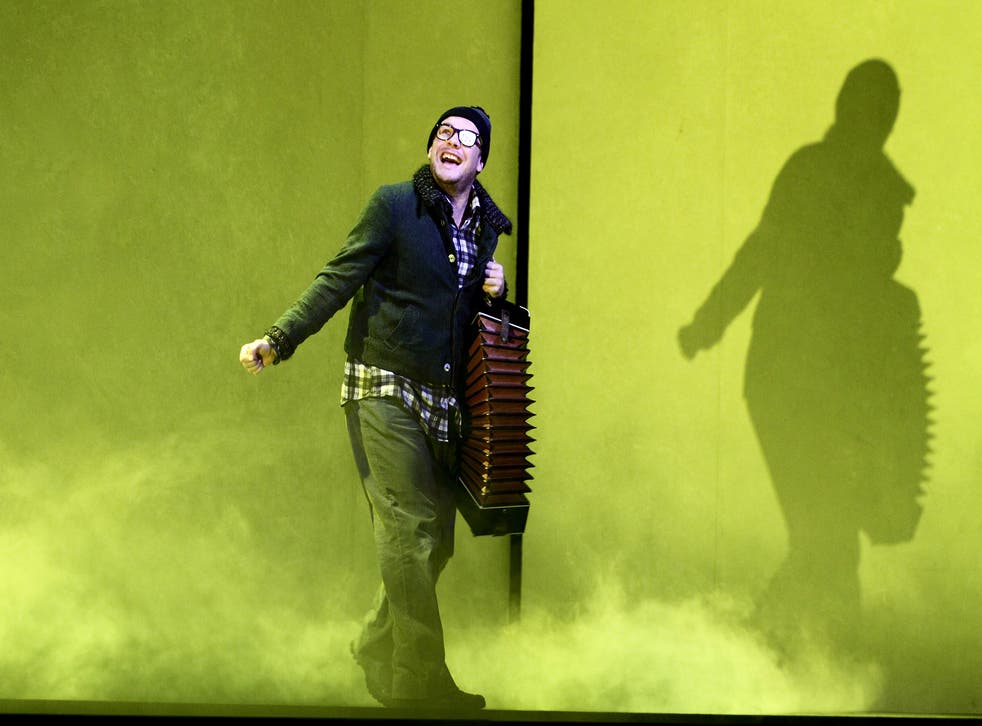 Martin Kusej may replace the religion in Idomeneo with realpolitik, but he imposes some mumbo-jumbo of his own.
The oppressed citizens of Crete find themselves worshipping a life-size rubber shark, rather than Mozart's Neptune, and instead of ending with the conventional ballet we end with a gnomic message projected onto the curtain, followed by a portentous political charade.
Boko Haram is suggested by the gun-toting security guards who re-educate the populace, and there are sundry other failed directorial notions. Kusej also sexes-up the plot, getting Ilia to try to seduce her prospective father-in-law, and Elettra to quasi-rape Idamante as she delivers her ravishing aria 'Idol mio'. No wonder he got first-night boos.
The spirit of the opera is coarsened, but everyone else gets cheered to the rafters, because, with Marc Minkowski presiding in the pit, musically the show is stunning.
Tenors Matthew Polenzani (Idomeneo) and Stanislas de Barbeyrac (Arbace) produce singing of flawless beauty in contrasting timbres, and if countertenor Franco Fagioli's Prince Idamante is too mannered for comfort, and if soprano Sophie Bevan's Princess Ilia is a trifle common, Swedish soprano Malin Bystrom's vengeful Elettra – Cruella de Vil to a T – is vocally and dramatically so electrifying (no other word will do) as to be worth a ticket in herself.
Register for free to continue reading
Registration is a free and easy way to support our truly independent journalism
By registering, you will also enjoy limited access to Premium articles, exclusive newsletters, commenting, and virtual events with our leading journalists
Already have an account? sign in
Register for free to continue reading
Registration is a free and easy way to support our truly independent journalism
By registering, you will also enjoy limited access to Premium articles, exclusive newsletters, commenting, and virtual events with our leading journalists
Already have an account? sign in
Join our new commenting forum
Join thought-provoking conversations, follow other Independent readers and see their replies