Iphigenie en Tauride, Hackney Empire, review: Catherine Carby sails through title role with effortless grace
Director James Conway honours the sublime beauty of Gluck's work splendidly in almost every respect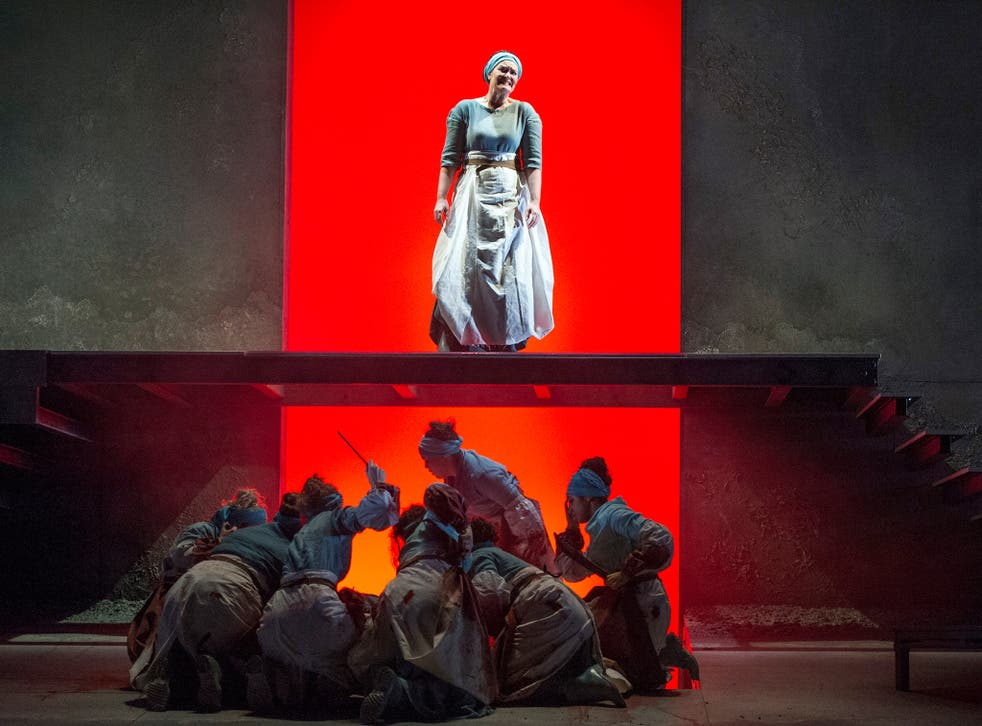 Over the next four months, English Touring Opera will visit every corner of England with a variegated trio of productions, the first of which is a new staging of Gluck's Iphigenie en Tauride under James Conway's direction. And if you want to hear world-class singing, that's what you'll get from mezzo-soprano Catherine Carby in the title role.
The drama tales place on a severe and unchanging rectilinear set, with the characters either perpetrating ferocious violence or forming tableaux suggesting a series of neoclassical French paintings. We don't see the sacrificial victim as priestesses ritually disembowel him during the overture, but the violence is shocking, as it is when Oreste (Grant Doyle) and Pylade (John-Colyn Gyeantey) are tortured by a sansculottish gang prior to their threatened execution: what Conway creates here is chillingly evocative of those Middle-Eastern Youtube videos which sane people now shun like the plague.
There is one controversial reading of the text: Conway believes that the bond between Oreste and Pylade is sexual, rather than chastely heroic, which gives their onstage relationship a very physical immediacy. One can only speculate how Gluck would have reacted to this, but in every other respect the sublime beauty of his work is splendidly honoured. The male and female choruses sing with purity and blazing conviction; Carby sails through her hugely demanding role with seemingly effortless grace.
Register for free to continue reading
Registration is a free and easy way to support our truly independent journalism
By registering, you will also enjoy limited access to Premium articles, exclusive newsletters, commenting, and virtual events with our leading journalists
Already have an account? sign in
Register for free to continue reading
Registration is a free and easy way to support our truly independent journalism
By registering, you will also enjoy limited access to Premium articles, exclusive newsletters, commenting, and virtual events with our leading journalists
Already have an account? sign in
Join our new commenting forum
Join thought-provoking conversations, follow other Independent readers and see their replies