Les Arts Florissants review, Barbican: Impeccable and entrancing
Mezzo-soprano Lea Desandre performs arias like a dove from heaven  
Michael Church
Thursday 12 December 2019 12:35 Comments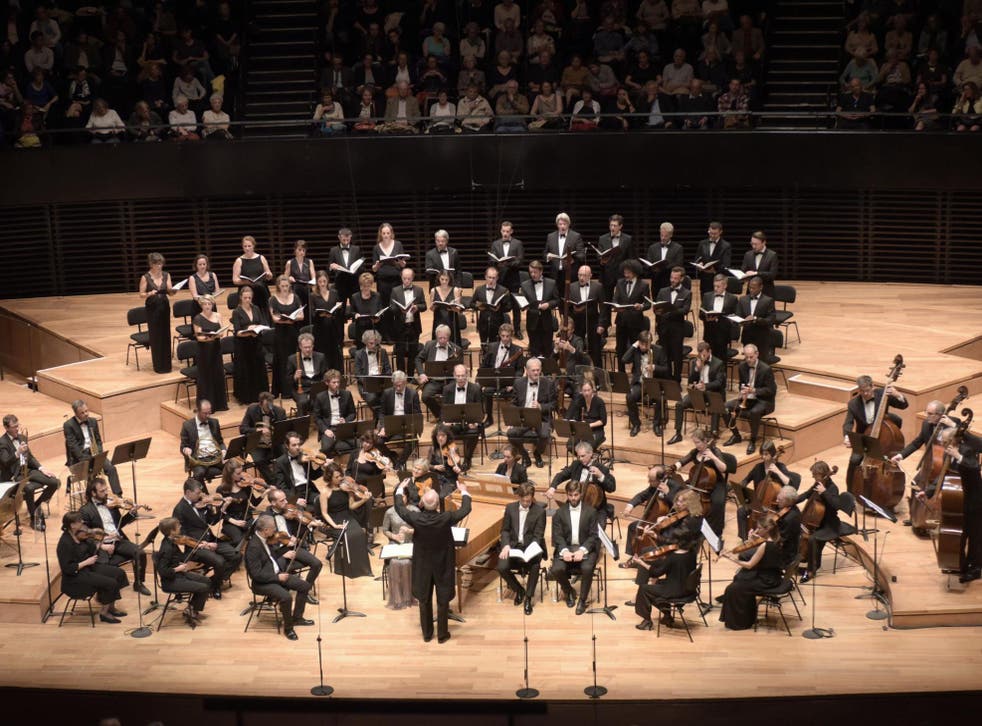 Les Arts Florissants ★★★★★​ / Messiah ★★★★☆​​
There aren't many laughs, the way "historically informed" performance is usually purveyed, so "A Baroque Odyssey: 40 years of Les Arts Florissants" comes as a breath of fresh air. Indeed, William Christie and his ensemble are having loads of fun – possibly more than we are by the end, as the excerpts from Rameau's opera-ballet Les Indes galantes go on into the night, followed by seemingly interminable mutual onstage congratulations.
Well, they do have a lot to congratulate themselves for: they've helped change the face of how Baroque music is performed. This time round their singing and playing is as impeccable as usual, and their array of soloists includes two whom I've not heard before, and can't wait to hear again. Step forward, countertenor Christophe Dumaux, whose malleable sweetness of tone and gift for tragicomedy brings an aria from Handel's Orlando pulsatingly to life. And step forward mezzo-soprano Lea Desandre, who sings two arias from the same composer's Ariodante like a dove from heaven, and with such grace that she spreads an ecstatic stillness through the hall.
Here also is that irrepressible charmer, soprano Sandrine Piau, coquetry incarnate in a variety of roles, including one as a Twenties flapper incarnating Handel's concupiscent sorceress Alcina. With England represented by Handel and Purcell, and France by Charpentier, Lully, Rameau, and the mysterious Honoré d'Ambruis (little more than a footnote, even in specialist histories), we get a clear picture of difference in the respective national styles. And as the evening progresses, so does the camping-up, particularly by tenor Paul Agnew who delivers the tragic climax of a medieval French melodrama as if it were a south London music-hall turn. Who cares about the lack of reverence, when the music is so entrancing?
40 of the greatest plays ever written

Show all 40
Three days later, the Barbican feast continues with an exuberant Messiah, courtesy of the Freiburg Baroque Orchestra and the Zürcher Sing-Akademie plus four outstanding British soloists, under Trevor Pinnock's direction. The fresh young voices of the Swiss choir bring more lightness and brightness to this work than home-grown British choirs do, and their fugal choruses are notably transparent; the German orchestra – almost all strings, apart from the trumpets and timpani brought in for the "Hallelujah Chorus" – plays with immaculate refinement. Bass-baritone Ashley Riches is, as usual, a warmly commanding presence; tenor James Way has a big sound but needs more finesse, and contralto Claudia Huckle's velvet tone could do with more power in the lower register; but with delicately floated high notes, the singing of soprano Rachel Redmond has infinite grace.
Register for free to continue reading
Registration is a free and easy way to support our truly independent journalism
By registering, you will also enjoy limited access to Premium articles, exclusive newsletters, commenting, and virtual events with our leading journalists
Already have an account? sign in
Join our new commenting forum
Join thought-provoking conversations, follow other Independent readers and see their replies