Macbeth, Royal Opera House, London, review: Anna Netrebko as Lady Macbeth is born to sing the role
Phyllida Lloyd's 2002 production of Verdi's 'Macbeth', conducted by Antonio Pappano, has grown magnificently into its skin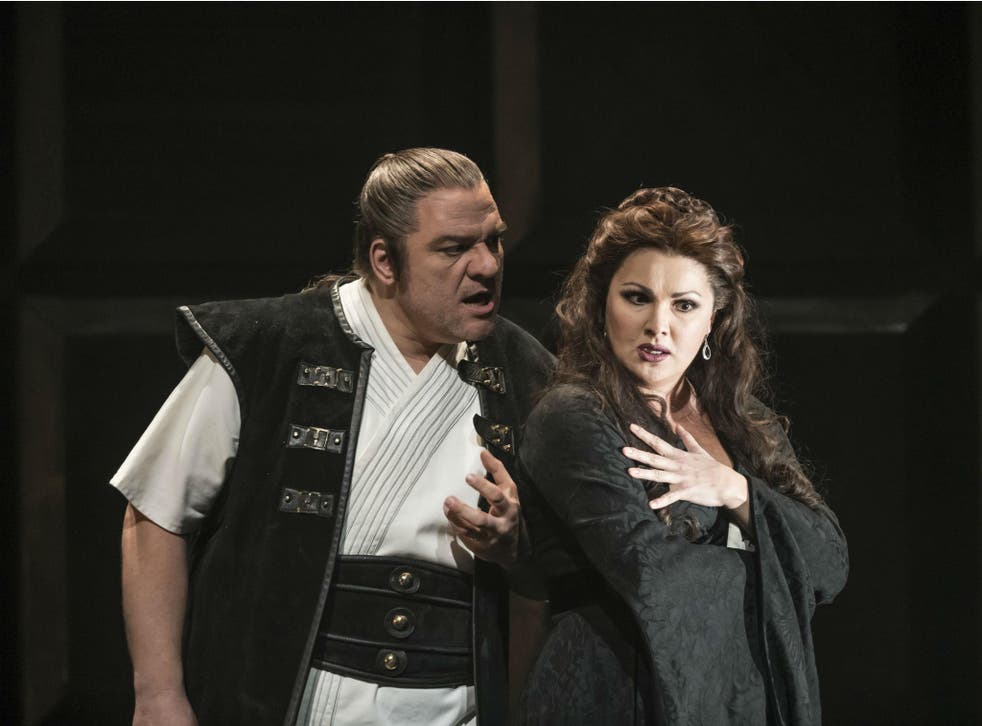 After two of the most abysmal new productions I have ever seen – From the House of the Dead at Covent Garden, and La traviata at the London Coliseum – a revival of Phyllida Lloyd's production of Verdi's Macbeth comes to remind us that critical standards are still intermittently in operation. Now in its third revival, this version has grown magnificently into its skin, with Anthony Ward's darkly austere designs and Paule Constable's atmospheric lighting creating a world which, though not placeable beyond a vague suggestion of medieval Persia, where kings ride on gold-caparisoned horses, compels total belief.
What most impresses is the visual economy of this production, with a few key images resonating with ever-increasing power. The imaginary dagger becomes a jagged sliver of light coming through a half-open door; the golden palanquin in which the king makes his appearance finds echoes in the gilded cage of Macbeth's mind, in the crown by which Lady Macbeth is mesmerised, and in the sacrificial enclosure in which Macbeth meets his end. The movement-direction is simple but vividly effective; the prophecies, dreams, hallucinations, and incursions of the supernatural are woven into a narrative which takes place as much in the minds of its two doomed protagonists as in naturalistic reality.
And it's all superbly performed. It was of course a bonus to have Anna Netrebko as Lady Macbeth, but this Russian soprano now seems born to sing the role. Proud, pitiless, and ruthless, she casually washes her hands at a standpipe after smearing the guards with incriminating blood when her vacillating husband (Zeljko Lucic) returns, shattered, from committing the first murder. Her timbre has the hard brilliance of polished steel, but in her sleepwalking scene it takes on a grave and rueful beauty. Lucic, alternating between bravado and craven terror, makes a subtle foil; in his desperate final aria his singing has a weary nobility. Ildebrando D'Arcangelo's Banquo is exquisitely sung, while the Azerbaijani tenor Yusif Eyvazov turns the bereaved Macduff's lament into a marvel of bel canto grace.
And that's only the principals: the supporting cast, the chorus, and the orchestra under Antonio Pappano's direction all play a blinder. The witches – with Verdi turning Shakespeare's trio into a full chorus – become a malign controlling force; the off-stage choruses are finely judged, and the choral prayer for national revival (for medieval Scotland read 19th-century Italy) ascends sweetly to the heavens.
Until 10 April (roh.org.uk)
Register for free to continue reading
Registration is a free and easy way to support our truly independent journalism
By registering, you will also enjoy limited access to Premium articles, exclusive newsletters, commenting, and virtual events with our leading journalists
Already have an account? sign in
Register for free to continue reading
Registration is a free and easy way to support our truly independent journalism
By registering, you will also enjoy limited access to Premium articles, exclusive newsletters, commenting, and virtual events with our leading journalists
Already have an account? sign in
Join our new commenting forum
Join thought-provoking conversations, follow other Independent readers and see their replies