Madama Butterfly/Der Rosenkavalier, Glyndebourne, Lewes, review: A breathtaking Butterfly, but Richard Jones goes overboard on the gags
★★★★☆ for ​Annilese Miskimmon's breathtaking Madama Butterfly, ★★☆☆☆ for Richard Jones's unfunny Der Rosenkavalier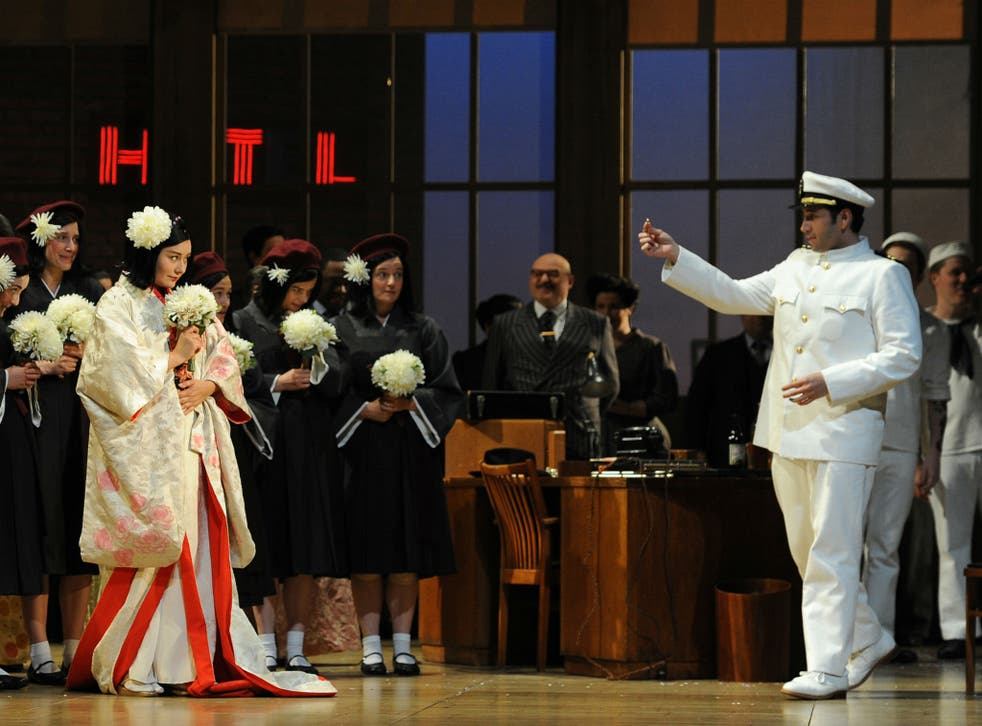 ​Annilese Miskimmon's production of Madama Butterfly, with which Glyndebourne has opened its season, began life as a touring production two years ago, and like most touring productions it works on one all-purpose set.
But the unfussy realism of this set, by Nicky Shaw, perfectly suits Miskimmon's directorial approach, which is both unusual and entirely successful. She has updated the story to the early Fifties, and set it in the context of both the American War Brides scheme, whereby American servicemen who married abroad could bring their wives home, and in the context of the Immigration Act of 1952 which allowed Japanese women to go to America in large numbers. Would that Trump's America and Brexit Britain were so enlightened.
Thus, newsreel footage of ships going past the Statue of Liberty periodically appears on a grainy screen which Cio-Cio San (Olga Busuioc) watches like a home movie. And although this Moldavian soprano looks a tad more than the requisite 15, she does communicate iron determination to realise her American dream. Her Pinkerton (Joshua Guerrero) makes a convincing foil, first treating the affair as a passing fling, then falling head over heels in love, then shiftily evading all responsibility.
The casting is effective. Busuioc communicates by turns vulnerability, fury, and dignified acceptance of her fate, though her singing has power rather than beauty; Guerrero is winsomely melodious, and if Michael Sumuel's vigorous Sharpless is a one-dimensional creation, Elizabeth DeShong's dark-toned Suzuki comes across like the authentic voice of old Japan. The supporting characters conjure up an entirely believable clash of cultures.
And in her direction Miskimmon doesn't put a foot wrong: this is the most sensitive and satisfying retelling of the tale I have seen in years. The scenes with the little son – notably the cherry blossom song – have an unforced naturalness, as do Cio-Cio San's central duets with Pinkerton and Suzuki.
The orchestral interlude before the denouement, which in most productions becomes dramatic dead time, is here used to present the heroine's original dream in a graceful, gauzy flashback. And her suicide takes place behind a screen, without the clichéd throat-slitting we might have expected in silhouette.
And if you want an additional reason to catch this show, there is one – in Omer Meir Wellber's conducting, thanks to which the musical story unfolds in all its breathtaking beauty.
One could not similarly commend Robin Ticciati's conducting of Der Rosenkavalier the following evening; the overture in particular was horribly scrambled. This was a revival of Richard Jones's 2014 production which triggered a mischievously orchestrated hate campaign against male critics who had attacked the casting of the Marschallin's supposedly irresistible young lover Octavian. But since the singer in question was not only hopelessly miscast, but also miscostumed and misdirected, the real villain of the piece was of course Jones himself.
This time round, with the American mezzo Kate Lindsey in the role, and with the opening scene entirely redirected, there was no such problem. Jones's first version had the Marschallin standing provocatively stark naked in her bath: this time she only revealed her physical charms to her young lover, but the dramatic effect was paradoxically more erotic. And this Octavian was an entirely credible lover.
Rachel Willis-Sorensen made a youthful and vocally powerful Marschallin; Brindley Sherratt worked heroically to extract laughs with his Baron Ochs; Elizabeth Sutphen was effective in the role of the ingénue Sophie.
But the only scene where Strauss was allowed to cast his mysterious spell untrammelled was the duet in which the Marschallin ruminates on time and the death of love. Almost every other scene was brought to the point of collapse by the weight of the unfunny sight gags laid upon it.
Until 18 July (glyndebourne.com)
Register for free to continue reading
Registration is a free and easy way to support our truly independent journalism
By registering, you will also enjoy limited access to Premium articles, exclusive newsletters, commenting, and virtual events with our leading journalists
Already have an account? sign in
Register for free to continue reading
Registration is a free and easy way to support our truly independent journalism
By registering, you will also enjoy limited access to Premium articles, exclusive newsletters, commenting, and virtual events with our leading journalists
Already have an account? sign in
Join our new commenting forum
Join thought-provoking conversations, follow other Independent readers and see their replies