Norma, Grand Theatre, Leeds Wagner Dream, Barbican Hall, London
Bellini's best-known opera enjoys high drama and distinguished singing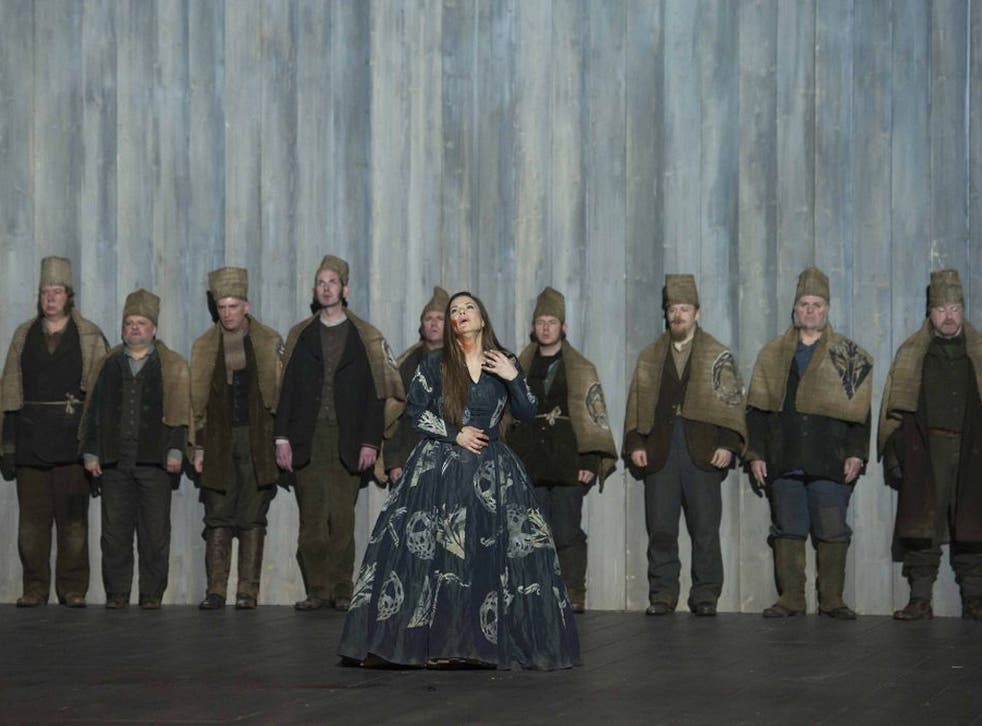 In a period of unparalleled fascination with altered states – somnambulism, mesmerism, madness – it is odd that Bellini's 1831 opera Norma has no mad scene. Though the obsessively circling string figures, hushed chorus, long lustral melody and ecstatic ornaments of its famous cavatina, "Casta diva", suggest a trance, the most arresting aspect of Norma's personality is her lucidity. Pagan priestess, fury, seer and collaborateuse horizontale, she remains clear-headed throughout the opera, the voice of an oppressed people and an oppressed sex.
Ferocious and beautiful, Annemarie Kremer, the Dutch soprano at the centre of Christopher Alden's Opera North production, seems not so much to act or sing the role of Norma as live it. Her voice is frank, generous, sensual, her phrasing stylish and intelligent, Norma's renegade physicality expressed without inhibition. Rolling down the rake of Charles Edwards's set, frozen over the sleeping bodies of her sons, axe in hand, or astride the huge wooden pillar that is her people's totem and altar, she is compulsively watchable. Small wonder that Pollione (Luis Chapa), the Roman proconsul who fathered her children then grew bored of her, fears her anger.
Alden has moved the story from Roman-occupied Gaul to a rural community in the mid-19th century, when paganism resurfaced as an expression of nationalism. Hawthorn and mistletoe are cut as offerings, the tools of field and forge brandished as the weapons of revolt. Pollione and Flavio (Daniel Norman) sport stove-pipe hats and pocket-watches, glance at newspapers the locals cannot read, carouse, harass and transgress, smoking their cigarillos in a sacred space. The grossness of their behaviour is revealed in Flavio's drunken assault on a young priestess (Charlotte Thornton). Justice, when it comes, is rough. During the Act II "Guerra! Guerra!" chorus, he is castrated.
Some will balk at Alden's provocations: the semi-sapphic tumbles, the exaggerated movement direction which, in truth, only works when the singing is equally intense. More comfortable in ensemble than when singing solo, Chapa looks silly dry-humping a tree. But were he as good a singer as Kremer, Norman, Keri Alkema (Adalgisa), Gweneth-Ann Jeffers (the catatonic Clotilde) or James Creswell (a baleful, all-seeing Oroveso), he wouldn't. Tension is meticulously built and rebuilt, the chorus powerfully mobilised, the orchestral playing taut and dramatic under Oliver von Dohnányi. In the end, Norma is a series of decisions: to kill or not to kill the children, to unleash a rebellion, to utter the words "Son io!". What a thrilling, magnificent, maddening work.
The first BBC Symphony Orchestra Total Immersion weekend of 2012 closed with a semi-staged performance of Jonathan Harvey's Wagner Dream, set in the last hours of Wagner's life, as he wrestles with death, unable to complete his last project, an opera on the Buddhist story of Prakriti, the untouchable whose love is so pure that she is allowed to join an order of monks. We can but imagine what Wagner's Prakriti would have sounded like. (A happy Kundry?) But Harvey's Prakriti (Claire Booth) is a tender, innocent flame of sorrow and joy.
Half-opera, half-play, Wagner Dream is a beguiling, perplexing work. Beguiling because of the radiance described in Harvey's pointillist orchestration of the realm between life and death – all quivers and shimmers of electro-acoustic colour, a balmy glow of tuned percussion and half-remembered songs. Perplexing because of the prosaic spoken dialogue that frames it. The harrumphing of Wagner (Nicholas Le Prevost) and cooing of Cosima (Ruth Lass) are an unwelcome counterpoint to Prakriti's ecstatic suffering and the gentle admonishments of Buddha. Under Martyn Brabbins, each flicker of light from the orchestra had clarity and purpose, while Booth, Andrew Staples and Roderick Williams sang with poise and grace.
'Norma' (0844 848 2720) to 17 Feb, then touring
Next Week
Anna Picard meets a modern-day Minnie in West End Girl, a reworking of Puccini's La fanciulla del West
Classical Choice
Sir Mark Elder conducts the Hallé and Nikolaj Znaider in Bartók's Second Violin Concerto, Sibelius's The Bard and Beethoven's Seventh Symphony at Bridgewater Hall, Manchester (Thu). Richard Jones's production of The Tales of Hoffmann opens at the London Coliseum (Fri) with Barry Banks as Offenbach's bedazzled hero.
Join our new commenting forum
Join thought-provoking conversations, follow other Independent readers and see their replies