Otello, English National Opera, review: A flawless production from David Alden
Verdi's musical requirements are finely honoured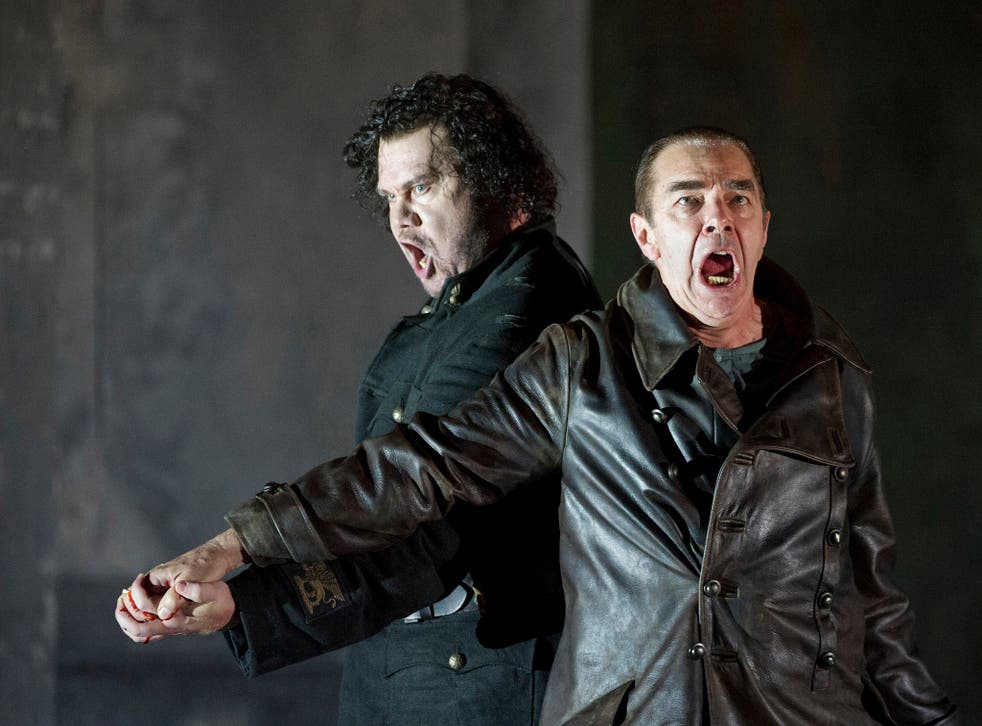 As a preamble to his new production of Verdi's late masterpiece, director David Alden had some refreshing things to say apropos the eternal debate over whether Otello should be a black, white, or blacked-up figure.
Yes, he said, there is some racism in Verdi's opera, but in comparison with Shakespeare's play it's a side-issue.
Alden's Otello is an assimilated Muslim who's converted to Christanity; Verdi's portrait, he says, is 'a very interior one, less about the social context than about his inner life'. This character is 'a passionate, overwrought Italian tenor'.
Stuart Skelton, who plays him, sees him as a 'turbulent, vulnerable, Byronic figure: we are watching someone beat themselves to death with their own insecurity'. And armed with this concept, that is how he plays him.
The curtain rises on a crowd of people huddled together under thunder and lightning on the quayside of a Mediterranean port: their costumes suggest the Twenties, the crumbling architecture of Jon Morell's set suggests the end of the once-grand Venetian empire.
We know where we are and who we're dealing with, as the three male protagonists come to the fore. Allan Clayton's Cassio is a gauche young soldier, a natural fall-guy; as played with irascible force by Jonathan Summers, Iago's sexual jealousy becomes but a facet of his all-corroding hatred for humanity; Skelton's Moor commands everyone around with a graceful and transparent honesty, stilling a murderous brawl with his presence alone.
That brawl is a seething mass of hurtling bodies, but at other times the figures on stage maintain an almost hieratic stillness: Maxine Braham's movement direction serves Alden's intention, which is to let the music dictate the rhythm of what we see. And with Edward Gardner's band at the top of its form in the pit, Verdi's musical requirements are finely honoured.
One could complain that Gardner occasionally uses too broad a brush for the subtleties of the score, but every bar burns with passion, often at white heat. The love duet unfolds with tremulous delicacy, with its final ecstatic key-change coming like a sunburst; the drinking song is charged with furious energy, and Iago's insinuating tale of Cassio's alleged dream is accompanied by honeyed sounds from strings and muted brass.
Summers' Iago is a brilliant creation, delivering his credo with a sulphurous snarl. Leah Crocetto's Desdemona is initially too vibrato-laden, but when her voice settles it acquires a lovely evenness, with a ravishing Willow Song; she summons shocking power for her final despairing cry. Skelton's singing never once loses its heroic burnish, and in his high register he floats the sound seemingly without effort. Underpinning all is tremendous singing from the chorus.
The only small directorial liberty comes when Iago and the deluded Otello become blood-brothers: otherwise Alden observes the most scrupulous restraint, letting Verdi's psychological drama play out exactly as written. In this flawless production we watch the disintegration of the hero with fascinated horror, as the seeds of madness are sown, and he becomes locked into his cycle of doom.
Join our new commenting forum
Join thought-provoking conversations, follow other Independent readers and see their replies