Prom 46: Daniel Barenboim, West-Eastern Divan Orchestra - review
The symbolism of Daniel Barenboim's West-Eastern Divan Orchestra has never been more potent or necessary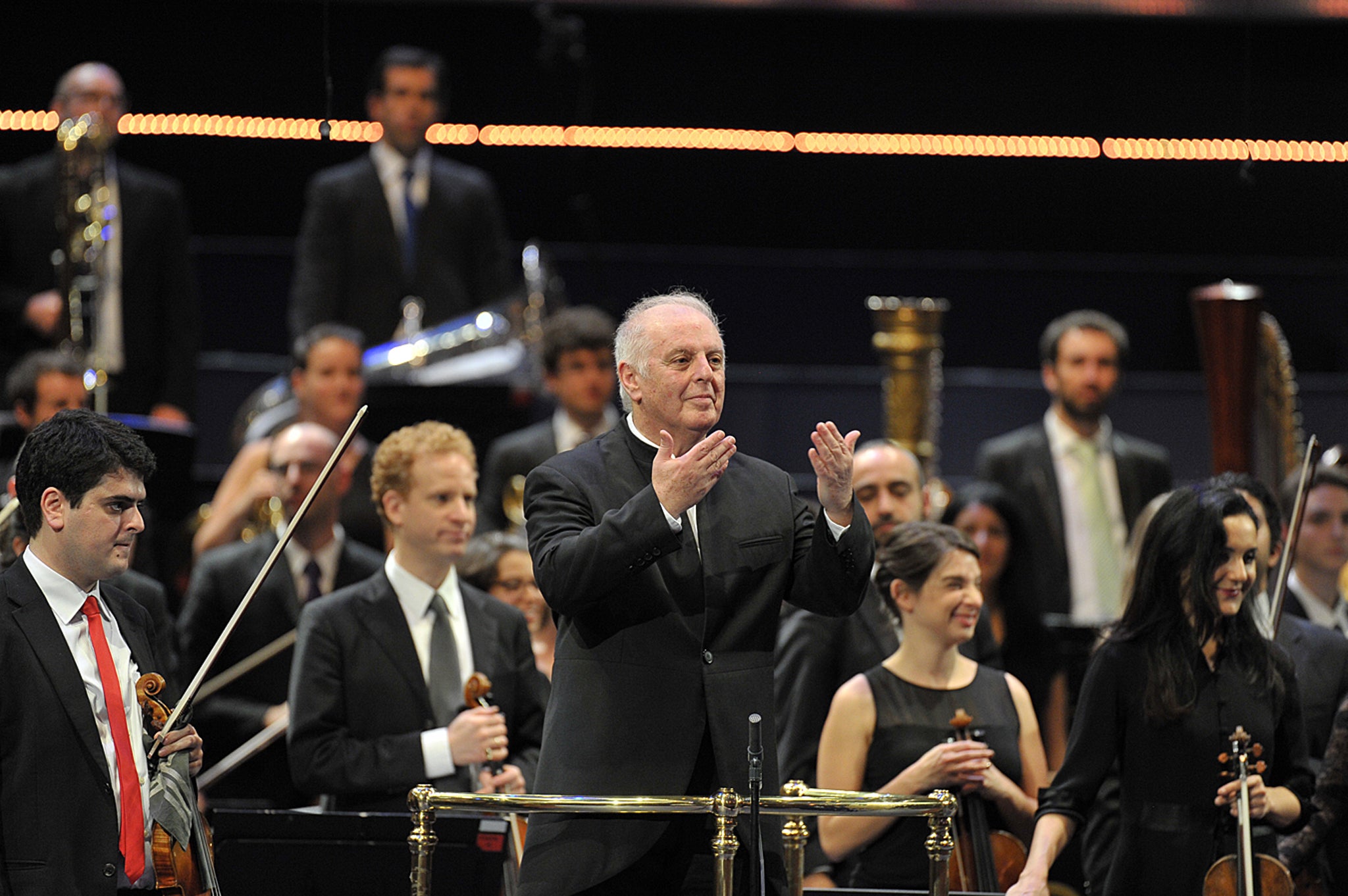 With the situation in Gaza becoming bloodier and more embattled daily, the symbolism of Daniel Barenboim's West-Eastern Divan Orchestra has never been more potent or necessary. Bringing together musicians from both Israel and Palestine (as well as Iran, Syria, Egypt and Lebanon), the orchestra is conceived by its conductor as "a project against ignorance" – a platform for encounters and discussions, shared experiences and understanding.
Barenboim has stated repeatedly that the ensemble is apolitical, but politics was the elephant in the room last night at Prom 46 when WEDO offered up a party programme of Spanish-themed bonbons and crowd-pleasers that couldn't have steered further away from serious issues or emotional engagement.
It's unfair, of course, to judge an orchestra on what they didn't play, but then WEDO isn't just any orchestra, and Barenboim isn't a musician to shy away from making a statement when he chooses. But last night we got Barenboim the showman rather than Barenboim the statesman, and – five encores later – the 71-year-old proved that he still knows how to work a crowd.
The concert's centrepiece was a quasi-symphonic sequence of four works by Ravel, starting with the fragrant fantasy of the Rhapsodie espagnole and closing in the rhythmic throes of Boléro. This wasn't a night for subtlety and Barenboim was in no mood to provide it. The strings, rather pinched in concert-opener the Overture to The Marriage of Figaro, flowered here into glossy thickness, their sheen set against the deliciously sleazy excesses of the bassoon in the Prélude. But while the Feria (festival) final movement was thrillingly energised, the orchestra couldn't quite find the same extremity for the grotesque humour and self-mockery of Ravel's Alborada del gracioso.
The now-hackneyed Pavane pour une infante défunte lacked rhythmic fluidity, and while the same metronomic precision lent tension and impact to the Boléro that followed, it risked killing the delicate poise of this slighter work, despite some beautiful work from the wind soloists.
In a riotous evening of musical celebration and gimmickry (Barenboim's decision not to conduct the first ten minutes of Boléro; his ostentatious sitting down among the audience while the orchestra played one of the many encores alone) a still point of beauty and interest were two short contemporary works by Israeli composer Ayal Adler and Syrian Kareem Roustom, both UK premieres.
Roustom's Ramal was a natural companion piece to the colouristic, richly-textured Ravel – a sort of anti-Boléro, whose jagged rhythms and fretful unease spoke of conflict silenced elsewhere in the evening. Nervy strings bustled fractiously, punctuated by low brass mutterings and squalls of tuned percussion. Adler's Resonating Sounds came from a far less familiar harmonic world, exploring abstract instrumental textures and effects in waves of glorious, shifting sound.
Encores continued the evening's Spanish theme (surely a nod to the orchestra's home in Seville), sending audiences on their way dancing to the rhythms of the Act I Carmen Prelude and an Argentine tango – thoroughly entertained, if not, perhaps, entirely satisfied.
Join our commenting forum
Join thought-provoking conversations, follow other Independent readers and see their replies