Proms 66 & 68 Berlin Philharmoniker/Kirill Petrenko, Royal Albert Hall, London review: Majestic and thrilling
It was easy to see why Kirill Petrenko has been elected chief conductor of the Berlin Phil, succeeding Simon Rattle, says Michael Church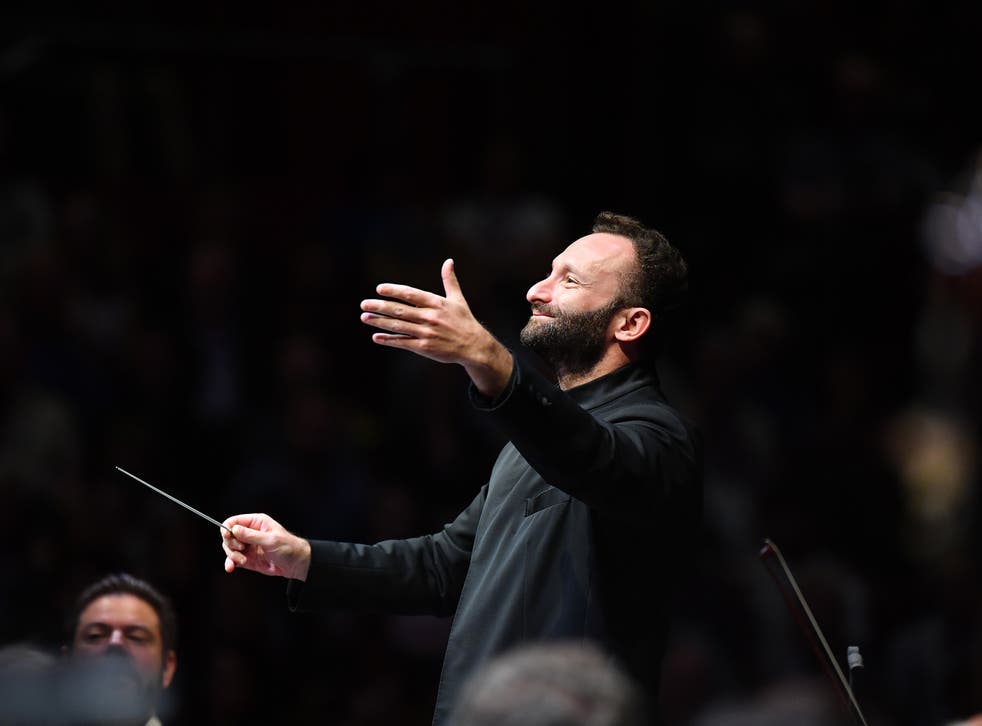 ★★★☆☆/★★★★★
When Yuja Wang is due on stage, the first question we ask – and she always makes sure we do – is what sort of frock will she be wearing? Sometimes it's little more than a bathing suit; sometimes it's a few silk strips held together with what looks like dental floss; this time it was a spangled ball gown which wrapped her stiletto heels in the sort of train you trip over, and trip over it she did.
Image is all, in the case of this glamorous Chinese pianist, and with it her promoters have built a devoted fan base. Well, it's almost all: she does have a phenomenal technique, and there's no one to touch her for high velocity, immaculately accurate virtuosity. On the other hand, she's so far given no evidence of the mature wisdom needed for Beethoven and Bach; as she's now in her thirties, and seeking to broaden her repertoire, those qualities had better reveal themselves soon.
Prokofiev's Piano Concerto No 3 in C major is one of that composer's most perfectly achieved works. The piano part requires a mercurial blend of aggression and muscular charm, with every note of the turbulent passagework given due weight, and with the brief oases of calm providing a lyrical respite. Under Kirill Petrenko's direction the Berlin Philharmoniker both sang their hearts out and extracted all the playfulness of the opening allegro, but Wang's main aim seemed to be to get through it as fast as possible. Playing with the speed and accuracy of an automaton, she gave no hint of the poetry, and never allowed the notes time to breathe.
She did make some concessions to expressiveness in the variations of the middle movement, and in the concluding movement, which actually demands her trademark brittle brightness, she was in her comfort zone. And there she wisely stayed for her two encores: Rachmaninov's Prelude in E flat minor delivered with crystalline grace, and Volodos's elaboration of Mozart's "Alla Turca" played with crazy yet carefully controlled abandon. As a pianistic circus act, Yuja Wang reigns supreme.
But the real importance of Proms 66 and 68 lay in the fact that the Berlin Phil were being put through their paces by the man who will soon succeed Simon Rattle as their chief conductor, Kirill Petrenko, and it was easy to see why they elected him for the job. In Prom 66 seldom performed works by Paul Dukas and Franz Schmidt were held up to the light and found to be genuine gems; in Prom 68 this orchestra delivered a majestic account of Strauss's Death and Transfiguration, and a thrilling one of Beethoven's Seventh Symphony.
Petrenko's balletic gestures had a subtly galvanising effect, sculpting the sound so that all the detail was revealed in the Strauss. The second movement of the Beethoven became an essay in gradations of pianissimo, with the echoing phrases coming across like the most delicate breaths of air; the move from the subfusc realm of the allegretto to the broad daylight of the presto was handled with supremely elegant control.
Register for free to continue reading
Registration is a free and easy way to support our truly independent journalism
By registering, you will also enjoy limited access to Premium articles, exclusive newsletters, commenting, and virtual events with our leading journalists
Already have an account? sign in
Register for free to continue reading
Registration is a free and easy way to support our truly independent journalism
By registering, you will also enjoy limited access to Premium articles, exclusive newsletters, commenting, and virtual events with our leading journalists
Already have an account? sign in
Join our new commenting forum
Join thought-provoking conversations, follow other Independent readers and see their replies