Les fêtes d'Hébé, Britten Theatre, London, review: Lebrun's rather basic choreography proves curate's-eggish
The French composer Jean-Phillippe Rameau's opera-ballet, which finally receives its UK premiere after 300 years, is performed by singers from l'Académie de l'Opéra de Paris, Centre de musique baroque de Versailles and the Royal College of Music
Cara Chanteau
Monday 10 April 2017 12:09 Comments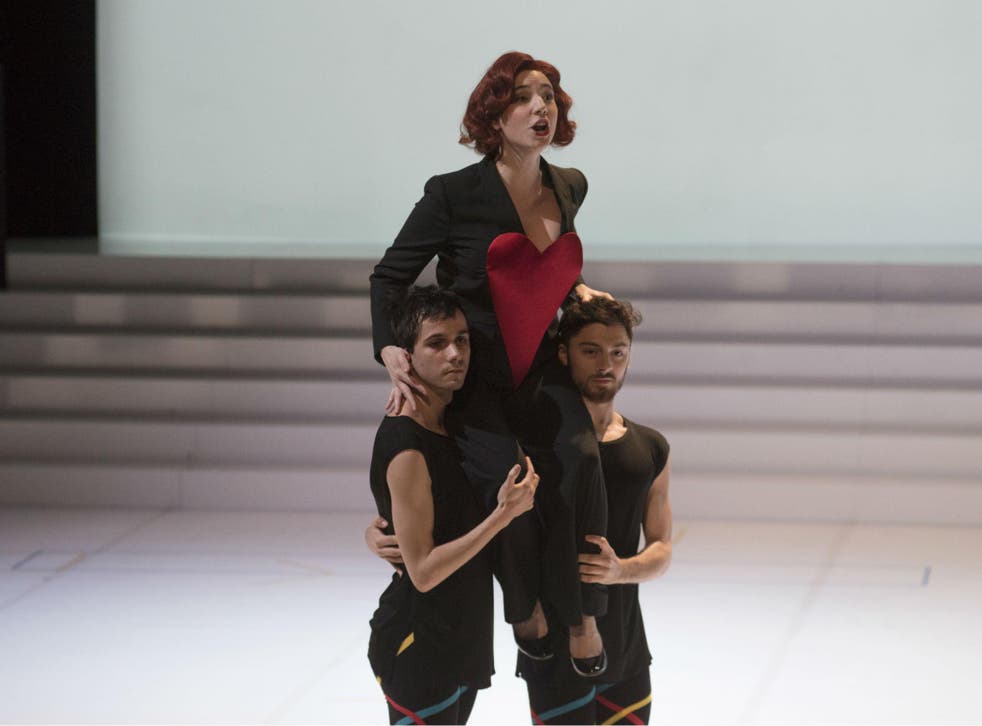 Well, it's only taken nearly 300 years for Rameau's third opera-ballet, extremely popular in its time, to receive its UK premiere. In a cheeringly European venture, the production was mounted by talented young French and British singers (from l'Académie de l'Opéra de Paris, Centre de musique baroque de Versailles and Royal College of Music), under Oxford Rameau scholar Jonathan Williams, with French director and choreographer Thomas Lebrun.
Hébé fleeing Mount Olympus escapes to the banks of the Seine to witness three lightly plotted entertainments centred on poetry, music and dance, all underlining Cupid's ultimate triumph. These formalised divertissements are a world away from Handel's cauldron of passions, inviting audiences simply to savour the rich succession of timbres on display: a truly sumptuous Sapho from Adriana Gonzalez; Pauline Texier's gloriously flirty Eglé. Nor are the males short-changed, with Juan de Dios de Mateos as a swaggering Mercury, and seductive tenor Joel Williams, who with soprano Eleanor Penfold, depicting stream and shepherdess (don't ask), provided an enchanting high point in the first act.
Christie's influence is nicely discernible in Williams's tense airy rhythms, but Lebrun's rather basic choreography proves curate's-eggish. While it's a successful strategy to colour-code each episode, there's a problem when both dance and voice must hold equal sway, especially when a modern form of choreography must somehow be devised to embody vanished conventions.
Register for free to continue reading
Registration is a free and easy way to support our truly independent journalism
By registering, you will also enjoy limited access to Premium articles, exclusive newsletters, commenting, and virtual events with our leading journalists
Already have an account? sign in
Join our new commenting forum
Join thought-provoking conversations, follow other Independent readers and see their replies