Satyagraha: Opera review - 'An inspired marriage of sight and sound'
Coliseum, London
Michael Church
Thursday 21 November 2013 11:31 Comments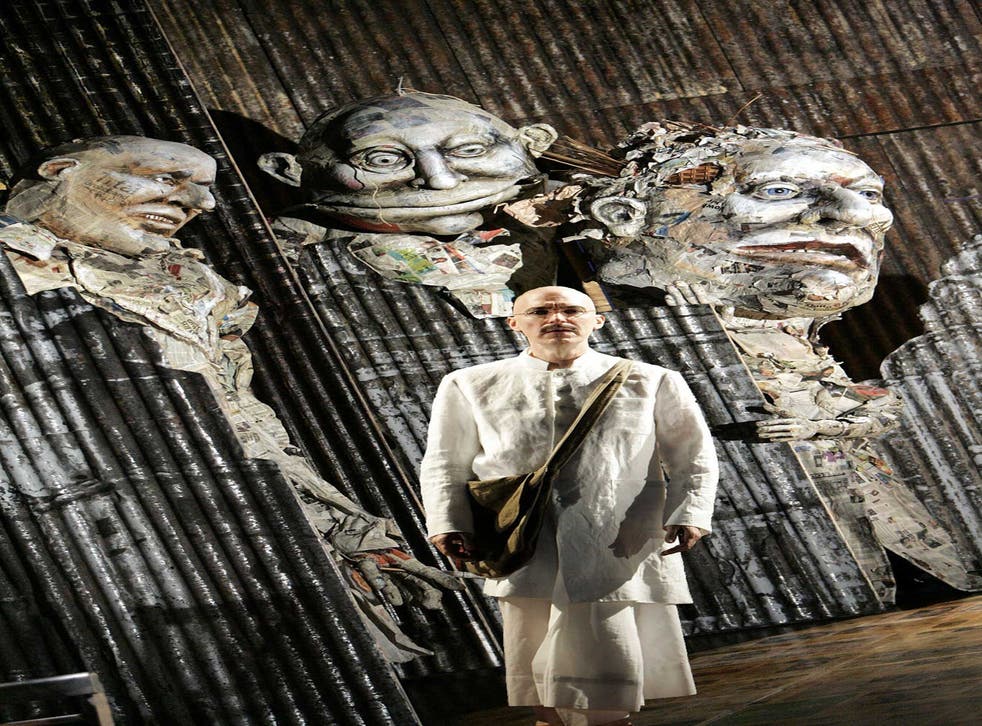 A revival of the Phelim McDermott/Julian Crouch production of Philip Glass's operatic masterpiece means another chance to savour its inspired marriage of sight and sound.
Gandhi's invented word 'satyagraha' meant 'truth-force', to which his followers had to surrender in their quest for a spiritual and fatalistic version of communism.
Given that the history is jumbled and the libretto is in Sanskrit, the singers have to make a similar sort of surrender, and since there are no English surtitles, so does the audience.
But no production ever made surrender so easy. Events unfold with dreamlike poise - the stage in a constant state of self-transformation – and one watches entranced as Improbable's brilliant 'skills ensemble' create cows, crocodiles, jousting giants and Hindu gods with somnambulistic purpose and precision. Yet it's all done with pea-sticks, papier-mache, Scotch tape, and painterly lighting.
No praise too high for the chorus, who summon up a Verdian grandeur, nor for the orchestra under Stuart Stratford's direction, who find a perfect balance between ecstasy and urgency for Glass's figurations.
Back in a title role he has made his own, Alan Oke deploys his gift for projecting heroic isolation at the head of an outstanding cast. Unforgettable.
Register for free to continue reading
Registration is a free and easy way to support our truly independent journalism
By registering, you will also enjoy limited access to Premium articles, exclusive newsletters, commenting, and virtual events with our leading journalists
Already have an account? sign in
Join our new commenting forum
Join thought-provoking conversations, follow other Independent readers and see their replies