Simon Rattle and the London Symphony Orchestra, review: Stravinsky performance is an exhilarating affirmation of life
Work composed ten years after the publication of Schoenberg's 'Harmonielehre', which is also performed, gives the audience definitive proof that tonality was then, and still is now, anything but dead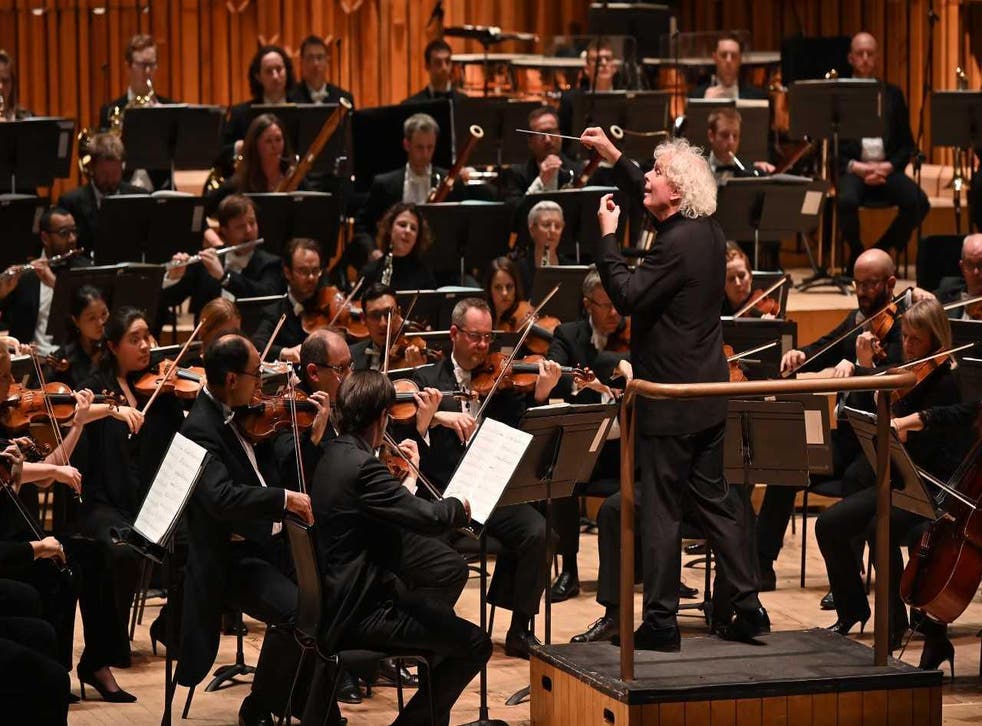 As a deity whose acolytes believed he had pulled down the palace of traditional tonality, Arnold Schoenberg invited iconoclasm. The only surprise is that the response took so long to materialise. And when it did – 70 years after the publication of Schoenberg's massive credo Harmonielehre ("Theory of Harmony") – it was John Adams and his acolytes who sought to push him off his pedestal.
Adams explains that he was rebelling against "something twisted and contorted" in Schoenberg's work. Despite his respect for Schoenberg's persona, he "profoundly disliked" his music and felt impelled to "free himself" from the "aural ugliness" it promoted. Hence his own Harmonielehre, which he describes as a parody "without the intent to ridicule".
The London Symphony Orchestra under Simon Rattle's direction give this three-movement work everything they've got, but as a piece of music, rather than a polemical statement, it's no masterpiece. Adams has never been more than a journeyman composer, and this work is par for the course: a noisy, exuberant, and adroitly orchestrated piece of minimalism, but vacuous through and through.
The best albums of 2019 (so far)

Show all 67
Harrison Birtwistle's The Shadow of Night, still ringing in our ears from before the interval, was composed 16 years after Adams's Harmonielehre, and it points up the triteness of Adams's judgment.
Birtwistle describes it as "a slow and reflective nocturne, exploring the world of melancholy as understood and celebrated by Elizabethan poets and composers", and that's very much how it comes over. It's not a "tonal" work, and is exceptionally intricate, but at the same time it's intensely expressive. Muted tubas and trombones, plus double basses creating a soft heartbeat, provide a carpet of sound over which a solo piccolo and later a solo oboe burst into acidulated song; the composer's own simile – "like the moon shining through a series of slowly passing clouds" – is apt.
But it's when Rattle and the LSO deliver Stravinsky's Symphonies of Wind Instruments – composed ten years after the publication of Schoenberg's Harmonielehre – that we get definitive proof that tonality was then, and still is now, anything but dead. With its wheeling figurations and jabbing interjections, this "austere ritual" (as Stravinsky described it) seems hewn out of living rock. It was composed as a memorial to Debussy, but here its po-faced playfulness comes over as an exhilarating affirmation of life.
Join our new commenting forum
Join thought-provoking conversations, follow other Independent readers and see their replies