The Cunning Little Vixen, Glyndebourne, East Sussex L'Olimpiade, St John's, Smith Square, London Jessye Norman, Royal Festival Hall, London Bow Down, Old Municipal Market, Brighton
Glyndebourne's dreadlocks-and-driftwood Janacek misses the Slavic touch, while Harrison Birtwistle's 'opera' is simply loathsome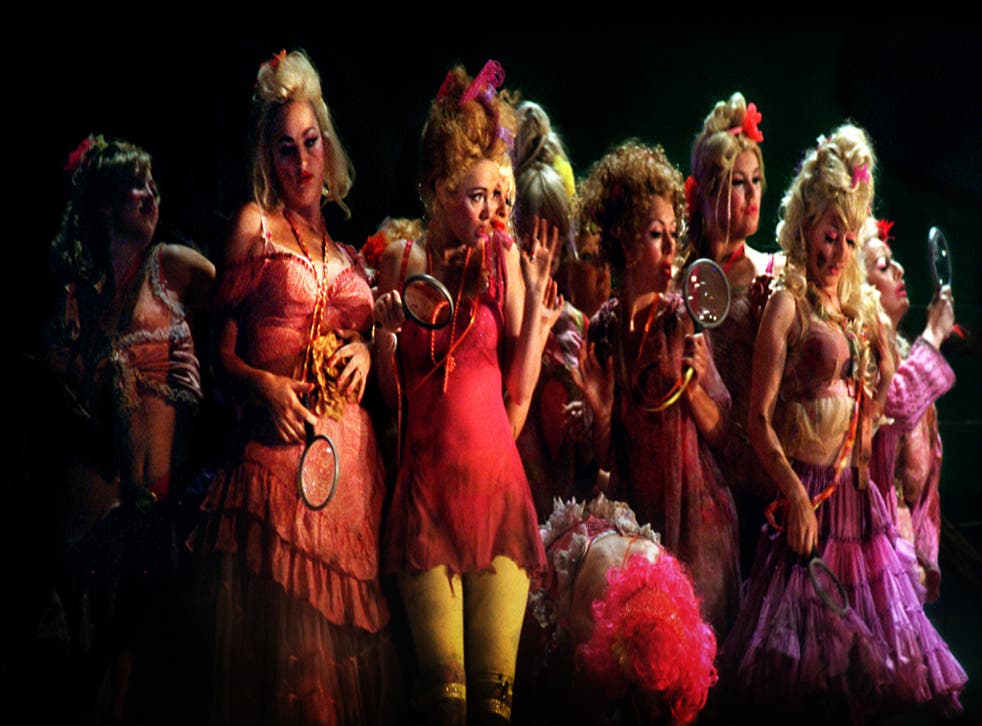 Life is sweet and life is cruel in The Cunning Little Vixen. Hatched, matched and dispatched in little more than 100 minutes of music, Sharp Ears, the heroine of Janacek's anthropomorphic fantasy, sprints from disaster to delight and back, her cry of "Chcu!" ("I want") as strong as musk. Feral would be one description, free spirit another. But in Melly Still's dreadlocks-and-driftwood Glyndebourne staging, feckless is the word.
Still and her designer, Tom Pye, create a chaotic, crowded world for Lucy Crowe's raggle-taggle Vixen. While Vladimir Jurowski and the LPO plunge their snouts into the rich, mossy scents of Janacek's forest, a less magical drama of survival unfolds on stage. The animals are more human in appearance, the humans more desperate, more alone. The henhouse is a barbed-wire brothel, the tree from which Badger is evicted a haphazard shanty. The director is not sentimental about this opera, nor is she interested in charm. "How many children do we have?" asks Emma Bell's handsome, idle Fox. Too many, is the answer.
Poignancy comes in unexpected places: the brisk efficiency of Sarah Pring's Innkeeper's Wife, the heartbreak of Adrian Thompson's Schoolmaster, the intellectual delusions of Lucie Spickova's lust-maddened, mangy Dog, the shyness of Bell's Fox. The only Czech in the cast, Spickova offers a hint of the Slavic gleam this music needs, something Crowe's light, dry soprano only glances at. As the Forester, whose drama this is, as well as the Vixen's, Sergei Leiferkus brings gravitas and tenderness but it is not enough to flesh out this too-thin show.
Vivaldi's 1734 opera L'Olimpiade has been propelled from obscurity to ubiquity this year, though the text, by Metastasio, has nothing to do with beach volleyball or synchronised swimming. Next month, David Freeman's production opens at Garsington, while Andrea Marcon and the Venice Baroque Orchestra bring a pasticcio version to the Queen Elizabeth Hall tomorrow. Co-directed from the violin and the harpsichord by Adrian Chandler and James Johnstone, La Serenissima's concert performance comfortably pipped both to the post.
Metastasio's plot is a standard opera seria muddle of misplaced babies and thwarted betrothals, in which an attempted assassination at the closing ceremony of the games is foiled and the traditional human sacrifice (!) is halted owing to technicalities in the change of the Olympic presidency. Bureaucracy, huh? Ravishment came from the music, in which Vivaldi's attention is on the strings, as was Chandler's. The difference in attack between La Serenissima and other orchestras is immediately felt, lending vigour to a drama that otherwise dawdles. Mhairi Lawson's effortless fioritura, Sally Bruce-Payne's playfulness, Louise Poole's candour and Rachael Lloyd's intensity were unstinting, while Stephen Gadd excelled as the dim-witted king in thrall to custom and public opinion.
Jessye Norman returned to the UK for the first time in nearly a decade, padding on to the stage of the Royal Festival Hall in magenta silk taffeta and purple bedsocks, a study in fabulousness. But however dearly the great American soprano loves the Great American Songbook, it doesn't love her back. George and Ira Gershwin wrote wordy, witty songs; little masterpieces whose impact hinges on the spin of a homophone or the glint of an internal rhyme. Their casual grace makes Bernstein's "Somewhere" and Rodgers and Hammerstein's "Climb Ev'ry Mountain" sound blowsy, an effect intensified by Norman's now unruly intonation. The sublime sotto voce haze of Harold Arlen's "A Sleepin' Bee" and "Stormy Weather" was hard won. "Another Man Done Gone" can take a monumental approach, but Norman could not resist an ersatz decorative flourish. Her pianist Mark Markham shares her penchant for lily-gilding, hence the Schumann-at-the-Savoy arpeggiations of "You'll Never Walk Alone".
There was a telling moment during the Brighton Festival performance of Harrison Birtwistle's Bow Down. "Tough crowd," spat one actor, gesturing at a petrified man on the front row. "He thinks he's here to see an opera!" Written for the National Theatre in 1977 and "reconceived" for The Opera Group by Frederic Wake-Walker, Bow Down is musically slight, a shred of melody here, a scratched rhythmic motif there. Instead, the focus is on Tony Harrison's goaty poetry and Wake-Walker's ornate depiction of the genital mutilation of, and masturbation over, a female corpse. Committed performances from a young cast aside, I loathed it.
'The Cunning Little Vixen' (01273 813813) to 28 Jun. 'Bow Down': Spitalfields Festival (020-7377 1362) 13 Jun
Critic's Choice
Bath International Music Festival (from Wed) has Benjamin Grosvenor's (above) Bach to John Cage's Musicircus; I Fagiolini's outsized Renaissance motets; the Belcea Quartet's Beethoven; and a new work from Hugh Wood. Heartbreak and human sacrifice as Charles Edwards' Grange Park Opera production of Mozart's Idomeneo, opens Friday, The Grange, Northington, Hampshire.
Register for free to continue reading
Registration is a free and easy way to support our truly independent journalism
By registering, you will also enjoy limited access to Premium articles, exclusive newsletters, commenting, and virtual events with our leading journalists
Already have an account? sign in
Register for free to continue reading
Registration is a free and easy way to support our truly independent journalism
By registering, you will also enjoy limited access to Premium articles, exclusive newsletters, commenting, and virtual events with our leading journalists
Already have an account? sign in
Join our new commenting forum
Join thought-provoking conversations, follow other Independent readers and see their replies