Linbury Theatre review: The Intelligence Park and Agrippina
Vincent Deane's libretto offers a convoluted plot concerning a composer in 18th century Dublin whose creativity is blocked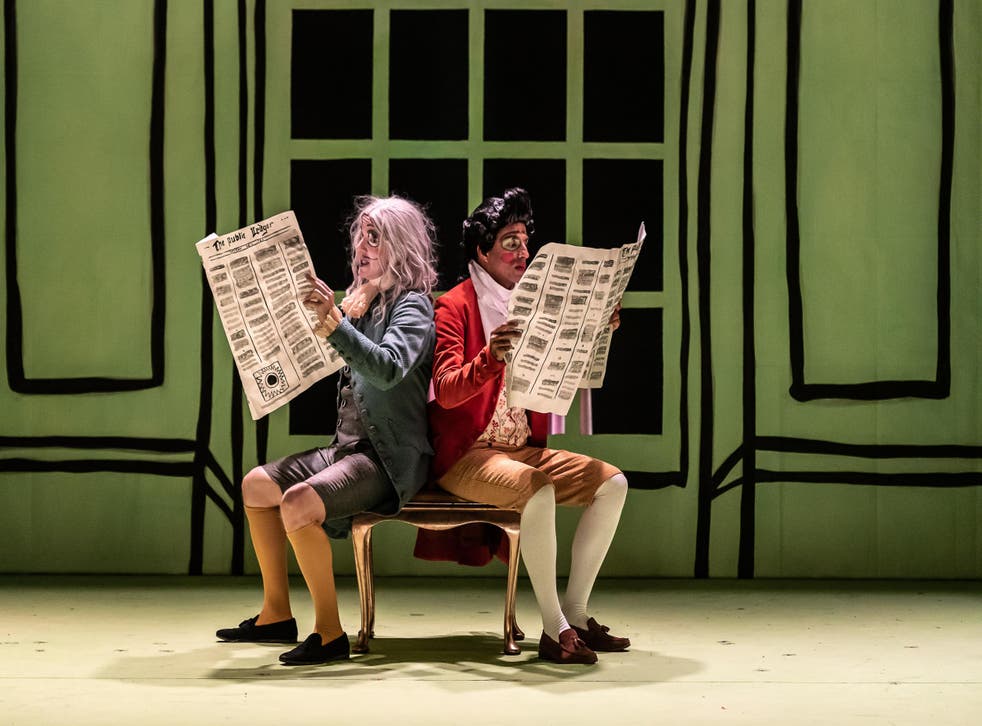 The Intelligence Park ★★☆☆☆
Agrippina ★★★★★
The new-music glitterati have gathered, and the claque are in full voice for Nigel Lowery's new production of Gerald Barry's The Intelligence Park in the Linbury Theatre. For those unfamiliar with Barry's fashionably off-the-wall musical style, this work, which launched his career in 1990, is a suitable place to start. As a programme essay warns listeners, the familiar ground of rhythm, phrasing, and harmony has gone out of the window, leaving a tonality which is "cracked, besmirched, degraded, and ambiguous"; the vocal style flies in the face of all expectation.
Vincent Deane's libretto offers a convoluted plot concerning a composer (Paradies) in 18th century Dublin whose creativity is blocked, and whose picaresque travails involve a castrato (Serafino) plus a gallery of local characters supported by rows of stuffed dummies. Barry himself has said that he has "no fixed ideas" as to what the opera is about.
40 of the greatest plays ever written

Show all 40
When the lights go up on Lowery's Hogarthian neo-Hockney set and the characters begin to sing, it feels at first like Stravinsky's Rake's Progress supercharged into a fifth dimension, but we're soon swinging free of any such cosy references. The vocal lines stop and start unexpectedly, and scamper up and down the register from stratospherically high to low and back again; the countertenor switches into and out of basso profundo in mid-phrase. The orchestra – the London Sinfonietta under Jessica Cottis's direction – sets up a raucously hammering fortissimo which continues relentlessly until a muted chorale provides aural relief. Barry's intricate scoring whirls along with exultantly unfettered energy, while the singers – all got up as painted caricatures – cavort, fight, and copulate with brilliantly choreographed comic precision. Special plaudits to Michel de Souza (Paradies), Stephen Richardson (Sir Joshua Cramer), and Patrick Terry (Serafino).
Initially I'm entranced by the visual invention and organised anarchy of it all, but long before the end – and it's a long evening – I'm dying to escape. Like Barry, I have no idea what the piece is about, and frankly I couldn't care less. Stravinsky's Rake is shot through with intense humanity; Barry's work is a farrago of frivolities, flippant to the core.
The worst thing about this show is Deane's libretto, which ought to have been an essential adjunct, given that scarcely a word is comprehensible thanks to the sense-mangling vocal lines. But God help us, it's the most pretentiously verbose Irish whimsy, and what's interesting is how little faith the director seems to have in it; the surtitles are almost on the ceiling, and from some seats are extremely hard to read. It's significant that most of the audience, most of the time, don't even bother to look skywards. Of course they all cheer wildly when it's over: this is a first-night audience, packed with friends and supporters.
After all of which it's sweet relief to move upstairs to the main house for Barrie Kosky's new production of Handel's Agrippina. Unlike Barry's content-free exercise, this work very much is about something – the conflict between the urge for power and the urge for sex – and it's a showcase for vocal and dramatic virtuosity of which Kosky's cast take wicked advantage. Some directors would have drawn the obvious parallels between Claudio's corrupt rule and that of a not-to-be-named Tory politician, but Kosky combines psychological realism with suggestive and often hilarious physical comedy. Lucy Crowe's peachy Poppea is Love Island incarnate, Fleabag could take lessons from Joyce DiDonato's insouciant way with aspiring rapists, and as Nero, the Argentinian countertenor Franco Fagioli presents the seesaw between cringing terror and the blustering swagger of a juvenile psychopath.
In musical terms this is a wonderful evening, with no weak link in its team of soloists. The singing of Gianluca Buratto's Claudio is persuasively beautiful in his love aria and magnificently powerful in regal mode. The grounded purity of Iestyn Davies's countertenor makes a fine foil to Fagioli's soprano sweetness. Crowe's singing would, as ever with this fine British soprano, charm the birds off the trees. And DiDonato deploys her unique mastery of character and coloratura in a performance dazzling even by her own peerless standards. Meanwhile, making his ROH debut, the young Russian conductor Maxim Emelyanychev extracts kaleidoscopic beauty from the pit. [five stars]
Until October 4
Join our new commenting forum
Join thought-provoking conversations, follow other Independent readers and see their replies