The Way Back Home, Young Vic, review: Opera for children can be profound
But very young children would have great difficulty in understanding the fast-moving libretto, sung, as here, in full-dress operatic mode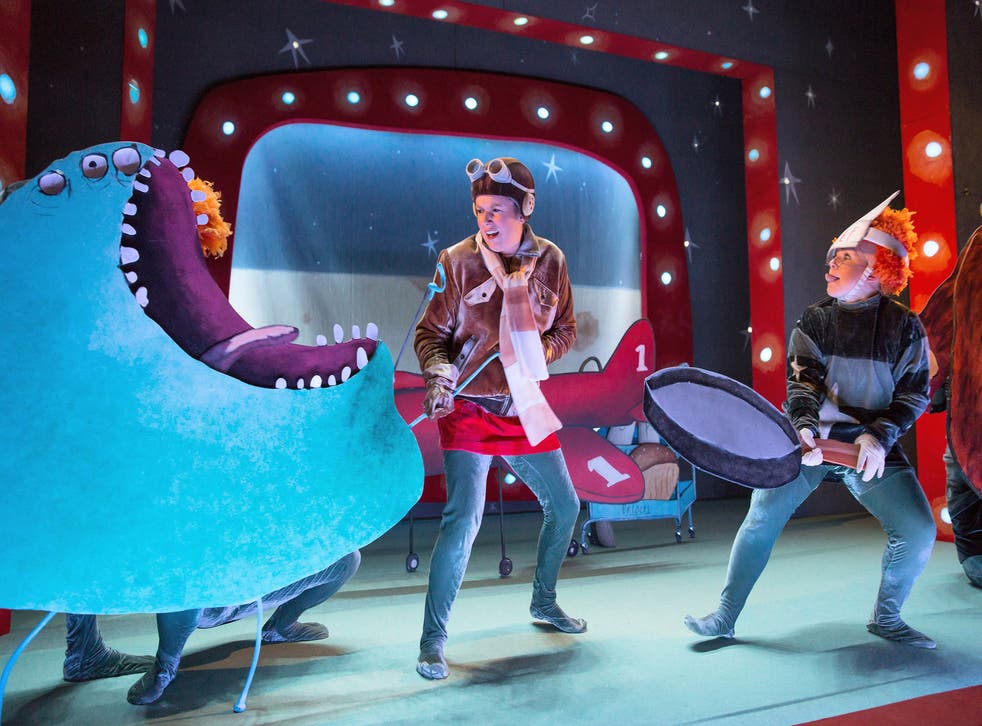 Produced in tandem with Paris Opera and Stockholm Opera, this is English National Opera's first shot at a children's opera. And in Katie Mitchell, their choice of director seems a wise one because Mitchell – with three successful children's shows at the National under her belt – has a track record for this tricky kind of endeavour.
The Way Back Home began life as a popular children's picture book by Oliver Jeffers, with loud echoes of Saint-Exupery's Le petit prince; it has now been turned into an opera with a libretto by Rory Mullarkey and music by Joanna Lee.
The Boy who is the hero of this little tale finds an aeroplane in his cupboard, takes it for a spin and crash lands on the moon (shades of Rupert Bear); there he meets a Martian who has also crash-landed because his space-ship has engine trouble; they make common cause, and finally escape; other characters include four ever-present and hyperactive 'Gizmos', while the Boy's toy penguin becomes an anarchic force.
As designed by Vicki Mortimer, the Young Vic stage is transformed into a receding series of multi-coloured television monitors, with a naively-painted cardboard aeroplane plus clouds being playfully dragged in and out of view. A reduced ENO band under Stephen Higgins's direction strikes up a gamey tango-style accompaniment to the adroitly-set words of the libretto; it's all very jolly, and goes at a cracking pace. Enter the fresh-faced Boy, aka that protean singer-actor Victoria Simmonds, now notching up another first in her long list of cross-dressed roles.
Her vocal lines are almost Bergian in their angularity, and when Aoife O-Sullivan makes her sparkling appearance as the Martian, it's to deliver music with a punishingly high tessitura; meanwhile the Gizmos get close-harmony music of a different sort to sing. But one remembers that Lee is a protegee of Oliver Knussen, the composer of two highly sophisticated operas based on children's books by Maurice Sendak: with its seemingly inexhaustible bag of effects, this score has serious modernist street cred, though it wears it very lightly.
But who is this production really aimed at? Very young children would have great difficulty in understanding the fast-moving libretto, sung, as here, in full-dress operatic mode; moreover, the thread of the plot is often hard to keep hold of. And while many of the jokes – both verbal and visual – pass with a blink-and-you-missed-it rapidity, few of them raise a laugh.
Mitchell spoke last week about the importance to children of 'action, story, and character' – and such things are of course important to all of us – but this production short-changes its audience on at least two of those counts. There's no emotional journey here, no inducement to empathise – a process always present, for example, when Le petit prince is put on stage. Think of Ravel's L'enfant et les sortileges, or of Britten's Noye's Fludde: operas for children can be profound as well as entertaining, provided they speak from the heart, to the heart.
Register for free to continue reading
Registration is a free and easy way to support our truly independent journalism
By registering, you will also enjoy limited access to Premium articles, exclusive newsletters, commenting, and virtual events with our leading journalists
Already have an account? sign in
Register for free to continue reading
Registration is a free and easy way to support our truly independent journalism
By registering, you will also enjoy limited access to Premium articles, exclusive newsletters, commenting, and virtual events with our leading journalists
Already have an account? sign in
Join our new commenting forum
Join thought-provoking conversations, follow other Independent readers and see their replies