Tosca, Grange Park Opera/ It ritorno d'Ulisse, Grange Festival, review: Wasfi Kani has worked a miracle while Michael Chance's gamble has not paid off
Grange Park Opera's new home Theatre in the Woods starts with 'Tosca', while Chance's brand new company Grange Festival perform Monteverdi's 'Il ritorno d'Ulisse'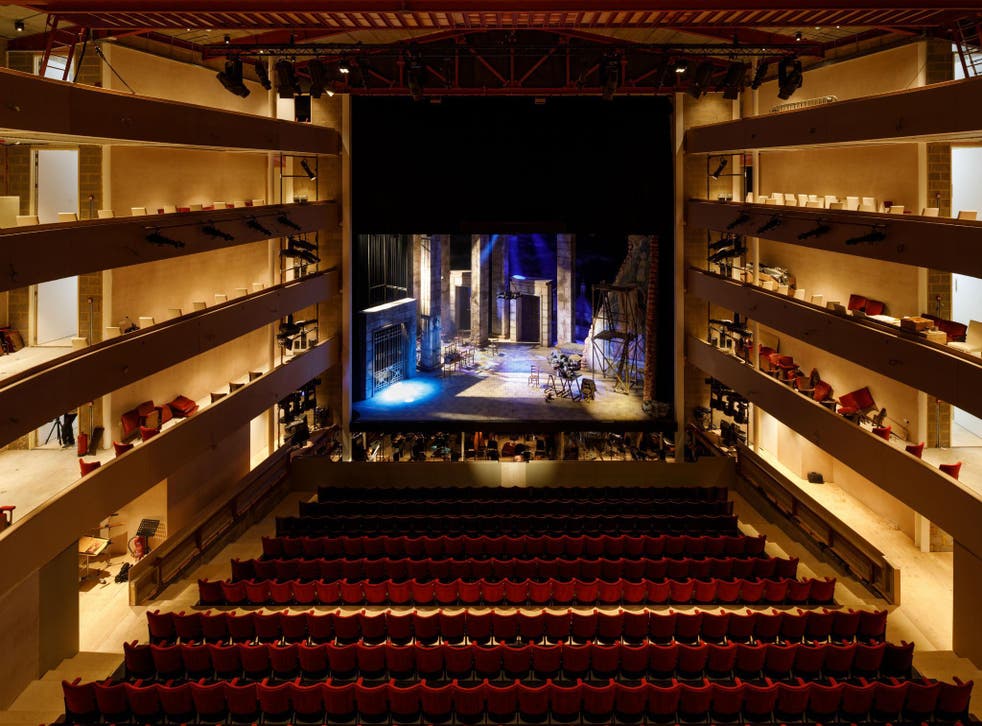 Upping sticks after a terminal row with her landlords at Grange Park last year, Wasfi Kani has built a new auditorium modelled on the Scala in Milan in the gardens of the stately home Bamber Gascoigne has inherited, and she has transferred her company's name to it: thus it is that Grange Park Opera has now reopened for business in what we must henceforth call the Theatre in the Woods.
A year ago this was a hole in the ground; it's not finished, but it's fully functioning. Tardis-like in its deceptiveness, it's much bigger inside than you'd expect, and the raw wood cladding of the interior feels oddly hospitable. Kani has worked a miracle.
She's starting with a safe bet: Joseph Calleja as Cavaradossi in a workmanlike if unremarkable production of Tosca directed by Peter Relton. The title role is taken by the Russian soprano Ekaterina Metlova, whose shining sound is unfortunately not matched by any ability to project dramatically: one would say a schoolmaam, not an actress, while Roland Wood's icy Scarpia lacks the necessary cruel menace. But Calleja's glorious singing makes the whole trip worthwhile, and who cares if it's stand-and-deliver until he crumples under the bullets?
Meanwhile, back at Grange Park itself, a brand-new company has been created by the veteran countertenor – and now impresario – Michael Chance: to be known as the Grange Festival, this too has just opened for business. Since Kani stripped out everything moveable from its auditorium, Chance has had to do a total refit, but the result is a slicker theatre; otherwise it all feels like business as usual. This too is an impressive achievement, and the programme for the first two years looks promising.
Chance's bold opening gambit is a production of Monteverdi's late masterpiece Il ritorno d'Ulisse, in which he plays the offstage part of music director, and the musical result is by and large first-rate. For the central roles of Penelope and Ulisse he has snared mezzo Anna Bonitatibus and tenor Paul Nilon – both singing at the absolute top of their form – and since the work depends on continuo rather than orchestral playing, Chance has brought in musicians from the Academy of Ancient Music and the Division Lobby led by the charismatic Paula Chateauneuf on the chitarrone and Baroque guitar.
But in entrusting the direction and design to Tim Supple and Sumant Jayakrishnan respectively, Chance has taken a gamble which has not paid off. Their background is in community theatre, and they betray absolutely no understanding of the very different demands of opera. They get wrong just about everything which could be got wrong, from distracting and pointless mimed sub-plots, to illegible (sometimes invisible) surtitles, to batty costuming (Penelope dressed up as a lampshade, Neptune in a rubber suit with a snorkeler's harpoon), to a systematic and perverse undermining of the music itself. One can only admire the steadfastness with which the singers – other stand-out performances include those by Paul Whelan and Gwilym Bowen – put up with the directorial silliness, and stick to their last.
Register for free to continue reading
Registration is a free and easy way to support our truly independent journalism
By registering, you will also enjoy limited access to Premium articles, exclusive newsletters, commenting, and virtual events with our leading journalists
Already have an account? sign in
Register for free to continue reading
Registration is a free and easy way to support our truly independent journalism
By registering, you will also enjoy limited access to Premium articles, exclusive newsletters, commenting, and virtual events with our leading journalists
Already have an account? sign in
Join our new commenting forum
Join thought-provoking conversations, follow other Independent readers and see their replies