Turandot, Royal Opera House, London, review: Hibla Gerzmava, as the slave-girl Liu, steals the show
Andrei Serban's 33-year-old production of Puccini's final opera is as fresh as ever with its choreography inspired by t'ai chi and karate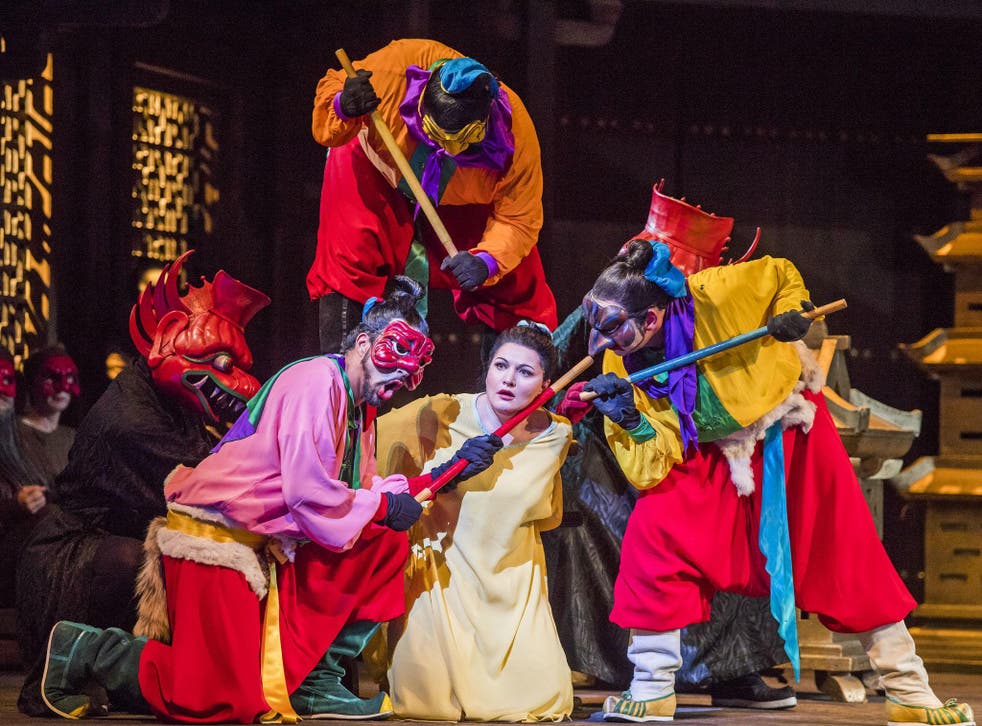 When a show has been running as long as Andrei Serban's 33-year-old production of Puccini's Turandot, we tend to take it for granted, as though the only question in any revival is how good the soloists are. But the way it's put together deserves mention, and explains that longevity.
Choreographer Kate Flatt, who was working on the equally long-running Les Miserables at the same time she was working on this, and whose whirling dancers set the visual tone throughout, took her inspiration from t'ai chi and the ritual gestures of karate. This grounding in ancient forms is why the show still doesn't feel dated.
The siting of the huge chorus round the back of the stage, as though inside a giant drum, allows their sound to come at us with massive force, blending with the orchestra at its loudest. The costumes, all in raw silk, are as varied as they would have been on the streets of imperial China. The doomed Prince of Persia is a hauntingly vulnerable and other-worldly creation. Some of the players on the gongs and giant tam-tam have been with the show since its inception. Everything reinforces the realism of this perennially gripping melodrama.
In Aleksandrs Antonenko as Calaf and Christine Goerke as Turandot we get a suitably resonant central couple, while Hibla Gerzmava, as the slave-girl Liu, steals the show in both her big arias with a gloriously full and sweet sound. And there are no weak links in the rest of this vocal chain, anchored by Yuriy Yurchuk's Mandarin, In Sung Sim's graceful Timur, and Robin Leggate's commanding Emperor Altoum.
Register for free to continue reading
Registration is a free and easy way to support our truly independent journalism
By registering, you will also enjoy limited access to Premium articles, exclusive newsletters, commenting, and virtual events with our leading journalists
Already have an account? sign in
Register for free to continue reading
Registration is a free and easy way to support our truly independent journalism
By registering, you will also enjoy limited access to Premium articles, exclusive newsletters, commenting, and virtual events with our leading journalists
Already have an account? sign in
Join our new commenting forum
Join thought-provoking conversations, follow other Independent readers and see their replies