Former Labour Party special adviser Ayesha Hazarika on swapping politics for stand-up comedy
The stand-up comic who was previously advising Harriet Harman and Ed Miliband on speeches, media and policy, is embarking on a nationwide tour of her new show 'The State of the Nation' 
Michael Curle
Sunday 16 April 2017 11:18 Comments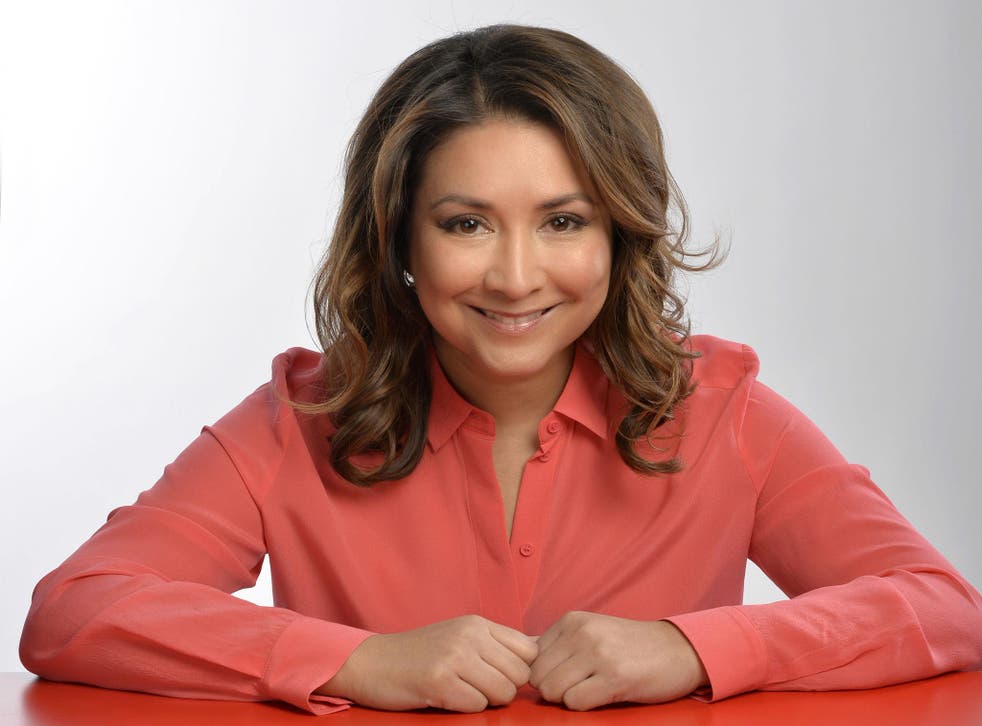 "I was supposed to be in No 10, advising and changing the world through politics. My life has gone tits up – in a good way!" In 2015, Ayesha Hazarika abandoned her career as a Labour Party special adviser to become a stand-up comic. A career move that, quite understandably, was met with raised eyebrows. Fast-forward to 2017, and things look very different. With a fool in the White House and Britain zooming, Wile E Coyote-style, off a cliff marked "Brexit", her decision to ditch politics looks a wholly sensible one. The world is a madhouse.
We meet among the MacBook-tapping scriptwriters in the bar at London's Soho Theatre. Hazarika is easy to spot: a tangle of posh-looking shopping bags, warm smile peeking out from beneath a natty Fedora ("my tribute to Nigel Farage", she jokes). She greets me with a friendly wave.
Before we escape to the quiet of an upstairs meeting room, Hazarika chides herself for agreeing to meet here. Her new show The State of the Nation – a head-shaking canter through the post-Trump, post-Brexit wilderness, but with jokes! – is due to kick-off a nationwide tour, starting at Soho Theatre in a few weeks. The place is making her nervous.
And well it might. The tour is the 41-year-old MBE's biggest test to date; the spoils of a stand-up career that has blossomed since she took to the mic again in 2016 for her second stint as a stand-up, after eight years advising Labour Party big-hitters Harriet Harman and Ed Miliband on speeches, media and policy.
This past life in the Westminster thick of it has provided Hazarika with plenty of Thick of It-style material. Through toe-curling anecdotes and good-old-fashioned gags, her previous show Tales from the Pink Bus told the story of Harriet Harman's widely mocked attempt to connect with women voters during the 2015 election – travelling the country in, you guessed it, a pink bus. "It was this well-intentioned but absurd thing. We couldn't even decide what colour the bus was: some said pink; some said magenta", she says.
With State of the Nation, Hazarika plans to pick up where Pink Bus left off. To use her rollercoaster ride in the Labour Party – from the highs of helping put the Equalities Act on the statute book to the lows of failing to get Ed Miliband into Downing Street – as a vehicle for political illumination and (of course) laughs. In addition, she's set herself the herculean task of assessing where politics is at in 2017. "Every day something new and mad happens", she groans.
Born to immigrant parents in the Lanarkshire town of Coatbridge, Hazarika first gave stand-up a crack back in 2001, spending a few years on the circuit before making the jump into politics. There were far fewer women comics in those days and the backwards attitudes of comedy bookers proved a hindrance.
"At out of town gigs, quite often they wouldn't put more than one woman on the bill. That was quite a standard thing. Clubs would say to me: Oh yeah, we can't book you that week because we've already got 'one'! It"s like they thought we'd all be making the same jokes."
But things are better now, surely? "Things have changed massively: There are many more women doing it now and on the circuit and I think promoters and bookers are becoming much more enlightened."
Of course, as a good lefty, she's desperate to see more stand-up from minority voices – more women, more people of colour, more people with disabilities. But, at the same time, she worries that the current glut of left-liberal comedians isn't altogether healthy for the scene. "I do think it would be nice to mix things up a bit. I'm quite good friends with Geoff Northcott, a Conservative comedian, and it's refreshing to hear a different view from mine. I think that's why politics went a bit tits up – we only really had one view of the world."
Away from comedy, Hazarika has parlayed her political nous into a burgeoning career as a media commentator, regularly popping up on the Daily Politics and Sky News, and writing a regular column for the Scotsman. As a political junkie, she relishes the chance to hold forth on current affairs, even if the "very white, very male" make up of the commentariat sometimes leave her feeling awkward and out of place.
"The people tend to come from a similar background. They've known each other since Oxbridge", she says. "I do enjoy the work but, when I'm in the Newsnight studio sat between two commentator titans I still get this massive feeling of imposter syndrome as we're about to go live. It's like, why am I here? I feel like that taxi driver who turned up at the BBC and they put him on the telly."
To imposter syndrome add online abuse. In the age of social media, commentators – especially women commentators – are plagued with anonymous broadsides from the internet's swivel-eyed massive, and Hazarika, a regular on Twitter, is no exception.
"To some men, you're obviously just inherently thick because you've got tits – that's just the law in terms of Twitter," she says. "I get comments like, 'There's obviously some quota they have to fill', which is obviously the reason I'm on the telly," she says, eyes-rolling. "I get called 'The Asian' a lot."
It helps to see the funny side, she says: "There was this one guy, his avatar was just a union jack. He used to tweet me in capital letters. Are you Muslamic? We are leaving the EU, Muslamic!"
There are political insults too. Because of her past allegiances in the Labour Party, the Corbyn faithful tend to characterise Hazarika as a Blairite, a neoliberal, a capital 'P' Part of the Problem. The truth, as ever, is more complicated; but then these people rarely do nuance. "All the metrics show that Labour is doing really badly" she says. "I"m a Labour person and a party member. But you have to be honest about these things."
Hazarika admits to excitement at the "tsunami of support" for Labour in the early days of the Corbyn experiment. In a watershed moment for British politics, here was a chance to present people with some radical policies, to hose off the stink of New Labour and begin again. But instead, in her view, the performance of Corbyn and co since has amounted to a "fiesta of incompetence".
"The Corbyn machine is still obsessed with rallies, marches. They'll argue that there are all these games in politics and that your job should be to go out and communicate with the country. But things like PMQs matter: they set the agenda for the week, they get onto television, all the journalists watch it. It"s really important for your own side to show that you're up for the fight. At the moment, Theresa May has an easy life."
As our time draws to a close, the subject returns to her new show, The State of the Nation. "I want to talk about how we continue to make the same mistakes in politics, regardless of what party we're in. The people with the most power in political parties are still not listening to ordinary people and are very, very out of touch. It's the reason we're in such a mess," she says. Before adding quickly: "Oh God, that sounds too heavy, it might put people off. There are loads of jokes too!"
I tell her not to worry. Heavy is de rigeur in comedy. At the Edinburgh Festival a couple of years back there was a trend for shows about traumatic subjects – The Day My Dad Died, that sort of thing.
"I've done My Party Died," she says, and then sighs deeply before stepping into the grey Soho afternoon.
Ayesha Hazarika's 'The Station of the Nation' tours nationwide from 18 April to 14 July
Register for free to continue reading
Registration is a free and easy way to support our truly independent journalism
By registering, you will also enjoy limited access to Premium articles, exclusive newsletters, commenting, and virtual events with our leading journalists
Already have an account? sign in
Join our new commenting forum
Join thought-provoking conversations, follow other Independent readers and see their replies