Viral Laughter
Chi with a C: 'I'm trying to un-influence people as much as I can'
Comedian Lucia Keskin has earned fans including Dawn French and Diane Morgan with her videos reimagining classic TV shows. She talks to Isobel Lewis about growing up on the internet, trying stand-up and feeling like a 40-year-old trapped in a 20-year-old's body
Monday 15 February 2021 06:33 Comments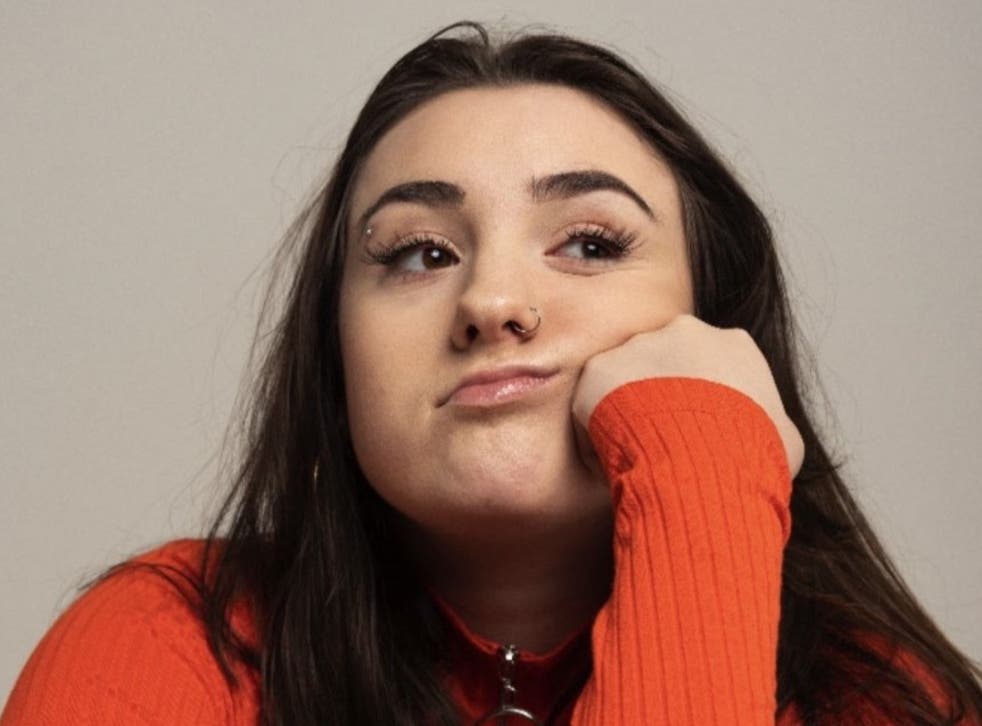 When Lucia Keskin failed all but one of her GCSEs, her mum wasn't the first to hear about it – her YouTube subscribers were. The then-16-year-old opened her results on camera, a look of doomed acceptance on her face. Four years on, she's still using the internet to document her life and make people laugh. "I'm doing this so that in 20 years time, I can go on YouTube and go, 'You know, you were really bad at life, you were, but now look at you,'" she says in the video. "'You work in Subway all day.'"
Think of Gen-Z comedy, and you probably imagine TikTok dances, niche tweets and YouTube pranks. It's a subgenre that feels worlds away from the sitcoms of yore, but Keskin, a 20-year-old comedian who posts videos under the name Chi with a C, is bridging the gap between the two. Armed with a green screen and some dodgy wigs, Keskin produces some of the sharpest comedy sketches around, parodying shows from Friends to ITV's daytime line-up. Oh, and she plays every single part, does every accent and writes every script.
It's these scripts, which are so well observed they could pass for actual episodes, that set Keskin's content apart. Her most recent viral video imagined British sitcoms for the pandemic era, with Nessa from Gavin and Stacey selling her own homemade vaccine and Philomena Cunk questioning: "Who is Panda Mick and how did he come to be more famous than Susan Boyle is today?" Diane Morgan, the original Cunk, was one of the many actors impersonated in the video to reshare it on social media, something Keskin says she'll "never be cool about". 
As we talk over Zoom, Keskin from her bedroom in Kent, she seems incredulous that the people she's impersonating – Dawn French, Rob Brydon, Nicola Coughlan – enjoy her videos. True, the sheer quantity of online content being produced every minute makes success unlikely. But anyone who's seen her videos can tell you that Keskin is a star.
Being, in her own words, "not very good at anything academic", Keskin focused her energy as a teenager into making people laugh; the internet felt like a "natural" outlet for it. When I mention her earliest videos on the platform, a mixture of vlogs, challenges and chatty videos, she cringes. "I wouldn't even say it was comedy, it was just being stupid," she says. But while tried-and-tested YouTube formats were a good way to start building her channel, Keskin quickly moved into making content she was actually interested in.
"I thought there's no reason why I can't do the kind of things that I would watch on TV so I just started," says Keskin. She insists that the celebrity parodies, now her trademark, were "kind of an anomaly". "I always used to think I was terrible at impressions," she says. "I just wanted to dress up as people and then eventually it slipped in and people said, 'Oh, you sound like them'. Even now… it's not on purpose."
Keskin's videos may give off the vibe of being heavily influenced by internet humour, but their tone is far more traditional. Given that she feels "like a 40-year-old", it makes sense that the comedian lists The Vicar of Dibley and The Catherine Tate Show – programmes her grandparents liked to watch – as her primary inspirations. "It's always been my favourite thing to watch a lot of comedy... silly stuff," she says. "I haven't got the brain for serious stuff."
But while social media has always been her second home, as her platform grows it's become harder to separate work from her sense of self. When she uploads a video to Twitter, Keskin says she watches the numbers and is tempted to delete her account if they're not high enough. When Twitter is your job, you "can't really enjoy it", she says, especially when fans feel like they know you more than they know your work.
As her profile grows, Keskin hopes to prioritise the "comedian" side of being an "internet comedian" and has recently signed with a comedy agency. While some of her dreams have been put on pause due to the pandemic, they remain big. Despite it seeming like "the scariest thing ever", she's long wanted to do live stand-up. "I feel like just doing it can help with not being scared of anything."
It's hard to imagine someone who's been posting videos since they were a teenager and tweeting since they were 10 being scared of putting themselves out there. But Keskin's ambitions, like her sense of humour, are classic: she wants her own TV show and to perform live. She certainly doesn't want to be creating content from her room forever. "I'm trying to un-influence people as much as I can," she laughs. "I don't want to be an influencer. I just want to do stupid things."
Register for free to continue reading
Registration is a free and easy way to support our truly independent journalism
By registering, you will also enjoy limited access to Premium articles, exclusive newsletters, commenting, and virtual events with our leading journalists
Already have an account? sign in
Join our new commenting forum
Join thought-provoking conversations, follow other Independent readers and see their replies