Drag queen Panti Bliss on the Irish same-sex marriage referendum, international fame and the changing gay scene
In the past year, Panti Bliss, aka Rory O Neill, has gone from cabaret entertainer to gay rights figurehead
Karen Attwood
Friday 10 April 2015 18:29 Comments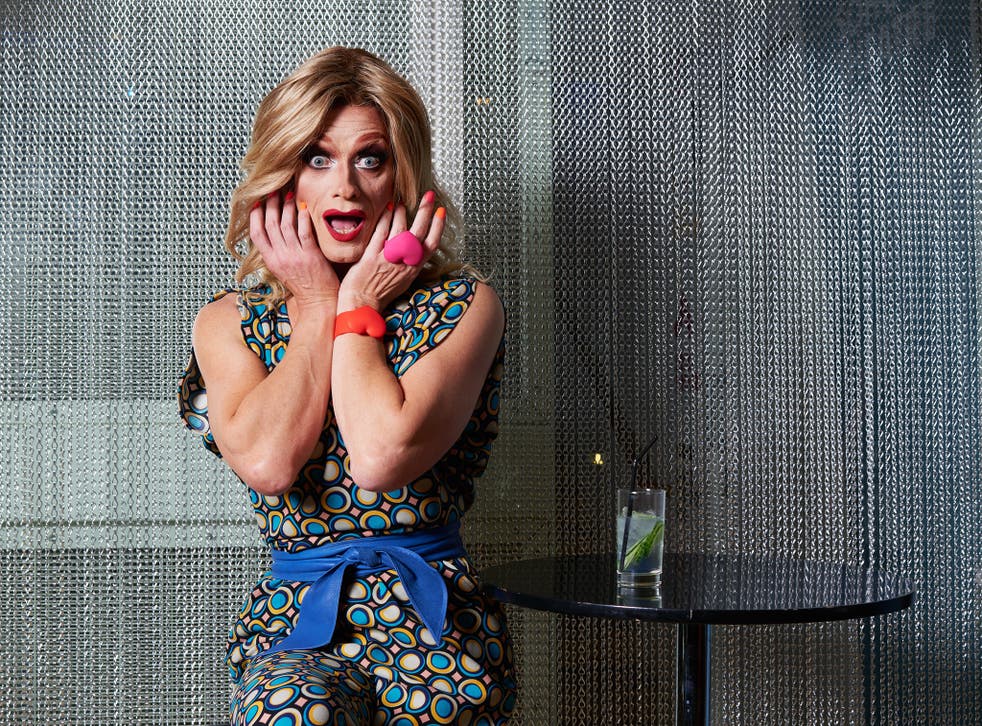 Could 23 May be "the gayest day in Irish history"? So hopes Irish drag queen Panti Bliss, aka performer Rory O'Neill. That's when the result of the country's same-sex marriage referendum will be announced – the same day as the Eurovision Song Contest final.
"If it doesn't pass it will be devastating," says the self-described "accidental activist" who became a figurehead for LGBT rights after a chain of events last year which started when O'Neill, appearing on an Irish talk show, offered what he says were "very mild" remarks about how "some people are horrible and mean about the gays". After he was pushed to name names, those mentioned, including Catholic lobby group the Iona Institute, threatened legal action for being labelled homophobic, to which the broadcaster RTE responded by offering them payouts and a public apology.
Dressed as Panti, an angered O'Neill then followed up with a rallying speech, at Dublin's Abbey Theatre, about what it feels like to experience homophobia every day. Described by one newspaper as "the most eloquent Irish speech in 200 years", it was uploaded on YouTube and went viral, earning Panti international headlines.
The past 12 months have been a whirlwind for Panti/O'Neill. Offers flooded in for O'Neill's life story, with Woman in the Making: A Memoir published at the end of last year, while Panti gave a TEDx talk to a standing ovation and has spoken around the world at universities and festivals. Meanwhile, within the Irish Republic, the entertainer, who runs a bar in Dublin called Pantibar, has been the most prominent voice in the referendum's "Yes" campaign.
Now Panti has channelled her experiences into a stand-up show, High Heels in Low Places, which is about to arrive at London's Soho Theatre. On the day we meet at the venue, I'm greeted by a casually dressed O'Neill rather than the fabulous Panti, although the drawn-out Irish vowels, which make Panti such a poetic orator, remain. The 46-year-old says "there is a distinction but it is a blurred one" between him and Panti, and confesses that "in regular life I'm actually quite reserved", whereas "Panti is much more forward and blunt". Though, as Panti has also proved, she is far from frivolous: "Most people may have seen a drag show sometime in Lanzarote and they think that is what drag is, but it comes in a million different forms."
However, O'Neill could not have predicted the storm that came to be known as "Pantigate". He believes that the reason the claimants threatened to sue was political: with the referendum on same-sex marriage approaching, the "No" camp wanted to stamp out any accusations that they were against it due to homophobia. "They wanted to lay down a marker before the campaign got going," he says.
Yet though Pantigate prompted a national conversation about homophobia which stretched all the way to the Irish parliament, it left O'Neill feeling isolated. "At the time it was all looking really bad for me," O'Neill says. "I was getting sued and the mainstream media were afraid to touch this. I felt I had no voice … so, when I made this speech, I was in the middle of this intense thing."
Incredibly, the Abbey Theatre speech was written hastily that afternoon and O'Neill believed it would be quickly forgotten. Instead, it caught the attention of the world: Madonna emailed her approval and Pet Shop Boys recorded a track called "Oppressive (The Best Gay Possible)" set to Panti's impassioned words.
O'Neill's "personal best moment" was being tweeted by Martina Navratilova. "I actually worshipped Martina Navratilova when I was a teenager," O'Neill says. "Every summer the whole country stopped to watch her be the greatest tennis player in the world and she was an out lesbian at a time when being an out lesbian was almost unheard of … so when she tweeted me about it that was the big one."
Panti "got thousands of emails from gay people" but also from "people in wheelchairs and with autism", and from women. "Anybody who feels oppressed has the same experience," says O'Neill. For him, one of the most important legacies has been how it has allowed gay people to start conversations about homophobia within their families. "Most gay people do not go to their families and say 'Oh somebody called me a f****t today'," he says. "[So] I get a lot of gay people saying 'Thank you' for that."
As for the referendum, while polls suggest "Yes" has a significant lead, O'Neill admits he's "nervous", as typically referenda attract more older voters than young, which puts conservatives at an advantage. "But, this time, young people are quite enthused about voting as it's a very simple kind of question and I'm hoping it will allow them to give a clear message that it's the kind of Ireland they would like to live in."
O'Neill grew up in County Mayo with a "painfully middle-class" upbringing by his country vet father and a mother who was a minister of the Eucharist. He then went to art school near Dublin but it was only when he spent a summer in London, aged 19, that he found his creative calling after encountering the performance artist Leigh Boweryon the club scene.
"London was this giant glamorous city and he was the epicentre of cool, and yet a fat kid from a small and s**tty town in Australia. That was revelatory to me, that it didn't matter who you were or where you came from, you could be anything you wanted to be," says O'Neill.
Then, in 1990, O'Neill and a friend moved to Japan for four years, where O'Neill taught English by day and hit the club circuit at night, giving birth to Panti – initially as part of a double act CandiPanti, the name chosen because it was easy for the Japanese to pronounce. "I really felt I could do anything and be anything. In Dublin, I was always the boy from Mayo whereas in Japan, they didn't know if I was from New York or wherever, I was just this big white guy."
O'Neill discovered he was HIV positive in 1995 and says that although the stigma of the illness has lessened, it is still strong, even within the gay community, "who should know better". And while O'Neill is happy at how the gay rights movement continues to progress, he admits he is concerned by the "blandification" of gay culture, having visited Sydney and Montreal recently, as well as London, and seen how gay club scenes are "dying". He puts this down to gentrification and the power of the internet.
"There was a time you had to go out to a bar to meet someone but now you can stay in and stay on Grindr all night," he says. "Also young people feel safe hanging out with their straight friends in their local bar" – which is, he adds, "of course a good thing, [though] on the other hand I miss it". "I like the oddballs, the weirdoes ... I liked the ghetto," he laughs.
Nevertheless, whatever the result on 23 May, expect Panti to continue fighting the good fight: "It's part of being a minority. There is always work to be done to keep your place in society."
'Panti: High Heels in Low Places' is at the Soho Theatre from 20 April to 2 May (sohotheatre.com)
Gay Times Top 30 gay icons of the last 30 years

Show all 30
Top Five star cross-dressers - Boundary-breaking drag artists
Danny La Rue
Working the variety halls before making his West End debut in 1952, the Irish actor and impersonator brought cross-dressing to the mainstream in the UK, and became, at the peak of his career, the country's highest paid entertainer. He was also the first man to play a female role in a major musical, in a 1982 production of Hello Dolly!.
Divine
Originally born Harris Glenn Milstead in Baltimore in 1945, this cult performer subverted the classical glamour of drag with his 320lb frame, shaved hairline and a 66D bra full of lentils. He enjoyed a long-term creative partnership with film-maker John Waters until his death in 1988, and is perhaps best remembered for a certain, ahem, ingesting scene in Waters' film Pink Flamingos.
José Julio Sarria
This American impersonator combined his many cross-dressing personas – The Grand Mere, Absolute Empress I de San Francisco, the Widow Norton – with his political activism. He became the first openly gay candidate to run for public office in the United States in 1961 and helped found the Imperial Court System, now one of the largest LGBT organisations in the world.
David Hoyle
A legend of queer cabaret since the 1990s, Hoyle is a performance artist and self-described "anti-drag queen", whose punkish persona is a riposte to "bourgeois Britain and the materialistic-hedonistic gay scene". He frequently highlights mental health issues in his performances having dealt with breakdowns himself.
RuPaul
The San Diegan has brought drag high-kicking into the populist arena of reality TV with his Drag Race series in which he searches for future drag stars. Paul, 54, has also released an album, Supermodel of the World, modelled for MAC and released his own line of cosmetics.
Heloise Wood
Register for free to continue reading
Registration is a free and easy way to support our truly independent journalism
By registering, you will also enjoy limited access to Premium articles, exclusive newsletters, commenting, and virtual events with our leading journalists
Already have an account? sign in
Join our new commenting forum
Join thought-provoking conversations, follow other Independent readers and see their replies