Edinburgh Fringe 2014 winner John Kearns: From tour guide at the Houses of Parliament to best stand-up at Edinburgh in under a year
'Being a comic? I didn't even know that was a job'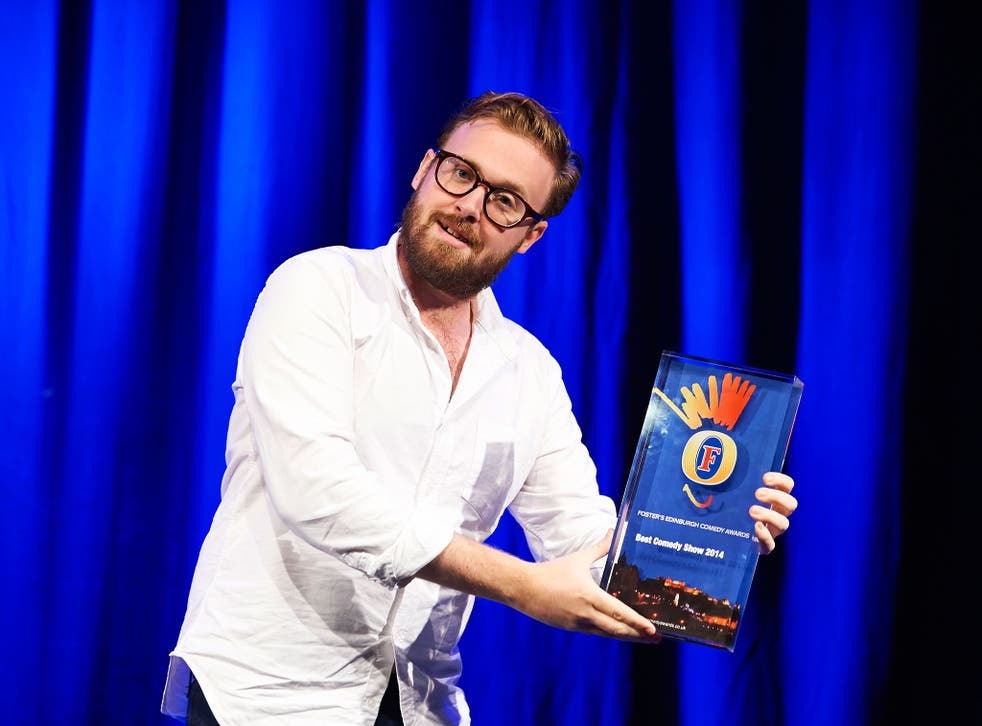 It's the morning after John Kearns won the prestigious Foster's Edinburgh Comedy Award for best show at the Fringe on Saturday, and he is contemplating just how far he has come since he gave up his day job last November as a tour guide at the Houses of Parliament.
The 27-year-old Londoner spent nearly five years showing members of the public – many of them parties of schoolchildren – around the highlights of the Palace of Westminster. Did he do it with jokes? "Oh God, no," he says. "I have great respect for the institution and I was very strict with the kids – and anyway they think adults trying to be funny is so lame. Privately, I could laugh at the contrast of having appeared on stage the night before wearing heels and shouting at someone in the front row about what their favourite curry was."
Kearns's winning show – Schtick – is thin on mentions of his old job. There is one anecdote, however, about leading a group of schoolchildren round and bumping into Russell Brand. A few of the youngsters recognised him and asked for selfies, but most didn't – and thought the outlandishly dressed Brand was bit of an idiot.
Schtick is lo-fi comedy full of slow-burn material that tends to dwell on the mundane – for example, the ceramic frog soap-holder at his grandmother's house (his family are referenced a lot in Kearns's work); the meaningless phrases that we litter our conversations with; the sight of an elderly married couple sitting in the pub. "It is," one critic observed, "a very funny show without any gags," while another described it as "an elastic band about to snap". One riff from the show goes: "If I was on Desert Island Discs I'd choose the title track eight times… so people listening would think there was something wrong with their radio."
Edinburgh Festival 2014

Show all 23
Kearns appears on stage in a monk's tonsure wig and ill-fitting false teeth – not, as amateur psychologists might suspect, to mask inner turmoil, still less indicating that this is comedy as therapy, but to underscore life's ridiculousness. "Life really is weird," says Kearns, "and the get-up highlights the absurdities of it." In the show, he references his onstage appearance as "a joke that got a little bit out of hand". It's not for everybody, but established comics Frank Skinner and Stewart Lee are among those who have sung Kearns's praises.
Kearns cuts a warm but serious figure when we speak after his win. "I suppose I am quiet and I certainly don't feel the need to perform off stage," he says, "although my girlfriend [fellow comic Gabby Best] might say something different." He adds that his reflective outlook on life comes from his father. "I'm my dad's son in that respect, totally."
He laughs at how serious that makes him sound but then reinforces the impression by telling me that his ambition is to own a secondhand bookshop, where he "would be the type of guy who would be annoyed when anyone came in".
Kearns, 27, comes from a close-knit Irish-Catholic family – his father is in insurance and his mother works in a bank – and grew up in Streatham, south London, the eldest of three sons. He says he was a well-behaved boy – "I didn't break the rules because I didn't know I could," he says laughing at the memory. "Typical eldest child, I suppose."
It was a primary school teacher who planted the idea of comedy, suggesting that the quick-witted pupil stand up on stage and tell jokes. "I thought, is that possible? Is that even a job?"
But the idea had taken hold and later, when he went to the London Oratory (at the same time as Tony Blair's children) and then to the University of East Anglia to study English and Drama, it was with a view to taking up comedy as a career. He did his first gig at the age of 18.
His heroes were Tony Hancock, Robin Williams, Les Dawson and Tommy Cooper. "I love when comics don't realise how funny they are, or why the audience is laughing at something they said which they thought was serious."
He says he isn't political – "no more than the next guy" – but Kearns is fascinated by the workings of Westminster and says his interest was spurred by seeing This Week, Andrew Neil's political magazine programme on BBC1, as a teenager. "They kept mentioning the Westminster bubble and I thought this sounds fun – I want to be part of it."
Although he hasn't yet plundered the Westminster job for material, Kearns has lots to draw on if he chose to in future shows – albeit anecdotes delivered in his distinctive style – "the modern-day absurdist cousin of Tony Hancock," as one critic hailed it.
He talks with boyish pleasure at being at Westminster to witness the horse-trading in the corridors of power before the Coalition Government was formed in 2010 – "David Cameron just popped out from a door and rushed down some steps as I was taking a tour!" – and being on nodding terms with members of the Cabinet, before describing how weird it felt to be behind the Rev Ian Paisley in a canteen queue. "There were only two sandwiches left – ham or cheese – and I thought, "I hope he doesn't take the cheese because I want it."
Despite his protestations, I suspect Kearns is a political animal. During our conversation, apropos of nothing, he recalls appearing in Timberlake Wertenbaker's Our Country's Good – a play about nationhood and imperialism – alongside Tony Blair's daughter, Katherine. "He came to see it at the school in 2005 at the height of Iraq, and I do wonder what was going through his mind," Kearns says.
"I'm going to go back and read that play again and see if it gives us any clues to a Prime Minister's thinking about taking us into a war to which many people were opposed."
Register for free to continue reading
Registration is a free and easy way to support our truly independent journalism
By registering, you will also enjoy limited access to Premium articles, exclusive newsletters, commenting, and virtual events with our leading journalists
Already have an account? sign in
Register for free to continue reading
Registration is a free and easy way to support our truly independent journalism
By registering, you will also enjoy limited access to Premium articles, exclusive newsletters, commenting, and virtual events with our leading journalists
Already have an account? sign in
Join our new commenting forum
Join thought-provoking conversations, follow other Independent readers and see their replies