Judging a comedy award is no laughing matter
Jokes about racism, porn, cystitis... you get all sorts on the Fringe. But how do you spot the next big thing in stand-up? Alice Jones, a judge on this year's Edinburgh Comedy Awards panel, explains
Alice Jones
Tuesday 20 August 2013 22:17 Comments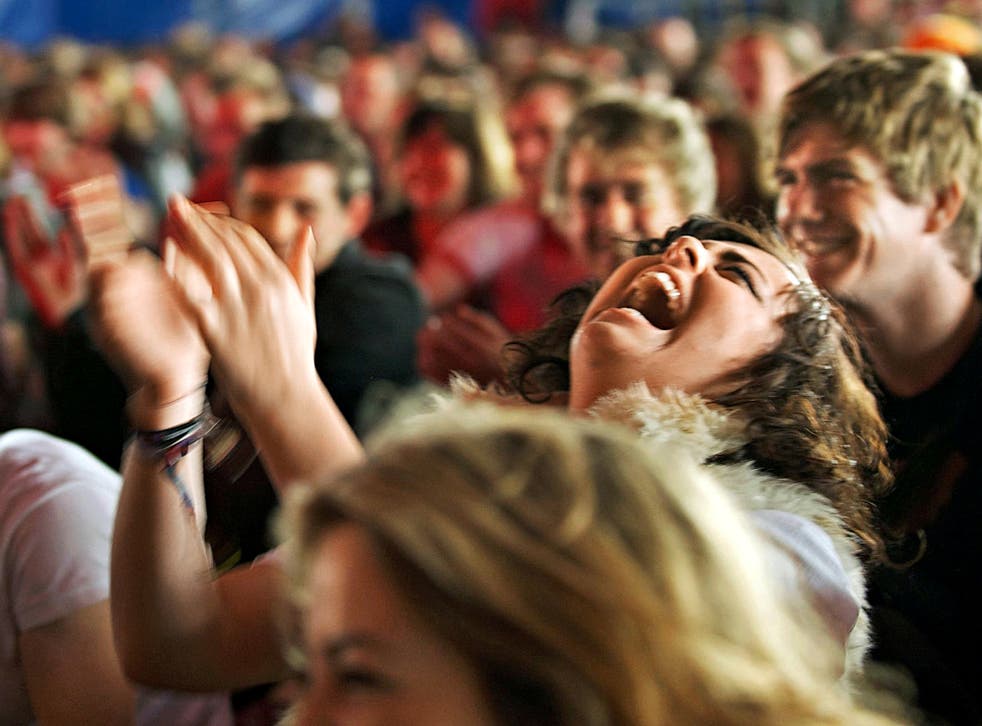 In the past 17 days I have watched 71 stand-up shows. That's 71 hours of comedy in just over two weeks – more than most sane people would see in a year, perhaps a lifetime. I have watched someone in a pig's head miming one-liners, a man singing songs on a cross-trainer and a woman polishing off a story about her ex by eating a light bulb. I have sat stony-faced through superhero sketch shows and fallen off my stool laughing at a mime of someone kicking a football. I have listened to stories about porn addiction and grandmothers, racism and dinner parties, true love and break-ups, cystitis and skywriting. I have watched one whole hour of ventriloquism. And I have seen a lot of flesh. Too much flesh. The comedy striptease is the new mother-in-law joke. I think I'm up to five now. Certainly enough that by the time I walked into the back room of a bookshop on Sunday night and was greeted by a woman wearing a denim jacket, a blonde wig and nothing, not a stitch, below the waist, I didn't even blink.
Why am I doing this? I have been tasked with finding comedy's "Next Big Thing". This year, I am on the judging panel for the Foster's Edinburgh Comedy Awards, the star-making prizes that are awarded annually at the end of the Edinburgh Fringe, aka the biggest gathering of comedians on the planet. The main prize, commonly known by the name of its original sponsor, Perrier, was established in 1981, when it went to a group of unknown Cambridge Footlighters including Stephen Fry, Hugh Laurie and Emma Thompson. Over 33 years, it has been won by pretty much anyone you have ever laughed at on a stage or screen – Steve Coogan (who will present the award on Saturday), Frank Skinner, Lee Evans, Dylan Moran, The League of Gentlemen, Al Murray, Daniel Kitson, Tim Key.
The list of those who have narrowly missed out is similarly impressive – Bill Bailey, Eddie Izzard, Graham Norton, Jo Brand, Jimmy Carr, Flight of the Conchords, Jack Whitehall and Michael McIntyre – all shortlisted, but no cigar. The first Best Newcomer prize in 1992 went to Harry Hill and has since given an early boost to the likes of Sarah Millican, Josie Long, Tim Minchin and The Mighty Boosh. For the winners, most of whom will have lost thousands of pounds over the course of a month-long run at the festival, the financial rewards – £10,000 for the main award, £5,000 for the Best Newcomer and Panel Prize – are a welcome going-home present. But it is the prestige of joining a pantheon of greats, and the doors that membership opens, that is the real prize.
So it is an honour and a responsibility to join a panel of seven fellow newspaper critics, comedy editors and television and radio commissioners (plus three members of the public) in the hunt to find the funniest man, woman or gang at the 2013 Edinburgh Fringe. Someone to rank alongside Coogan and Kitson, someone to make the nation laugh for years to come. The shortlists, which are announced later today, are the product of months of planning by the West End theatre impresario and founder of the awards Nica Burns and her production team. They comb the 394-page Fringe brochure to weed out the eligible shows – basically any hour by any comedian who is not already selling out The O2 or hosting their own television panel show. This year, that amounts to 578 shows – every single one of which must be seen by a Foster's scout or judge, many of them by more than one. Together we have clocked up 1,277 viewings in two weeks.
It is quite hard work. Not mining coal or tending the sick hard, but occasionally harrowing in its own way. Every morning a schedule of five or six shows for the day arrives in your inbox whereby you groan or punch the air depending on who you have to see and then plot strategic stops for toilet and coffee breaks, which you will never take because shows always overrun, the box-office is never where you expect it to be and Edinburgh is one big hill. Occasionally in a queue, or on the street, you might bump into a fellow judge – recognisable by their 1,000-yard stare, notebook stuffed with ticket stubs and trail of cereal bar crumbs (no time for dinner when you're looking for the Minchins and Millicans of the future) – and nod wearily before running to a Wi-Fi hotspot to add a score out of 10 and some pithy comments to the secret awards database.
Can you watch too much comedy? Happily, no; this is a job that comes with its own morale-boosters built in. At one's lowest ebb, it only takes a brilliant routine and a bout of the giggles to get back on track. For the rest of the time, there is a constant, exhilarating feeling of not having a clue what to expect. The same show that made you groan or punch the air when you saw it on your schedule might have the opposite effect at the end of an hour in a darkened room. And while there have been troughs – when 60 minutes feel like 60 hours and you never want to hear another Glasgow gag again – there have also been peaks: fighting through a scrum to see an unknown Free Fringer in the back of a pub on a Monday night and joining in as the room rocks with laughter; relaxing at the top of an hour as you realise you are in safe, hilarious comedy hands –these are particular kinds of joy.
As the shortlists are published, I worry that we have missed someone, but I also feel that we have seen it all: promising young stand-ups from the other side of the world, veterans finally hitting their stride and sketch shows so clever you want to watch them again and again. The variety is astonishing; so too are the similarities. Recurring themes this year include pornography, feminism, how stand-up is all a lie and, weirdly, gout. Quoting The Love Song of J Alfred Prufrock and taking one's clothes off is in; joking about the Royal Baby is not.
Other perennial truths still hold true in 2013. A show's title has nothing to do with a show's content (why don't they all just use their names?). The crowd is always right (unless they are drunk) so it is never a good idea to tell them off for not "getting it". And Edinburgh audiences are the nicest in the country – game for dancing the duet from Dirty Dancing or singing Bono's line from "Do They Know It's Christmas?" if the man with the mic tells them to. In one show, where a comedian repeatedly berated the audience for laughing too quietly, I heard the world's nicest heckle from a woman who put up her hand and said quietly, "We think you're very funny. Please just carry on." I have also seen a comedian storm off stage vowing never to return to Edinburgh, another personally manhandle a row of drinkers out of his venue, another burst into tears.
These moments are a reminder that for performers the Fringe is rarely a laughing matter: careers and livelihoods are at stake. So while we judges may not have sweated as much as they have – can anyone sweat more than a stand-up in a Pleasance Portakabin? – we take the business of finding the funny very seriously indeed. The first official panel meeting at the weekend was a grim-faced half-day where every single show was discussed – some dismissed with a single chorus of "no", others debated at passionate length. In 90 minutes, we had whittled 578 contenders down to 45 before voting on a longlist. My inner Cheryl Cole came out as I talked about star quality and why my favourites should "100 per cent go through". It is democratic, straightforward and intensely personal, too. When someone disses your champion show, it feels like an attack on your sense of humour – which, of course, it is.
There is still plenty of work to do before Saturday's secret vote, as we all watch the shortlisted shows for a second time. Last year, the prize went to a mime artist and a Norwegian – Doctor Brown and Daniel Simonsen – so anything could happen. It might even go to a woman. I only hope that we find the best. With so much talent sloshing around up here, it would be a failure on our part not to. But if someone misses out this time, there will be a new panel of judges, heaving their cereal bars and eye bags around Edinburgh, ready to see them next year: that's the bonkers beauty of the Fringe.
The Foster's Edinburgh Comedy Awards are announced on Saturday (comedyawards. co.uk)
Register for free to continue reading
Registration is a free and easy way to support our truly independent journalism
By registering, you will also enjoy limited access to Premium articles, exclusive newsletters, commenting, and virtual events with our leading journalists
Already have an account? sign in
Join our new commenting forum
Join thought-provoking conversations, follow other Independent readers and see their replies