Katherine Ryan interview: the comic talks Edinburgh, her BBC series 'Hair' and gender balance on panel shows
'TV has to be representative of society, but there are still some white male comedians who argue that [the BBC's stance is] not fair.'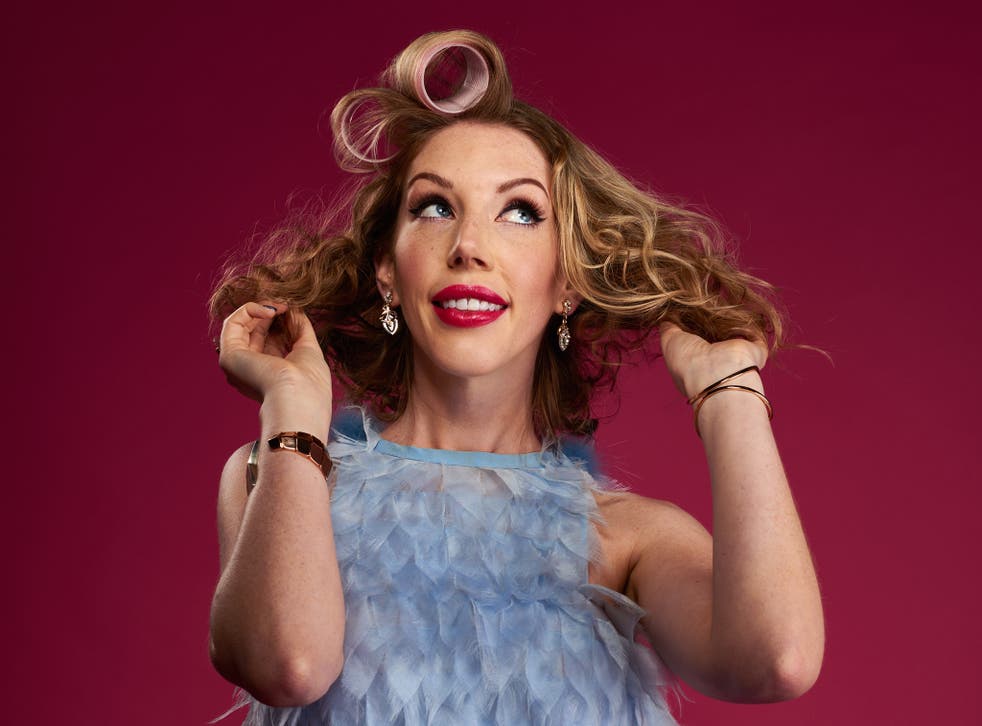 Canadian comic Katherine Ryan reminds me that I gave a poor review to her debut Edinburgh Fringe show in 2011. I thought it was a bit of a mess, which she generously acknowledges as fair comment. Then in typically deadpan style she says: "Neither of us knew I was going to be a comedian, right?"
But look at her now; Ryan, 32, is one of the most sought-after guests on television panel shows, has only just stopped touring the superb Glam Role Model, which debuted in spring 2014, and is now about to present a primetime reality series on BBC2 – Hair, the search for Britain's most talented hair stylist – before returning to the Fringe with a new hour of material next month.
I ask if her stratospheric rise from jobbing stand-up to feted comic in just a few years was by accident or design. "A bit of both," she replies. She credits her first panel show appearance – on 8 Out of 10 Cats on Channel 4 in May 2012 – as her launchpad; she was very nervous but decided "to go for it, just be myself. I realised I could do comedy my way, I found my voice." It went well and other television work – lots of it – followed, including Mock the Week, Never Mind the Buzzcocks and Have I Got News For You.
For the next two years she was "like a doctor in training, on call all the time", accepting every live gig and TV slot she was offered, honing her craft. "Well not everything. There were some Channel 5 things ..." she says, correcting herself.
I ask Ryan if she now feels she is famous. "Not so much," she says, but admits she's no longer "the unwelcome surprise on the bill. People are actually coming to see me."
Ryan grew up in a small city in Ontario near the US border, the eldest of three daughters of an Irish father, who set up his own engineering company, and a Canadian mother and computer analyst. Her talent came early. "I remember a lot of adults drinking and smoking around the dinner table and if you wanted any attention you had to participate – and I knew that making them laugh was the way to do that."
Her comedy is whip-smart and acerbic, and wonderfully near the knuckle. In Glam Role Model, Ryan, a single parent, lovingly talked about her daughter (now six) before saying: "I shot her out of my vag!"
Most of her act is similarly borne from mining her own life. Glam Role Model recounted how a former boyfriend cheated on her with a glamour model, and that first Fringe show was about her mother's obsession with beauty pageants, and how Ryan put herself through university by working at Hooters, a sports restaurant chain with scantily clad waitresses. A strange entry on a self-described feminist's CV, I say. "I was 18, I was a child. I wouldn't recommend it as a career option now, but I learnt a lot of life lessons."
Her new show, Kathbum takes its title from the nickname her mother gave her as a child, which is now also her Twitter handle, and was prompted by her youngest sister's upcoming wedding back in Canada, at which she will be making a speech. "I realised I don't really know her any more. I've lived here for nearly 10 years and I'm kind of insular anyway. I text them and we speak, of course, but you're a different person after that amount of time."
She will use the event as a springboard for discussing her relationship with her home-country. "I always tried to fit in, so I was a cheerleader with the orange skin and white-blonde hair, and Hooters was part of that". She feels much more comfortable living in the UK, she says – although she was initially baffled by our obsession with class. "In Canada, we just have rich and poor, but we don't constantly remind poor people about it. When I came here I had to learn, am I allowed to be friends with this person?"
Talking of inequality, Ryan was recently dubbed "queen of the panel show" and she more than holds her own in what is often a bear pit of blokishness. Last year, the BBC declared there should be at least one woman on every panel show from now on: but despite this, does Ryan feel female comics still have to contend with the hoary old debate about whether women are funny? "Yes, I think we do, and that's unfortunate because you don't want to feel patronised, or that you haven't earned your place."
"TV has to be representative of society, but there are still some white male comedians who argue that [the BBC's stance is] not fair." She adds, her voice dripping with sarcasm: "The day that any white man in this world can argue that it's not fair ...."
And even though more female comics may be appearing on panel shows, their jokes don't necessarily make the edit. That's not a problem with Hair, Ryan says, on which she has replaced Steve Jones as host. "They give me a lot of room to be me," she says – and she comes across as quick-witted and natural. Her response to seeing a large pile of multi-hued hair one contestant has clipped from his friends' heads is a look of disgust and a wonderfully unscripted "Gross".
There are no Mel and Sue tortured puns, but could Hair be the next Great British Bake Off, now that it has moved from BBC3 to BBC2 for this second series? "I would love that. They have made the challenges bigger and better and it's real fun. It's fast-moving and you get invested in the contestants. I found myself getting really involved with them."
One of the reasons Ryan took the Hair gig is, she says, because she believes hair styling "is a genuinely creative artform". Has she had disastrous dos in her time though? "Oh yes, I've had all of them. The worst offender was hair extensions, which my sister made me do in 2009. They just look insane and are not made for European hair, so I went bald for a while.
"And when I was 15 I cut my hair in a pixie style, which was all wrong for my face shape. It was really bad but at least I looked like a very handsome young man. And I have a message in my phone to remind me not to get a fringe."
When we meet for coffee near her home in Crouch End, north London, she is wearing no make-up and her hair is in a ponytail. "I like my hair to be low maintenance and I have no problem going out looking like this, when people will think 'Poor Katherine, she must be ill'. But I admit when it's for work I love somebody working on my hair. It's a real treat."
Ryan is a keen tweeter, and Hair is certain to attract comments on the social media platform, where she was recently attacked by presenter Kirstie Allsopp over a joke she made about her daughter's father; Allsopp suggested the child would not be able to make the distinction between comedy and real-life. "She's smart enough to know the difference," says Ryan. "And besides, her dad's a hero in our house and she sees us getting along."
Was she offended by Allsopp's comments? "I was more offended by her [recent comments] saying women should have babies younger and delay their education – but then her job is to turn garbage into Christmas stockings. And she takes issue with lots of things; she's almost a professional troll."
I'd make that one-nil to Ryan.
Photography: Micha Theiner Styling: Jennifer Michalski-Bray; Hair: Kellie Henry; Make up: Scarlett Burton, provided by Mac Cosmetics
'Hair' starts on BBC2, 13 Jul at 10pm; 'Kathbum' is at The Stand, Edinburgh 6-22 Aug, then touring (katherineryan.co.uk)
Register for free to continue reading
Registration is a free and easy way to support our truly independent journalism
By registering, you will also enjoy limited access to Premium articles, exclusive newsletters, commenting, and virtual events with our leading journalists
Already have an account? sign in
Register for free to continue reading
Registration is a free and easy way to support our truly independent journalism
By registering, you will also enjoy limited access to Premium articles, exclusive newsletters, commenting, and virtual events with our leading journalists
Already have an account? sign in
Join our new commenting forum
Join thought-provoking conversations, follow other Independent readers and see their replies