Louis C.K the new master of mirth
He's 45, balding and hailed as a comic genius in America. Now UK audiences can discover what's so special about Louis C.K. By Sarah Hughes
Sarah Hughes
Monday 21 January 2013 11:12 Comments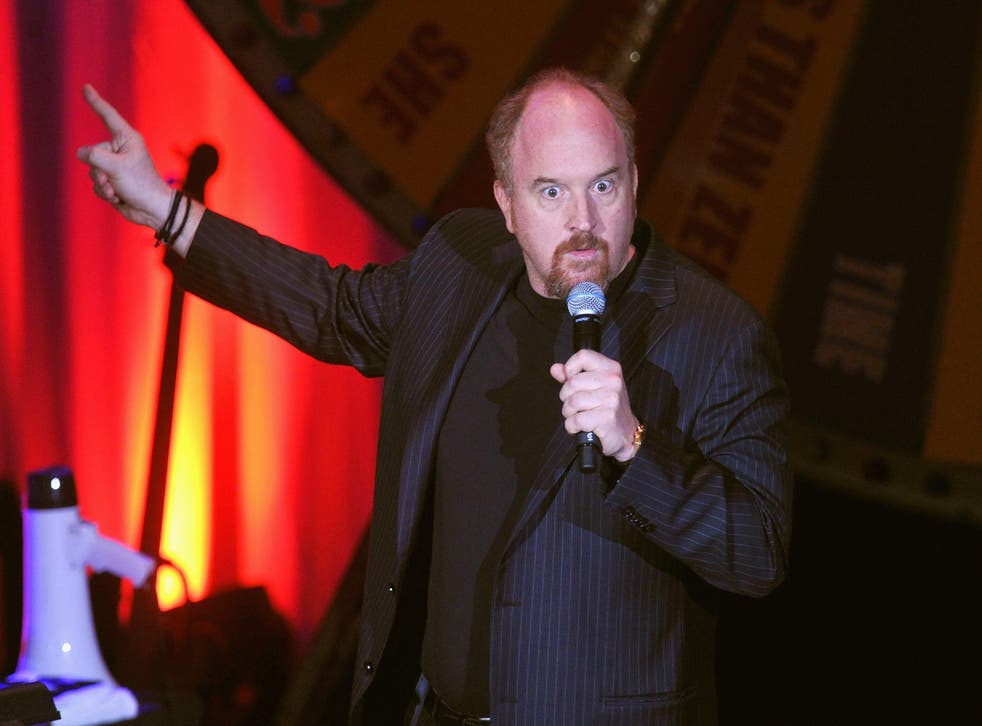 If you were looking for the future of comedy you probably wouldn't pick a paunchy 45-year-old redhead with a receding hairline and mournful eyes.
But ground-breaking comedy can be found in the strangest of places and Louis C.K., the writer, producer, director, and star of Louie, which starts on Fox tonight is currently America's most acclaimed comedian.
Hailed by Entertainment Weekly as a "genius" and in the New Yorker as "America's best stand-up", C.K. (it's short for Szekely) has seen his star rise steadily since Louie began in 2010, culminating in two writing awards at last year's Emmys. His power is such that he gets no notes from the network during the filming of Louie, a show that he not only produces, directs, writes, edits and acts in, but also oversees everything else from music to casting.
So what exactly is the secret to his success? How did this self-declared loser, a man infamously described in The Atlantic magazine as both "America's masturbator-in-chief" and "our most topsy-turvy moralist" end up headlining London's O2 Arena (where he will play a one-off event this March)? The short answer is 27 years of hard work spent honing his act in countless grubby basement clubs on the US comedy circuit.
Born in Washington DC and raised in Mexico City, C.K.'s family relocated to the Boston suburb of Newton when he was seven. His Mexican-Hungarian father, Luis, an economist, walked out three years later leaving his Irish-American mother, Mary Louise, a computer programmer, to raise him and his three sisters.
By his own admission a troubled child – "By the time I got to high school I was a recovered drug addict," he told Rolling Stone in 2011 – C.K. caught the stand-up bug as a teenager. His first appearance, at an amateur night at a Boston club aged 18, saw him bomb despite hours of preparation. "I walked off to pure silence. It was a total failure… terrifying and uncomfortable," he would recall. Yet he was hooked.
Turning down the chance to apply to New York University's film school – "I just couldn't fill out the paperwork. Getting my old transcripts and putting a stamp on an envelope? It made me want to vomit" – C.K. instead threw himself into stand-up. "He's a guy who came up through the ranks, he did his time. He's stone cold brilliant, a combination of George Carlin and Richard Pryor," said Robin Williams, attempting to explain the younger comic's appeal at last year's annual comedy awards.
Certainly it's the case that having learnt his craft at Boston's aggressive open mic nights C.K. became a master of the art of the heckle, the sort of comedian who could both embrace an insult and turn it to his advantage. Most notoriously he never repeats his material, possessing a quicksilver ability to think on his feet and change direction as required, a rare talent, which led long-time friend and fellow comedian Chris Rock to compare him to both Prince and Jimi Hendrix.
Other comics talk in awe of his attention to detail, the hours spent crafting jokes. "He's a game-changer in every way," says Sarah Silverman, who started in stand-up at the same time. "He's so prolific and so balls-out. He just blows me away."
Initially his act was less painfully autobiographical, but as his world changed – he married artist Alix Bailey in 1995 and had two daughters, Mary Louise and Kitty, the marriage fell apart, slowly, they divorced in 2008 – so he began to talk more about the quiet desperation of a life gone wrong. Among his most acclaimed routines is the Saddest Hand Job in America, a 2007 monologue that takes said act and spins out of it a miniature epic of marital despair. Like most of his best work it is hysterically funny and almost unbearable to hear. While stand-up remains his first love – "When I needed money or when I felt like shit about myself stand-up has always saved me," he said in a 2011 interview with American GQ – he has built a parallel career as a writer. A failed audition for Saturday Night Live in 1993 led to a job on talk show Late Night with Conan O'Brien. From there he worked on everything from The Chris Rock Show to Cedric the Entertainer Presents before writing and directing the ill-advised blaxploitation satire Pootie Tang in 2001, a film variously described as a "train wreck" and as "bordering on audience abuse". (C.K. later agreed with those who said it shouldn't have been released, claiming he was all but fired during editing.)
In 2006, he came up with his first comedy series. Lucky Louie, which attempted to meld the traditional sitcom format with more adult material, ran for 12 episodes before HBO pulled the plug. Disenchanted C.K. went back on the circuit before being offered the chance to develop Louie for FX.
For the first time C.K. had a chance to place his act in a wider context. Louie is the opposite of a traditionally seamless US sitcom. Drawing on its creator's life to tell the story of a divorced comedian trying to kickstart his love life while bringing up two daughters and interspersed with glimpses of C.K.'s stand-up, it's downbeat in tone, grainy in feel – and sidesplittingly funny.
Whether it's a poker night that descends into an extended riff on penises or an excruciating first date, Louie walks a clever tightrope between the shockingly inappropriate and the painfully realistic. It seems like the straightforward story of an unhappily divorced schlub but underneath runs a more compelling tale, a bruised mediation of the nature of life and death, which The New Yorker's Nancy Franklin rightly termed "a tribute to truth".
With acclaim has come controversy. He's been criticised for his graphic attacks on Sarah Palin – his least offensive remark labelled her "a terrible parent" who "exploited" her youngest child – and remains unrepentant telling GQ: "It's comedy. I have said many indefensible things on stage."
He ran into similar hot water this year when appearing to suggest on The Daily Show that feminists lacked a sense of humour. It was clearly a joke – and he went on to offer a sensitive take on the effects of rape – but the furore served as a reminder that C.K.'s rougher edges have not been entirely sanded away.
As his show continues to weave its weird path so his influence has grown. When Girls, with its awkward sex and uncomfortable pauses, arrived last year, its creator the 26-year-old Lena Dunham was instantly compared with C.K. (Dunham jokingly admitted to being intimidated by the older comic and then dressed as him for Halloween.)
Yet for all Girls' charm it lacks the tonal range of Louie, where even the filthiest scenes are undercut by a melancholy acceptance of the ways one can fail. That ultimately is the secret behind the acclaim: Louis C.K. knows life is comic and tragic, and frequently both at the same time. It is this knowledge as much as the laugh-out-loud moments peppering his show that have made him comedy's brightest star.
'Louie' starts tonight at 9pm on Fox
Register for free to continue reading
Registration is a free and easy way to support our truly independent journalism
By registering, you will also enjoy limited access to Premium articles, exclusive newsletters, commenting, and virtual events with our leading journalists
Already have an account? sign in
Join our new commenting forum
Join thought-provoking conversations, follow other Independent readers and see their replies