Mark Thomas interview: The comedian has written a book about his year of 100 protests
The activist tells Adam Lusher why we should all be revolting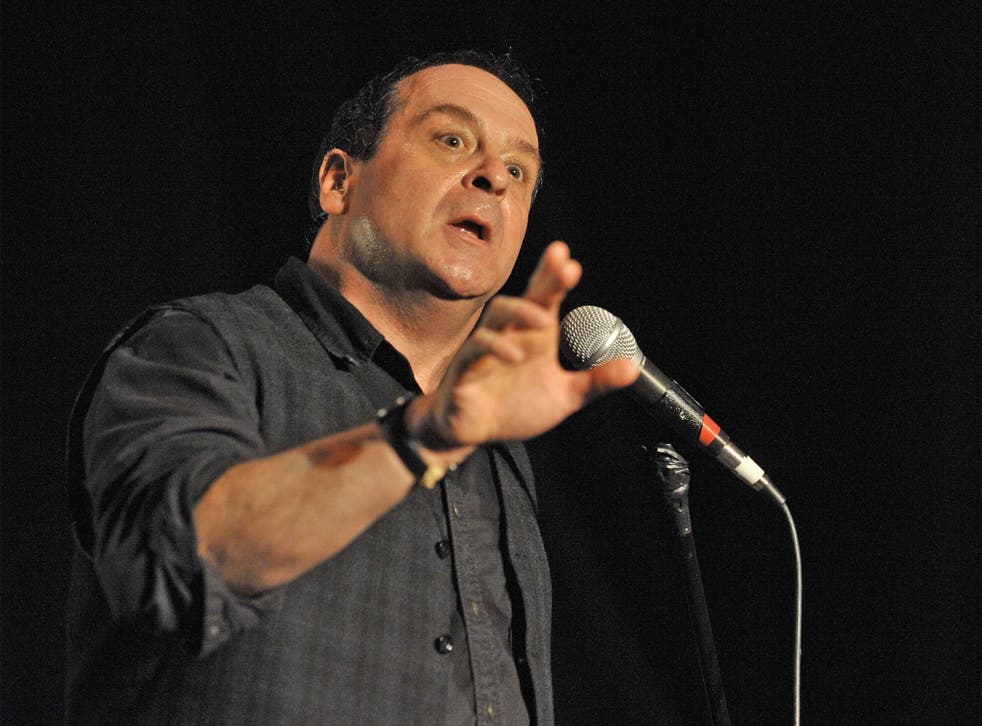 He tries so hard, does comedian activist Mark Thomas. He really does.
"I try to be polite," he insists, repeatedly. He even begins our interview with ample praise for the Metropolitan Police – for their dedication in monitoring his consumption of cress.
It is there in the police files, about a demonstration in Parliament Square: "Mark Thomas stops. Has quantity of cress on rear of his cycle." "The police's powers of observation are to be admired," Thomas says. "I did indeed have cress on my bike."
But then he has to spoil it all. "Is it really suitable," he asks, "to spend taxpayers' money observing the movement of cress?"
It turns out that Thomas is suing the Met over its surveillance of him by the "National Domestic Extremism and Disorder Intelligence Unit".
He jokes about being on course for a hat-trick following two previous legal victories over the force. The Met speaks very highly of him, too. One entry in the files calls him "general rabble rouser and alleged comedian Mark Thomas".
That description, though, is unlikely to bother Thomas, given the nature of his latest book, 100 Acts of Minor Dissent.
Exploring his adventures during a year of protest, it also offers ways that you, too, can – politely, legally – dissent. Plus, every reader gets their very own cut-out-and-keep "arsey cops" desk calendar.
"As a country, we are often deferential," Thomas says, laughing at the Labour leadership contender Andy Burnham's embarrassment at describing himself in a letter to Prince Charles as "your most humble and obedient servant".
"We have got this attitude of, 'We have been told we can't do this.' Well, you can.
"It's no good saying, 'Oh it's dreadful.' Get off your arse, start campaigning. If you just sit there saying, 'I am not interested in politics,' you deserve everything you get. The ruling class love you, absolutely love you.
"We have to get off our arses and fight."
Hence his book's suggestions of how to protest at low pay for cleaners, or the chance to sign up as volunteer drivers for the "We Will Drive Them to the Airport" scheme, helping bankers who threaten to leave the country if they don't get their bonuses. (Actual driving ability not essential. One eager volunteer wrote: "I'm blind, but for these f**kers I'll give it a go.")
Not everyone can be a dissident, jailed for their beliefs, Thomas says, "but there is always something you can do. Everyone can write the Amnesty letter that gets them out."
And don't assume protest is pointless. He had a few hits of his own while writing his book, his favourite being helping Curzon cinema workers to get the living wage – after managers wrote emails worrying about the bad publicity.
"There's not a single right," he insists, "that didn't start out with protest. Look at the suffragettes, votes for women…"
Now 52, he describes himself as "anarcho liberal" with occasional flashes of "Marxist Victor Meldrew" – as seen when I suggest it was rather harsh to insert handwritten "heckles" into Waterstone's copies of the romance novel One Day.
He almost explodes. "F**k 'em! It's a sh*t book! It's so outrageously banal, asinine… Seriously, this is popular fiction? What the f**k is going on? It's like adults reading Harry Potter – are you mad? Raise your game!"
That, though, is as combative as the genial dissident gets. He may still live in the same south London neighbourhood where he grew up, but the income from a successful comedy career means "I am joyfully middle class".
Sometimes he even shops at Waitrose – despite protesting against the supermarket in the course of writing his book.
"I might still be waving my banner at 75," he cheerfully admits. "But I might be writing an opera. Who knows?"
But for now, the police might want to continue monitoring his cress consumption.
"I am working on a new show," he says, "called Trespass."
'100 Acts of Minor Dissent' by Mark Thomas (September Publishing, £6.99) is out now
Register for free to continue reading
Registration is a free and easy way to support our truly independent journalism
By registering, you will also enjoy limited access to Premium articles, exclusive newsletters, commenting, and virtual events with our leading journalists
Already have an account? sign in
Register for free to continue reading
Registration is a free and easy way to support our truly independent journalism
By registering, you will also enjoy limited access to Premium articles, exclusive newsletters, commenting, and virtual events with our leading journalists
Already have an account? sign in
Join our new commenting forum
Join thought-provoking conversations, follow other Independent readers and see their replies