Not laughing anymore? How a well-good stunt landed the joker behind Lee Nelson in court
The man behind Lee Nelson tells Ian Burrell he will have to keep a straight face in front of magistrates this week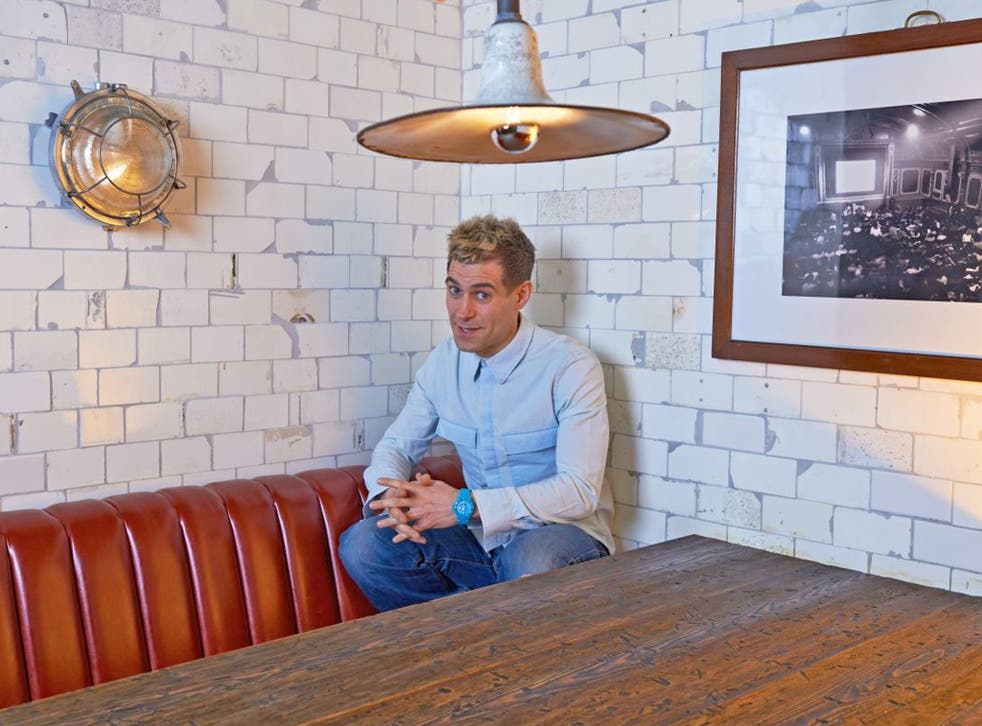 The comedian Simon Brodkin is appearing in Liverpool this week in a rare performance as himself – standing up in front of the magistrates' bench.
The star of BBC Three's Lee Nelson's Well Good Show has been charged with pitch encroachment under the Football Offences Act after one of his alter egos – Jason Bent, a pastiche of a Premier League player with a diamond earring and a bleached Shark's Fin haircut – joined in a warm up with Manchester City players ahead of their game at Everton last month.
"I would never have done this stunt had I realised we would have been ending up in court," he told The Independent in his first interview out of character. "I took advice beforehand and I thought I wouldn't get arrested. I thought it would be taken as the joke was meant to be taken – which the players all seemed to pretty much enjoy. On the footage you can see them all grinning." He said he would not be using Wednesday's court hearing as an opportunity to showcase his comedic talents. "I have got to treat the court with the respect it deserves," he said.
Brodkin, 35, is an interesting character in his own right, a trained medical doctor who worked in inner-city Manchester hospitals before abandoning that career for a life as a funnyman.
He claims not to be a crude publicity seeker. "I'm not looking to go 'Look, I'm being outrageous and aren't you going to be really offended?'"
That's a case he will also need to make in court. Brodkin was at Everton's Goodison Park in full Manchester City away strip in order to shoot some clips to promote his new series. Having gone onto the pitch he will not want to give up the comedy gold dust that he subsequently gathered, warming up with City's star names. "I was getting in there with [Gareth] Barry and [James] Milner, giving it some," he says, mimicking a loosening up exercise. "And I managed to pass the ball to [Samir] Nasri."
Brodkin could argue that he was helping to burst the artificial bubble that separates overpaid footballers from those who attend matches. The Jason Bent persona is an attempt to highlight the ludicrous seriousness of so many televised interviews with players. "Part of it is our fault because we stick a microphone in front of them 24-7 and they've got nothing to say. They've had the personality sucked out of them and they end up saying nothing – win, lose or draw."
He continued to play Bent, with his broad Scouse accent, even as Everton stewards marched him from the pitch, telling them: "Just give me 10 minutes – I had 50 grand on me scoring the first goal." He claims that one police officer joked to him that the paperwork would be done quickly "to get you off to Old Trafford".
Brodkin has been in trouble before. At school he was the "class clown" and he was "booted out" of the gynaecology module at medical school after inappropriate treatment of the mannequin and telling the lecturer: "I'm putting the patient at her ease".
He remains in touch with some of his former fellow doctors and has "no regrets" about going into comedy. "They're still doing exams," he said. "I've been pretending I'm a Manchester City footballer and going on the pitch at Goodison."
Awkwardly, he has already appeared on court steps in one of his BBC3 sketches. Bent was depicted facing the press after being cleared of a night club assault. "I intend to make no further comment now or in the future," the footballer told reporters with due gravitas. "Although you can read my side of the story exclusively in my forthcoming book Getting Away With It."
In real life, Brodkin is funny, describing his time as a junior doctor on call and being "bleeped" in the night. "I got out of bed, grabbed the white coat and headed onto the wards, and while I was talking to the patient looked down to see that I had put my dressing gown on instead of the white coat. That was the level of exhaustion."
One of his characters, Dr Bob, (a terrifyingly shambolic GP who says things like "Let's Google it!"), is based on a bungling medic he encountered. "I remember he was removing someone's gall bladder, a pretty routine operation. The 45 minutes passed when the whole thing was meant to be wrapped up, then two hours passed, then three hours. The sweat was building on his face and everyone was eyes-rolling and head-shaking, watching this bloke. Eventually he went, (foreign accent): "Right, I don't seem to be able to do zis correctly so…" and he literally left. Someone had to come and finish the job."
Brodkin is best known for playing Lee Nelson, a softer, male version of Catherine Tate's infamous chav character Lauren "Bovvered?" Cooper. Nelson is a simple soul in a baseball cap, a grinning member of a social underclass who happily resists any sense of responsibility in life. "I love Lee and his attitude to life. He bounces back, he's fun to be with, he's cheeky and he's got a great joie de vivre, though I don't think those would be his words."
With his medical qualifications, and the fact he attended the independent University College School in Hampstead, north London, some might question his right to lampoon council estate culture. But Brodkin says he has not received any hostility – "honestly, no" – and points out that Lee is one of his wide range of characters, from Pastor Daniel Doolay, a homophobic African minister with a satellite TV channel (catchphrase: "Let me help you get the dick devil out of you"), to camp reality "star" Gary from The Only Way Is Macclesfield (catchphrases: "OMG, LOL"). He said that one sketch involving Pastor Doolay (for which he blacks up) had been held by the BBC until after Easter, commenting "I think that went all the way up to the BBC Trust actually".
Given that he is in his mid-thirties, Brodkin might be expected to drop the role soon, much as The Inbetweeners cast have had to grow up. But he has no plans to do so. "Lee, no matter how old he grows, will still have the same outlook on life," he says. "He will always have the cap on. He's meant to have kids himself but that hasn't helped him grow up."
Lee Nelson's Well Funny People is on BBC Three on Thursday. A new national stand-up tour starts in April www.leenelson.com
Register for free to continue reading
Registration is a free and easy way to support our truly independent journalism
By registering, you will also enjoy limited access to Premium articles, exclusive newsletters, commenting, and virtual events with our leading journalists
Already have an account? sign in