Q. When is a joke not a joke? A. When it's offence
The nation's stand-ups can barely open their mouths these days without causing outrage. So have they gone too far – or has Britain lost its sense of humour, asks Ian Burrell
Saturday 07 November 2009 01:00
comments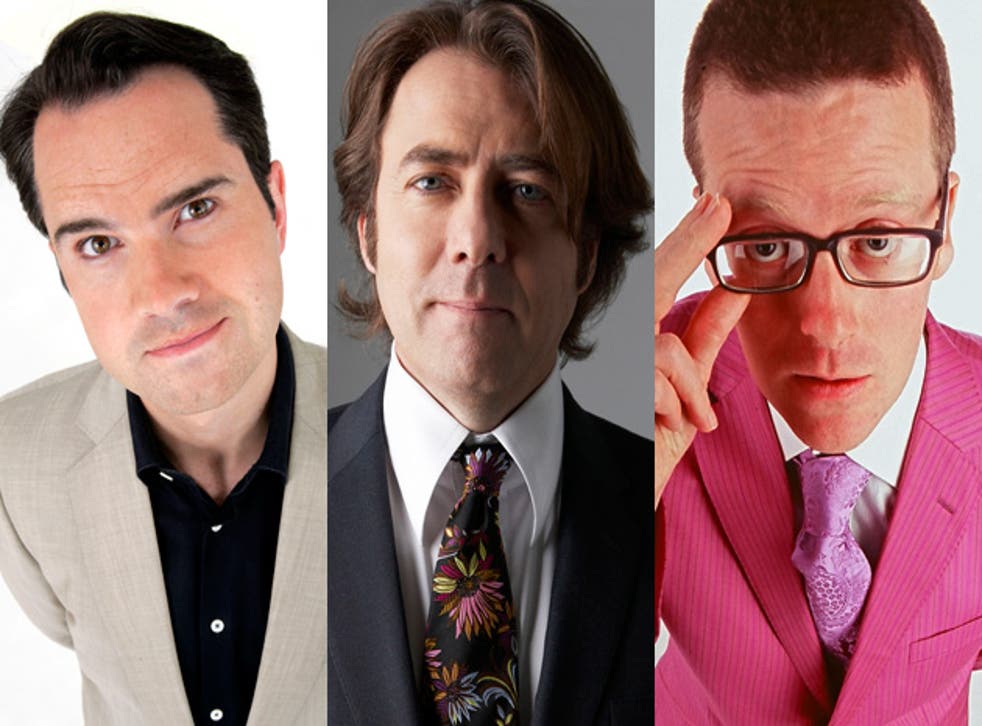 Who's laughing now? After decades of standing close to the edge, pushing the envelope and tearing down barriers, Britain's comedians find themselves cornered as never before. Once they'd have smirked at criticisms in the right-wing newspapers but that's not so easy now those headlines can prompt a surge of online outrage that can have broadcast executives fearful for their jobs and theatre managers pulling out of contracts.
Frankie Boyle's comparison of the swimmer Rebecca Adlington to "someone who's looking at themselves in the back of a spoon" prompted Richard Tait, the chairman of the BBC Trust's standards committee, to this week describe the broadcast of the joke on the show Mock The Week as a "failure of editorial control". But by then, Boyle had already quit the programme, complaining that television had become too timid. "I think it's just dull people who want dull TV," he said. "Those jokes weren't that risqué anyway."
Then in a speech delivered on Wednesday evening, the head of Channel 4 Julian Bellamy criticised a new puritanism at the BBC, which was "increasingly conservative in its editorial decision making... after a string of scandals about taste and decency".
Daisy Goodwin, whose company Silver River produces the edgy and successful television comedy Pulling, said: "I think we are in a state of high nervous alert; it's on orange or red, it couldn't be higher," she told The Independent.
Comedians seem bemused by the new environment. Jimmy Carr spoke out for the first time this week about criticism over his observation that the high number of limbless servicemen returning from Iraq and Afghanistan meant that "we're going to have a fucking good Paralympics team in 2012". He told The Guardian that it was "a perfectly acceptable joke" and that "my intention was only to make people laugh". In The Sun, David Walliams called the Adlingon joke "very funny", adding: "You need jokes about all kinds of things, – race, gender, sexuality, class. If you start saying there are things you can't make jokes about, I think it's very dangerous."
It is 30 years since The Comedy Store, the birthplace of British alternative comedy, was founded by Don Ward and Peter Rosengard. Over those years, Ward has watched with bemusement from the side of the stage as the nature of the material has changed. "I started it up on a platform of being non-racist and non-sexist, but the sexist side of the thing has gone well out of the window, it's pushed left, right and centre," he said. "I'm not giving way on the racism and I don't like any comedy that's aimed at our fighting troops."
He acknowledged that "everything evolves in life" and that "you are almost considered twee" if you object to sexist material, but said he was confused by the sound of Indian comics joking about Pakistanis and Jamaicans about Nigerians, and vice versa. "I'm sitting in the control room thinking 'How do you handle this one?' It's a grey area." He said that if his younger self had been propelled into 2009, it would have felt "as if I was still living around the old traditional comics of the Seventies with their mother-in-law and Chalkie White jokes. The Comedy Store came along and swept all that under the carpet, but it's creeping out again."
Ward said he objected to the atmosphere created by the production team on Mock The Week, BBC2's topical comedy show. "The comedians on there are almost expected to be as outrageous as possible to lift the ratings. They are competing against each other and it's almost a boxing ring really."
The comedian and Absolute radio broadcaster Dave Gorman voiced similar concerns. "Too much of what people call satire in this country is actually pointing out that Ann Widdecombe is fat," he said. "But being rude about someone in the news is not making a point about the news." He said "lazy" producers failed to trust the audience's intelligence. "What you sometimes get is a hungry young comedian in a competitive environment. Mock The Week has seven people competing in 28 minutes. They know they have got to be short and sharp and everything has to work instantly. The issues are never gone into."
But are people really so offended by modern comedy? Gary Farrow, an entertainment publicist who works with Alan Carr, Michael McIntyre and Jack Dee, pointed to record sales of comedy DVDs and sold-out arena tours. Risque material has always been there, right back to Max Miller's use of double entendre in the Forties, he said. Farrow expressed fear that Kenny Everett would not have been allowed to succeed in today's broadcasting industry.
Kenton Allen, a former head of BBC Comedy who now runs Big Talk Productions, said that people were being offended by jokes that had been taken totally out of context by newspapers. "A joke told by a stand-up comedian at 10.30pm in the Comedy Store isn't going to play at 8am on the pages of the Daily Mail. It's a different audience and a different context.
"The ability of small sections of the audience to rapidly escalate a complaint via [the internet] means a small minority can make a huge impact very quickly. That's a different scenario to that which existed in the Eighties and Nineties."
Broadcasters must resist such organised complaints from people who were never intended to hear the joke, said Iain Morris, writer of E4 comedy The Inbetweeners. "We have to write what's funniest and best and hope the broadcasters are robust enough to stand up to the wrong audience."
Jon Thoday, the co-founder of the Avalon entertainment empire, which has Al Murray, Harry Hill and Russell Howard in its stable, traces the new climate of fear straight back to the notorious treatment of actor Andrew Sachs by Russell Brand and Jonathan Ross, an incident which cost BBC Radio2 controller Lesley Douglas and other staff their jobs.
"That incident was more about bullying. Something genuinely serious has caused a tipping-point in things which historically people aren't too worried about. Most people swear and I don't think people are surprised by it."
At a time when broadcasting executives are terrified of being made redundant in a recession, original comedy is in danger of not being made. Thoday added: "The danger of the taste and decency debate is that it is used by people who are BBC knockers at a time when the creative industry needs the money that the public gives the BBC to do something Britain has been great at for more than 50 years."
Thoday described BBC Radio 4, which famously gave a platform to the likes of Steve Coogan, Armando Iannucci and Chris Morris, as being "the apex of terror". He said: "It does make me think whether it's worth making a show for Radio 4."
But Katie Taylor, the BBC's executive editor for comedy/ entertainment, denied the BBC was paralysed by the scrutiny it was under. "I am in this business to take creative risks and work with the best comedians in the business," she said, citing the "very edgy" comedians due to appear on BBC One on Live at the Apollo. "Sometimes I have difficult judgement calls but I will always back a good joke and I think 99 per cent of the time I get it right."
That comment will please Goodwin who said she was "tired of the BBC running scared of their critics, they need to be more robust". A similar resilience, she said would also benefit us viewers, including Rebecca Adlington. "What's worse for her?" she asked. "Hearing something offensive on telly or losing a race?"
JIMMY CARR: 'Michael Jackson's death hit me like Princess Diana death... I couldn't give a fuck
JIMMY CARR: 'Say what you like about servicemen amputees from Iraq and Afghanistan, but we're going to have a fucking good paralympic team in 2012.'
MIRANDA HART: 'There is no place for racism in the modern world and the sooner that Greek twit and his Kraut wife realise it, the better.'
STEWART LEE: 'I wish [Richard Hammond] had died in that crash and that he had been decapitated and that his head had rolled off in front of his wife and that a jagged piece of metal debris from the car had got stuck in his eye and blinded him. And then his head had rolled on a few more yards into a pool of boiling oil and that his head had retained just enough neural capacity for him to be able to think "ooh, this is bit hot" before the whole thing exploded into tiny pieces.'
GRAHAM NORTON: 'Now I don't know why they have got some strange lesbian to be the model for this, but they have... obviously the lesbian pissing in a jump suit was a big market.'
DAVID JASON: 'What do you call a Pakistani cloakroom attendant? Mahatma coat.'
JO BRAND: 'Did you hear this, right, that BNP members and supporters have had their names and addresses published on the internet? Hurrah! Now we know who to send the poo to.'
FRANKIE BOYLE: 'The thing that nobody really said about Rebecca Adlington is that she looks pretty weird. She looks like someone who's looking at themselves in the back of a spoon... Did you see her boyfriend? He was really attractive. He was like a male model. So from that I have deduced that Rebecca Adlington is very dirty.'
JONATHAN ROSS: 'If your son asks for a Hannah Montana MP3 player, you might want to already think about putting him down for adoption before he brings his ... erm ... partner home.'
ANDREW NEIL: 'Here we have our very own chocolate HobNob and custard cream.'
Jokes supplied by Steve Bennett from the comedy website www.chortle.co.uk
Join our new commenting forum
Join thought-provoking conversations, follow other Independent readers and see their replies