Ricky Gervais interview: 'Awards shows are all tedious'
As his new show 'After Life' is released on Netflix, the controversy-loving comedian speaks to Ed Cumming about grief, awards shows, and why he thinks causing offence is a good thing
Thursday 07 March 2019 19:05 GMT
Comments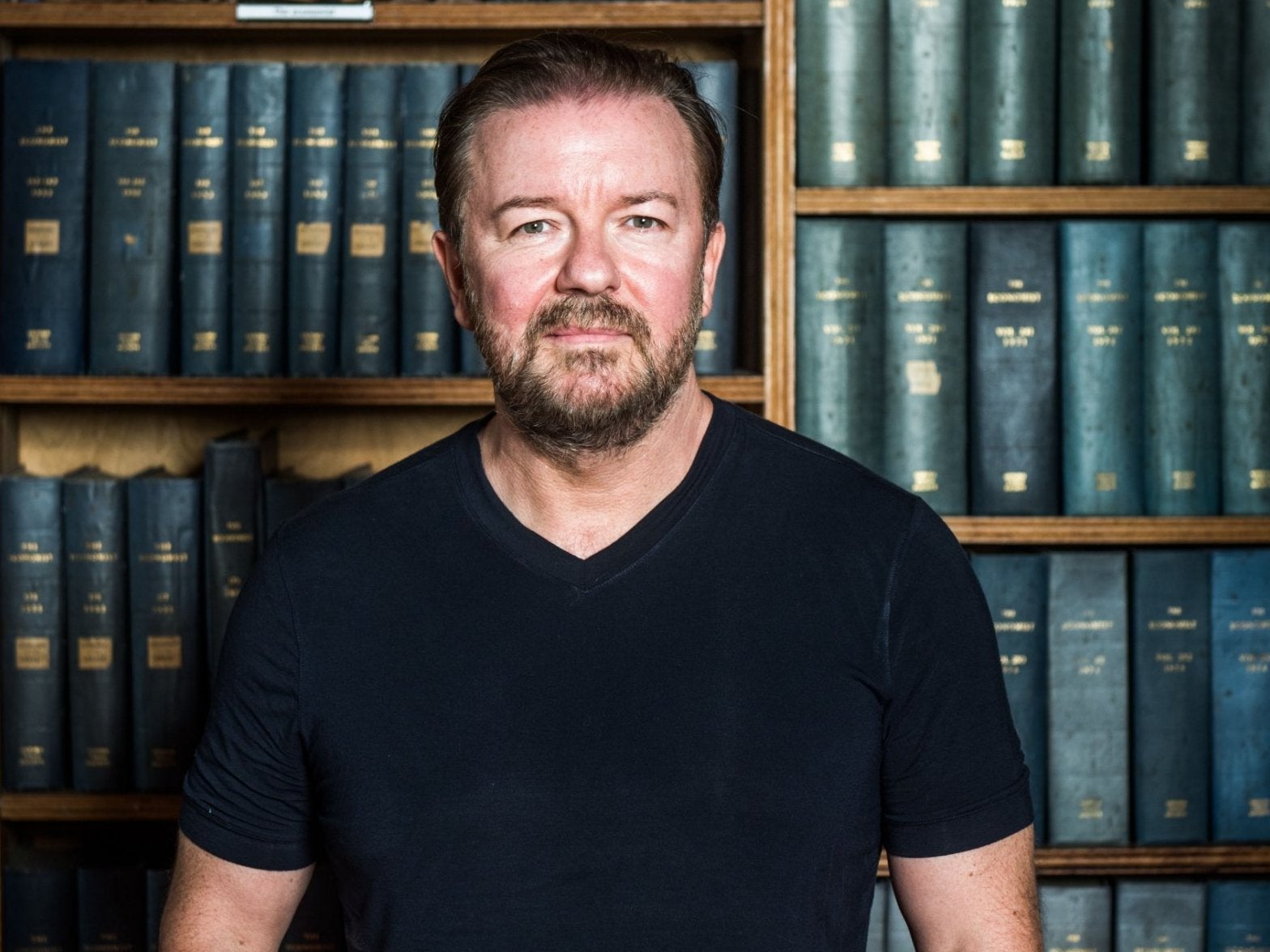 "I used to worry about interviews because of the questions I might be asked," Ricky Gervais says, sitting down and casting that gimlet eye, the narrow stare that sees weakness like a hawk seeing mice in a field. "But then I realised it doesn't matter, it's about the answers. People can ask whatever they like."
If it's a way of announcing that he'll say whatever he likes, it is subtly done. Because regardless of the question, Gervais's answers tend to end up in the same place: talking about offence, and freedom of speech, and how he's not going to stop offending because he believes in freedom of speech.
He is here to talk about his new six-part Netflix comedy-drama, After Life. He plays Tony, a middle-aged local newspaper features writer, whose wife, Lisa (Kerry Godliman), has just died of cancer. The start of each episode is a section of video recorded by Lisa in hospital before her death, in which she chides Tony for not looking after himself and asks him to look for the humanity inside himself. In full nihilistic mode Tony hits out at everyone from his father, in a care home with dementia, to his colleagues, especially Lenny (Tony Way) and his supercilious shrink played by Paul Kaye. At its funniest, the series has flashes of the lurid mockery that has made Gervais' standup so popular. In the first episode a schoolboy calls Tony a paedo through the playground railings. "I'm not a paedo," Tony shoots back, "and if I was you'd be safe, you tubby little ginger c***".
Hidden gems: The best Netflix originals you might have missed
Show all 20
Talking to Gervais is an odd experience. For a man who must be worth something north of £100m, he still dresses appallingly: the old uniform of ill-fitting trousers and T-shirt and black trainers. But what's stranger is the familiarity of his cadences, the way his voice rises to signal indignation. And for a man who professes not to care what people say, he seems to care a lot about what people think. There's a palpable sense of anxiety. He insisted that journalists interviewing him about After Life watch the entire series beforehand. To listen to him discuss it you would think he was surrounded by enemies of freedom who want his sick filth banned. Of course, there are detractors, such as those who complained when he made jokes about Caitlyn Jenner's transition, or about the Holocaust, about children who died of peanut allergies, or people who tweet disagreement, but that's to be expected if you have 13.1 million Twitter followers.
"I know that I have an immense amount of privilege," he says, "which is why I should defend freedom of speech: I have a position to do it. Censorship is a slippery slope. It's very odd now, and it is partly a social media thing. It's being perpetrated and supported by people who think they're doing the right thing. John Wayne was trending on Twitter the other day because he said something racist 48 years ago. Kevin Hart was fired for a seven-year-old tweet he apologised for. If you have to keep apologising, then there's no value in improving. The new thing about safe spaces is odd, too: people being banned at universities because they might upset someone. I think hard about my jokes to make them bulletproof and justified, but I don't know if they'll be bulletproof in 20 years' time. Offence is good. It makes people come up with an argument."
For all its odd acerbic lines, there is not much in After Life to put the censors in a spin. If anything, what's striking is the levity with which it treats its more sombre moments. A character dies and is passed over almost without further ado. Tony talks about suicide constantly but without any real threat, and halfheartedly raises a blade to his wrists before being interrupted by his faithful hound. And Gervais has never had a bigger platform. As well as this new series, last year he released Humanity, his first Netflix standup special, and he is working on another. For the two standup shows, he was reportedly paid more than $40m. On After Life he is writer, director, star and executive producer. "There are three reasons to be on Netflix," he says, "complete creative control, 140 million subscribers, and deep pockets."
The more pertinent question is not whether he is offensive, but whether he is still funny. This year will mark 20 years since he created the character of David Brent, and 18 years since BBC2 aired the first series of The Office. It remains the pre-eminent achievement of a living British comic, an unassailable series whose 12 episodes cast a long shadow not only over entertainment but popular culture more generally. As Gervais points out, "there are three Brents in every series of The Apprentice". Since then the returns have looked steeply diminishing. Extras was excellent in parts but ended weakly. After that, the sorry Life's Too Short and the execrable Derek.
It is noticeable that the strength of his work coincides neatly with the influence of Stephen Merchant. Neither is better on their own. Merchant lacks the cruelty to be truly funny, but Gervais lacks the nuance and vulnerability to make his sincerity convincing. One argument might be that Gervais and Merchant had experience of working in a small office and of being on the peripheries of show business, and in The Office and Extras translated that into a nuanced examination of their quotidian humiliations. Now they are on terrain they understand less well, they are unable to create the same complexity. Both deny rumours of a falling out, in a manner reminiscent of football chairmen formally backing the manager in the days before a sacking. Does Gervais ever feel that the complete control brings its own challenges?
"No," he says. "It's easier to be totally in charge than half in charge. To get the final edit I have always had to compromise: BBC2 not BBC1, Channel 4 not ITV, HBO not NBC. Now on Netflix I have the most final edit ever, and the sky's the limit. I've worked on films where directors had to call someone to change a line. That's no way to work."
Godliman agrees. Gervais's position means he can hire the cast before the script has been finished. They had worked together on Derek. As soon as he knew the part was about being his dead wife, he jokes, he called her up. "It gives licence to the performer," she explains, "because you know you have been hired because you bring this or that to the role."
We speak soon after the 2019 Oscars. The consensus is that they were bland – very different to Gervais's stints hosting the Golden Globes, in which he insulted everyone in the room and quite a few not in it. Did he see the ceremony?
"I've never watched an award show I wasn't presenting," he says. "They're all tedious. It's not a spectator sport, seeing everyone hug and tell each other how wonderful they are. I'd do it if they said I could do what I wanted, which is the same as I did at the Golden Globes. But they'd never ask because they take it too seriously. Nobody really cares – nobody really cares about films – but they would never let me bring the tone down."
35 great films that bombed at the box office
Show all 35
After Life feels personal, closer to a howl than a sitcom. A terrific supporting cast, including Diane Morgan, Ashley Jensen and Mandeep Dhillon, barely get a look-in. Gervais says it is not about a specific period of grief in his life. "What happens to Tony is more tragic than anything that's happened to me. Grief is the natural order of things: first pet, grandparents, mum and dad, but losing your life partner is most people's greatest fear. But if is your job as a writer to make people think you know what you're talking about. You have to treat things honestly and uncompromised. The problem comes when you water things down to make them more palatable."
While it is ostensibly about grief, After Life is as much about the limits of comedy. It's the story of a man so angry with the world that he walks around being rude, before gradually realising that perhaps there is a way to live without being an arsehole. Maybe the people around him had been kind and indulgent all along.
After Life comes to Netflix on Friday 8 March
Join our commenting forum
Join thought-provoking conversations, follow other Independent readers and see their replies