Rob Delaney: 'Each morning I woke up and vomited'
Four years ago, he tells Robert Epstein, life and work was a struggle. And then the comedian discovered Twitter…
Robert Epstein
Saturday 23 March 2013 21:00 Comments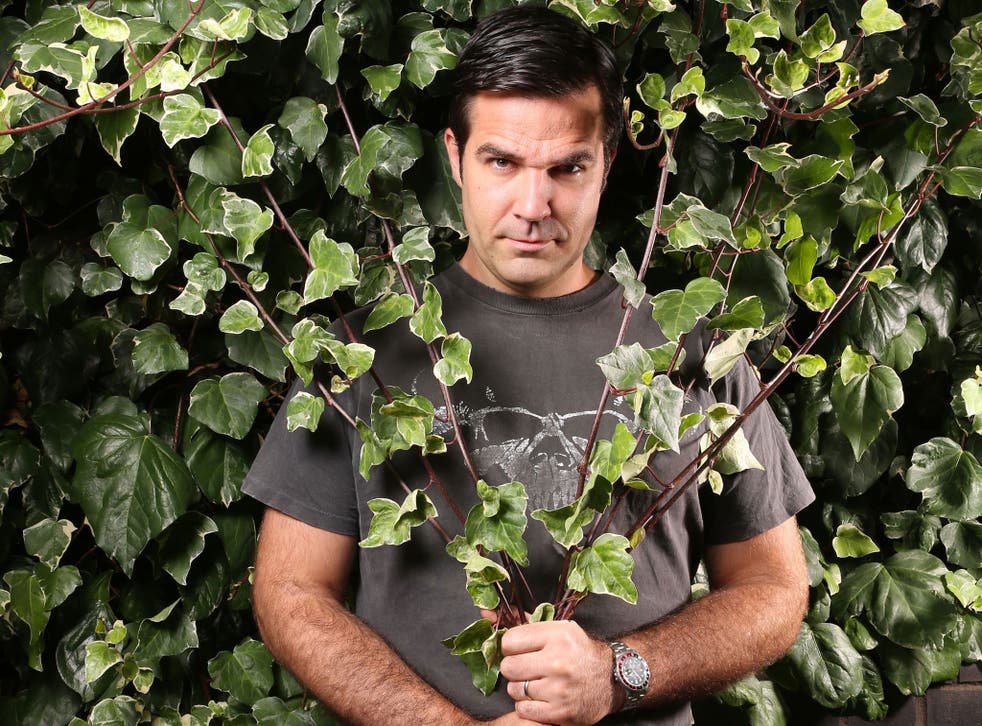 'I'm angry at God, I'm angry at my wife, I'm angry at myself. I'm angry at you right now. I'm dirty, I'm tired, I can feel myself fuelled by the tar of black hatred." Want an authentic take on life? Just ask Rob Delaney. That, incidentally, was his response to being asked what it's like having a second son, born a little over a month ago.
The American comedian is an uncommonly candid individual. This pronouncement of anger is offered playfully, but there's no doubting that here is a man who speaks as he feels.
Such directness is a blessing, given that the medium which has propelled him to global prominence offers just 140 characters with which to work. For while this son of Massachusetts has been on the comedy circuit since 2002, he is best known to nearly 800,000 followers as @RobDelaney, the funniest person on Twitter (as voted by the public last year).
The 36-year-old's tweets are a compelling blend of the smutty ("Wouldn't mind slapping that ham tambourine"), the satirical ("Why did the MUSLIM cross the road? Because there was a delicious halal restaurant on the other side! #FoxNews") and the surreal ("Ever see a plane flying towards the Moon & it looks like it's gonna hit it & then it does & the oceans boil & wolves take over?").
On stage – and over the phone from his home in Los Angeles – Delaney has a bear-like hug of a warmth that does not always come through on Twitter; it is hard to imagine that he would think any subject embarrassing or off-limits, but he spikes his brilliantly constructed filth with a charm that makes it seem acceptable.
His stand-up is so vigorously, shockingly uncensored – a typical set skips from egg-salad sandwiches to paedophilia in the time it takes to read this sentence – that it is perhaps surprising to learn that his background is in the mainstream world of musical theatre. After studying at New York's Tisch School of Arts, he toured nationally with Camelot, the musical, then appeared in The Sound of Music in the Big Apple, before moving to Los Angeles in 2001 to try to further a nascent TV career.
"I was doing odd jobs – working in a warehouse, in catering – because I wasn't making a living acting," he says. What he was also doing was drinking – heavily. "I had a very problematic relationship with alcohol," he admits. "I had drunk very destructively for years, and I wanted to quit – but it didn't work until I had the big accident, and I was like: 'OK, this is absolutely deadly'."
That big accident involved blacking out and driving straight into the LA Department of Water and Power building. He broke his right arm and left wrist; both his knees were cut to the bone. After a day in jail, and relieved to have been told by police that he hadn't killed anyone, he was given the option of a prison sentence or rehab.
He chose the latter, resolved to dry himself out, and "right after I got out of hospital, I was like: 'Hey, you know what, now that I'm alive and in rare command of my faculties, I'm gonna try stand-up'" – an art form he had appreciated since trawling New York's comedy clubs as a student. He took to the stage even while his arms were still in plaster – but his troubles were not about to be blown away by a gale of laughs. About a year later, "after my bones knit, after my legal troubles [caused by the crash] were mostly behind me, I could finally relax a little bit – and my mind just unravelled. Take away the booze and my mind didn't really function at a high – or even intermediate – level."
The result was a suicidal, unipolar depression of fatal calibre – "It wanted to kill me." He could neither sleep nor eat, and had constant diarrhoea. "The first thing I did each morning was vomit," he wrote in a personal blog. "My mind played one thought over and over, which was 'Kill yourself'."
While he resisted medication at first, he eventually sought help and, for the past 10 years, each morning has begun with two prescription drugs that level him out. He once tried taking a lower dose, which turned out to be a short-term experiment – the pain that racked his body soon returned. "And now I might be on it for ever," he says, "but I don't really care. I don't have a lot of pride around the issue. You know, I'm a father, I'm a husband [he met his wife in 2004, while volunteering at a camp for disabled children], I'm a professional touring comedian."
Whereas in 2004, "I was doing shows for literally four people, sometimes no one," by the time he joined Twitter, five years later, he was already something of a draw. "I'd just walked off stage in Minnesota to a crowd of maybe 100. I was in a hotel, and I saw on Facebook that Louis CK said he'd joined Twitter; I thought, he's a guy I admire, so I checked it out." His follower numbers gradually grew to around 60,000 ("Even that was ridiculous – it's just unwarranted and silly") when, in 2010, Graham Linehan – writer of Father Ted, Black Books and The IT Crowd – retweeted him and, suddenly, his following began to expand exponentially. Add in a campaign of joke proclamations satirising Mitt Romney during last year's US presidential election race and a threat to sue Kim Kardashian for $18m unless she gave her marriage a proper go (the amount the American socialite was reportedly paid for the wedding special on her reality show – her marriage lasted just 72 days), and Delaney was a digital superstar.
All of this meant that when he came to the UK last year, his shows at London's Soho Theatre sold out in less than an hour – which is why he's back at the start of next month for an encore, at the cavernous, 2,000-capacity Shepherd's Bush Empire; and why the BBC has commissioned him to write a sitcom with Sharon Horgan that will build on their Kinky Sex short of last year.
Although he professes to love Twitter, it is clear that Delaney sees it primarily as a way to feed his stand-up. "I love being able to think of a joke and immediately share it," he says. "Plus, if I'm funny, I get more followers, which allows me to sell more tickets." And his stand-up, in turn, has become the only drug he needs (apart from his daily doses of anti-depressants). "I would even go so far as to say that making people laugh gets me high," he wrote in an article three years ago. "And I like getting high. I like it very much." As he explains now: "Without question, my relationship with performing and comedy is still partially unhealthy. When I get on stage, it's like how it is for a normal person to get into a warm hot-tub. I'm incredibly needy, and it's addictive."
Rob Delaney plays the O2 Shepherd's Bush Empire, London W12, on 13 Apr. More information at robdelaney.com
Delaney's box of tweets
@robdelaney: Donuts are gay bagels
@robdelaney: Sometimes I pretend my wife is a nice guy named Evan I met at the gym & that it's ok for me to be who I truly am.
@robdelaney: Someone should do a cover of Leonard Cohen's "Hallelujah". Such a lovely song.
@robdelaney: "Poking" someone on Facebook is exactly as creepy as showing them your soft penis in an elevator.
@robdelaney: The worst is when you wash your hands & there's no paper towels & rabid dogs kill everyone you love.
Register for free to continue reading
Registration is a free and easy way to support our truly independent journalism
By registering, you will also enjoy limited access to Premium articles, exclusive newsletters, commenting, and virtual events with our leading journalists
Already have an account? sign in
Join our new commenting forum
Join thought-provoking conversations, follow other Independent readers and see their replies