The Saturday Interview
Sara Pascoe on her debut novel, debt and fertility: 'In my thirties, I had to suddenly describe myself as a childless woman'
The stand-up star talks to Jessie Thompson about her novel 'Weirdo', predators in the comedy industry, and why cancel culture is funny
Thursday 21 September 2023 14:34 BST
Comments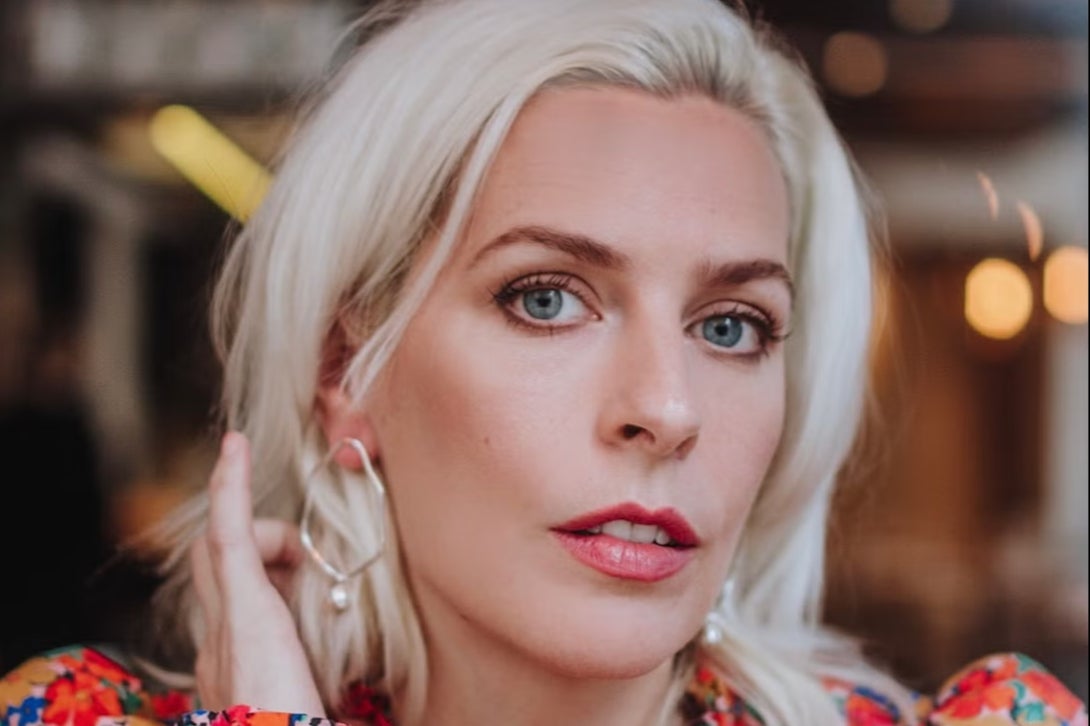 Before Sara Pascoe wrote her debut novel, she knew two things. "I knew I wanted my main character to have haemorrhoids. And I knew I wanted her to have a period. A realistic one," the stand-up tells me, matter-of-fact. Unfortunately, she wasn't sure if editors would be on board with this. "I thought, if I say that in a pitch meeting, they'd be like..." – her voice switches to a tone of anxious confusion – "'OK... haemorrhoids...'"
Her confidence was hardly bolstered by the fact that her previous plan, to write a non-fiction book about murder, had been met with frowns. "They were all like, 'People are gonna know you from Sewing Bee. They won't be like, 'Oh, I'd love to know what she thinks about murder!'"
Of course, people do think of Sara Pascoe as the smiling host of the BBC's wholesome Great British Sewing Bee. Or as the candid, cheery comedian from Romford with the wide-eyed, faux-naif persona and rainbow wardrobe, who appears on panel shows and Live at the Apollo and tours sell-out stand-up shows around the country. Part of her shtick is feeling like you know her: she played a fictionalised version of herself in her 2020 sitcom, Out of Her Mind, and is the relatable fish-out-of-water in her BBC documentary series, Last Woman on Earth. So in the end, Pascoe asked her friend, the author and journalist Dolly Alderton, for advice. How could she write a novel without it being limited by people's expectations of her?
Alderton told her to just write, so she wouldn't have to explain her book to anyone first; an initial, unrestrained 20,000 words would later become Weirdo, which was released this week. When we meet at the offices of her publisher, Pascoe, dressed in a bright blue tropical shirt, is two weeks away from giving birth to her second child. But right up until then, she's on a book tour – straight on a train to Bath after our interview, and appearing next Wednesday at Henley Literary Festival.
Pascoe's first novel is as charmingly offbeat as you might hope: funny, sad, philosophical. She takes us into the mind of Sophie, whose depressing, low-paid pub job is one day enlivened by a visit from an old crush, while her gripping interior monologue is occasionally interrupted by letters from debt collectors. "I wanted to examine the thoughts that we don't say out loud," the 42-year-old tells me. "Someone who was thinking things and then thinking, 'Don't say that, people will think you're odd." Sophie thinks things like: "I'm going to give up drinking and run marathons and volunteer at a food bank. I'm going to join a book group that reads Ulysses over and over again, and discuss it and understand it more every time."
In conversation, Pascoe has a zen-like calmness that makes you slow down to her speed of talking. She approaches questions with openness and curiosity. Unsurprisingly, she gives the impression of having already thought about lots of these things very deeply. When I bring up the book's excruciating, depressing sex scene between Sophie and her crush – who doesn't own a duvet and insists he has no plans to sleep with her – Pascoe jumps in. "It's horrible, isn't it?" But was it fun to write, I wonder? "No," she says, completely serious. She wanted her husband, Australian comedian Steen Raskopoulos, to read parts of the book and see if they were funny – but not this.
"With that bit, I didn't want him to think that's ever been me and him. Or that it's ever been me and someone else." She wanted readers to be urging "Just go!" as soon as Sophie arrives at the man's flat. "I think we've all been in situations like that," she says. "But when you're in it, you're being polite, or you're thinking, 'I don't know how I'm gonna get home, I'm in a different part of London.' It makes me so glad that I'm old now, because I feel like my twenties and thirties were being in places thinking, 'I don't have money for a cab... maybe if I just sleep here, then I'll get the bus home tomorrow.'"
There are aspects of Sophie's story that are clearly borrowed from Pascoe's own life – she also worked as a guide on London tour buses, and her dad moved to Australia when she was younger. But she also really knows what it feels like to have no money. In her twenties, Pascoe declared herself bankrupt: she explains that she owed the relatively low sum of £9,000 – debt accrued at university – but faced rising interest, paired with an income of barely £200 a month. "It just escalated. And it was the first thing I thought of every day when I woke up. It was like being hit with a cloud of 'Oh God.' And I never, ever answered my phone, because that was the place where they were gonna get you."
That oppressive, anxious feeling is something she puts on the page – something that was important to her. "I read lots, and watch lots of TV shows, and no one's actually poor," she says. "I needed it to be that people were skint, and had their names on vegetables, and lived in depressing places with depressing furniture, because that's actually how the majority of this city is living."
Pascoe studied English at the University of Sussex – I did, too, and I mention that this was where I first encountered privately educated people. I ask if she ever feels a class divide in comedy. In fact, she laughs, she's always shocked when she finds out her peers have been to private school. One day she read that 90 per cent of guests on QI had been privately educated. "I was like, hooooow? How is it...?" she says, genuinely awestruck. "Because these are all people I know. Or they're, like, Australians and stuff. How has everyone been to private school? And then I found out Alan Davies went to private school! I just would never have predicted it." Her husband was privately educated, too, "but you can't tell because he's Australian. If he was English, he might have a posh voice and I would absolutely hate him."
Even so, the comedy community Pascoe describes sounds largely welcoming and anti-elitist. But it's not without its issues. She and fellow stand-up Katherine Ryan have made various public comments about an unnamed alleged sexual predator in the industry (neither has said they have been victimised by this person, but they are aware of others' alleged experiences). "I've done a show with someone who you and I believe is a predator," Ryan said to Pascoe on Prime show Backstage with Katherine Ryan, to which Pascoe responded, "Where's he? Hiding...". The pair grappled with the question of what they could do about it, and in an interview with Louis Theroux last year, Ryan called it "a litigious minefield".
A group of female and male comedians have tried "setting up a union" three times, Pascoe tells me. "We kept thinking that's the problem – if we had a good enough union, there'd be a place where you could go and say 'There's this person getting women drunk at festivals and taking advantage of them.'" Libel law, though, has made it impossible – it's hard to accuse or name someone without clear proof. "You can't just tweet about it," she points out.
Plus "fame really complicates it", Pascoe suggests. "Are you going to be believed? Are people going to take that person's side? Are you going to be accused of trying to make yourself famous? If you do the same job as someone, and they're successful and you're not – which is what's happened with this particular predator – and you have this horrible thing happen to you at the beginning of your career, and you want to continue in that career," she explains, "your literal choice is: am I known for ever as the person that person assaulted? Do I want everyone in comedy to know this about me? All you can do is offer better support as an industry." There is more than one predator, she adds, including "a man that's assaulted men".
"I just want things to be done really, really properly," says Pascoe. "I just want us to believe people. Because then people will be less scared." She thinks that, if and when this particular predator is exposed, others will feel able to come forward if victims are supported.
More positively, the landscape for female comedians has changed significantly since she started in stand-up in 2007. When you visualise a comedian now, she suggests, you no longer think of "a man from the Midlands with a bit of a paunch, definitely white, probably coming on to moan about his wife and his wife's mum". Some of Pascoe's recent material has been about doing IVF; both her current pregnancy and her first-born, Theodore, were conceived in this way. "I really like talking about it," she tells me, although "one thing that's slightly sad is some people would message me and say 'I can't come to your show because we've just had a failed round,' or 'I'm just about to start IVF and I don't know what you're going to say.'"
For this reason, she's careful with her material, always aware that someone in her audience might be grieving a miscarriage or a failed IVF. "I had a routine about the trans-vaginal scan. And now I'm moaning about having a toddler," she says, starting to chuckle. "I was on the cusp about that, because you're supposed to be very, very grateful if IVF works. And then I suddenly thought, yeah and that's really hard for people who've had IVF and then have kids who don't sleep! They have no one to complain to when you're supposed to all the time be like, 'Oh my God, my miracle!'"
She was, she admits, "spiky in my thirties" about not having children, believing at the time that she couldn't. "I got quite defensive because I didn't want an audience feeling sorry for me. I wanted to talk about being childless. But actually, it wasn't a particularly positive choice. I just wanted to say it first, and say that I was fine." She adds that she felt "so visible in my late thirties – I had to describe myself as a childless woman all of a sudden, rather than just a woman".
The diligence with which Pascoe considers her audience's experiences when talking about parenthood and fertility makes sense, because she sees that sort of sensitivity as a vital tool in contemporary comedy. "Because of growing empathy, if someone made a joke that was homophobic or ageist or fat-ist, people don't just go, 'Ha ha ha ha – that's not me.' They go: 'That's my cousin, or my sister, or my friend, or my son.' And that's why they don't laugh – it feels like... 'No, that's bullying!'" And she doesn't believe our febrile public discourse has made audiences nervous about what they can laugh at. She loves how "un-bourgeois" comedy is.
"I think people respond exactly how they want to. They'll shout out 'You're being a c***!' Or people get told off – like people who used to do rape jokes, 15 or 20 years ago, now won't do that, because women will stand up and say to them 'I've been assaulted, would you say that about me?'"
Neither does Pascoe feel that we're living in an unfunny time, where everyone takes everything a bit too seriously. There's amusement for her even in topics I thought might raise an eye-roll. For example, is cancel culture funny? "Cancel culture is really funny, because no one has actually been cancelled. Everyone who has been cancelled is very successful," she says. There was plenty of mileage in Boris and Trump, she adds, because "people sitting in the audience don't really believe the person in No 10 or the White House can actually affect our rents, our gas bill, or our child's education. So we've lost faith in politics, and now there's just stupid men who say silly things."
In fact, Pascoe is very happy to be a comedian right now. "Now people are going 'Do you really mean that? Because what you're saying is very harsh.' And I'd much rather live in a time of that than when it was no-holds-barred, 'You're allowed to say whatever you want because you're a comedian,'" she tells me.
Clearly – as you'd expect by now – she's thought about this. "I like the fact that people are going, 'Are you punching up or down? Is the world made worse by what you're saying?'"
'Weirdo' is out now, published by Faber. Sara Pascoe will be at Henley Literary Festival on 20 September, with tickets available on the website: http://www.henleyliteraryfestival.co.uk/events/sara-pascoe/
Join our commenting forum
Join thought-provoking conversations, follow other Independent readers and see their replies