Secrets of comedy couples: What's it like when both you and your partner are stand-ups?
What does it mean for a relationship when both partners are stand-up comedians who mine each other's foibles for material? Four couples tell Alice Jones just how far they will go to get a laugh
Alice Jones
Friday 31 July 2015 17:35 Comments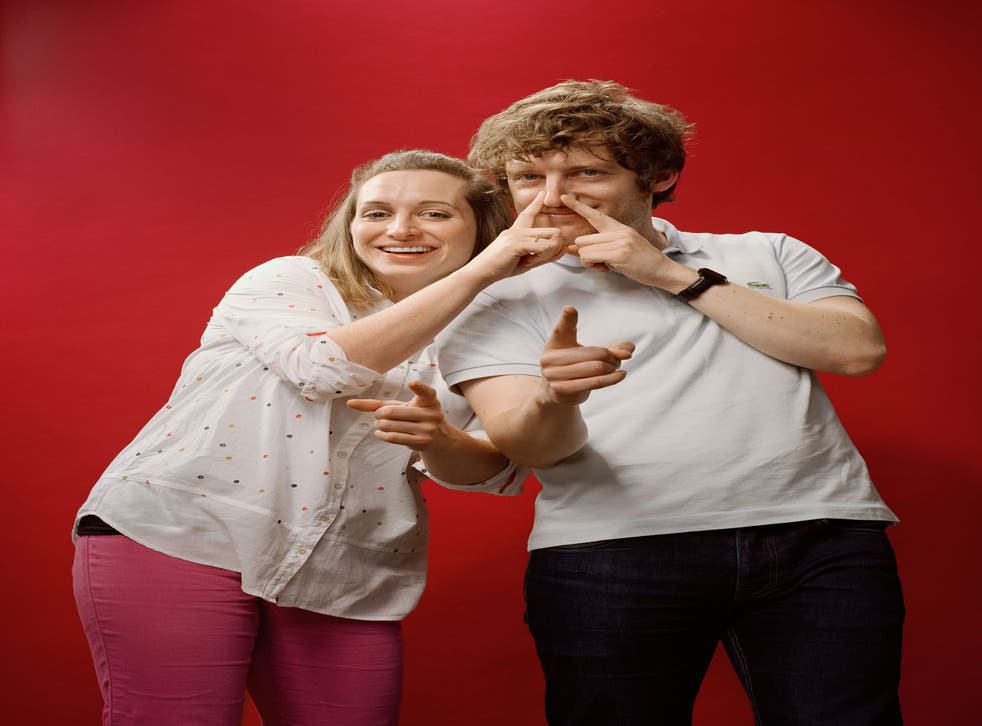 Take my wife… Please. That was the classic marital gag in the bad old days, but times have changed. Her Indoors has become Her On-stage – with a boom in successful female stand-ups meaning there are more comedy couples on the circuit than ever before.
There have been comic items in the past of course – Gracie Allen and George Burns, Jennifer Saunders and Adrian Edmondson, Dawn French and Lenny Henry, to name but three – but his 'n' her stand-up, in which one or both performers share the nitty-gritty of their relationship for laughs, is quite a new and, for those who enjoy a good gossip, thrilling phenomenon.
Not all comedy couples talk about their other half: Stewart Lee rarely mentions Bridget Christie, and she refers to him as her "fictional on-stage husband." Sarah Millican is an over-sharer, whereas her husband Gary Delaney sticks firmly to impersonal one-liners. Jon Richardson revealed his engagement to rising star Lucy Beaumont at the end of his recent Channel 4 show Jon Richardson Grows Up, but Beaumont prefers anecdotes about her native Hull.
At the other end of the scale are Nat Luurtsema and Tom Craine, both members of the sketch group Jigsaw, who at last year's Edinburgh Fringe each did shows about their break-up. At this year's Fringe, Alfie Brown and Jessie Cave, and Bobby Mair and Harriet Kemsley are two couples preparing to spill the beans on their love lives.
It's fun to watch, certainly, but how does it work when you both have access to a microphone – when you're both the funny one in a relationship? Do stand-ups scrap over who gets to keep the best domestic anecdotes, or cry over seeing their dirty linen washed in public for a laugh? What do they say to their partner after a bad gig – and what happens when one is more successful than the other?
Richard Herring and Catie Wilkins
"One of the things that made me think I might have found the right woman was that Catie didn't mind me having a Hitler moustache for a year," says Richard Herring of his 2009 show in which he attempted to "reclaim" the toothbrush moustache for comedy purposes.
"I did mind it, I just didn't go on about it," says Wilkins, who was testing boundaries of her own that year, in her debut solo show. She had split up with her long-term boyfriend a year before and had never dared to do stand-up about him. "He came to pretty much every gig I did, and I felt like it would be disrespectful in some way. So when I finally got out of that relationship, I felt like everything was up for grabs. Rich and I weren't in a long-established relationship and I didn't know if it was going to last. I'd seen Rich perform and he was very honest about all kinds of sexual things in his act, so I felt like he would understand. And that I didn't owe him anything." And now? "Now it's different. I would think very carefully about anything I'd say about my relationship.
"We're similar in that we both quite like doing rude, crude stuff, but we're not very similar performers," says Herring. "We love each other so we're conscious of trying not to upset each other."
Do they watch each other's shows? "I was very conscious that we didn't end up in each other's pockets," says Herring. "I didn't want us to get to the point where we always had to go to each other's gigs. Sometimes with relationships where you work in the same job, it becomes all about the job. It's nice to keep our home life separate, not to make our whole lives about comedy."
The secrets of comedy couples

Show all 7
Herring, who is 48, started out in the double act Lee and Herring in the early 1990s. Since 2004 he has created a new stand-up show every year for the Edinburgh Fringe. Wilkins, who is 34, started stand-up in 2008 and has taken three shows to the Fringe. She also writes children's books, under the name Catherine Wilkins. The couple met at a gig in Southampton in 2006 and began dating in 2008. They married in 2012 and live in west London with their five-month old daughter, Phoebe.
With Wilkins a relatively new act compared to Herring, she says she remembered "telling a friend, another comic, that Rich and I were going out and she said, 'Are you worried everyone's going to think he's writing all your jokes?' I was very paranoid that people were going to think he was helping me."
In fact, they help each other, now and again. "You borrowed my joke for the Critics' Circle Film Awards, that time," Wilkins reminds Herring. "Yes, we can use each other's material," he confirms. "I think that was in the marriage vows."
Richard Herring will perform all 11 of his Edinburgh shows, plus a new show, 'Happy Now?' over six weekends from 7 August at the Leicester Square Theatre. Catherine Williams's latest children's book, 'My Great Success and Other Failures', is published by Nosy Crow in August, and she appears at the Edinburgh Book Festival on 19 August
Elis James and Isy Suttie
"I talked a lot about moving in with Isy in my 2012 stand-up show," says Elis James. "Nothing malicious but I'd never lived with a girl and it changed everything. Everyone's been single, everyone's had those nights on nightclub dance floors where you're being ignored – there's real humour in that. You're happier in a relationship, but you have to engineer stuff for comic material." "Or look a bit more deeply at stuff that happens every day," agrees Suttie.
The couple met at a comedy gig in Barnstaple in 2009 and started dating in 2010. They live in Crystal Palace, south London with their nine-month-old daughter, Beti. Suttie, who is 36, has just finished writing a "semi-autobiographical" book about her twenties, The Actual One, which will be published next year. She is now working on the follow-up and she wonders "if it will be about Elis and the baby… I've got to find enough so that it's not boring. There's no friction when you're content. You need light and shade for comedy. It's much better to write about when you're unhappy."
"I think the minutiae of a relationship can be fascinating," says James, who is 34. "Some of the best bits of observational comedy ever have been about relationships, so there's nothing inherently un-comic about being in a relationship – you just have to approach it in a different way."
James's first language is Welsh, and one of Suttie's best-known routines is a love song to her boyfriend in a pidgin beginners' version of the language. "We speak a sort of half-and-half language at home now – I don't think Isy has said the English words for 'milk', 'bread' or 'tired' for ages," James says proudly.
Beti is already proving rich source of jokes. "The baby actually is the first thing that has happened to us that we'd both like to talk about on stage," James says. "I've got some material about her grabbing my private parts in the bath." Suttie was keen to use the same story in her stand-up. "But he said no," she chips in. "To be honest, he went through the pain so he should get the material."
They are otherwise not competitive. "I think if we were both actors, that would be hard," says Suttie. "You're just waiting for the phone to ring and you can't generate your own work. We're always working on something." "I'm so profoundly uncompetitive, I think I have a genetic problem," adds James. "It absolutely works if you think that you're being fair to the other one and they're being fair to you. We're lucky. Our jobs are very flexible. A lot of the dads I know don't see their kids very often. I see Beti all the time."
Elis James recently starred in 'Crims' on BBC3 and has just finished shooting 'Josh', with Josh Widdicombe and Jack Dee, which will be on BBC3 later this year. Isy Suttie is best known for playing Dobby in 'Peep Show'. She hosts 'Sketchorama' on Radio 4 from 5 August
Sara Pascoe and John Robins
"The interesting thing about going out with a stand-up is you find out things about their past from their material," says Sarah Pascoe. "But that material is fictionalised. So on our fourth date, I went to a gig and suddenly had intimate knowledge of a certain sexual experience of John's, or so I thought… I didn't know how to look at him."
"I liked knowing that Sara would hate the story but also knowing that she couldn't level a single criticism at it," says Robins. Sharing embarrassing stories – embellished or not – is par for the course in a comedy relationship. And it works both ways. "Sara has a routine about how she always pays for everything," Robins says. "My initial reaction was: 'No you don't, I bought this, I pay for that.' But with my comedian's head on, it's funnier if she pays for everything. Otherwise the joke doesn't work."
Pascoe and Robins, 34 and 33 respectively, met in 2012 at the Edinburgh Fringe, started dating in 2013, and, in their stand-up shows last year, talked openly about their relationship– she about his low sex drive, he about her menstrual mood-swings. "There are funny things when you're getting to know someone at the start of a relationship," says Pascoe. "Then it becomes more normal and it's not a stand-up topic any more. I mention you twice in my new show. You're very boring to me now." "I talk about you loads in my new show!" says Robins, outraged. "Well I'm still the funniest thing in your life," she responds.
Robins is taking his seventh solo show up to the Fringe. Speakeasy starts with the couple on opposite sides of the world – Pascoe at the Melbourne Comedy Festival, Robins at home in south London – and Pascoe finding herself accidentally logged into her boyfriend's Google search history. "It was the worst feeling I've had in two years – that sense of shame…" says Robins. From there, the show explores how much Robins missed Pascoe and their everyday "domestic adventures". "Sara really, really makes me laugh at home. We make each other laugh a lot of times a day," says Robins.
"It's great doing observational material about being in a relationship that makes couples turn to each other and put their arms around each other, as opposed to, 'Oh yeah, I hate my wife too'," says Robins. "You see comics backstage and they're showing you pictures of their kids and holidays and they're really happy. Then they go on and do material about how they never have sex anymore because they've been married for 10 years. Why not just say you love your wife? Isn't that more interesting?"
"It is changing," says Pascoe. "For a long time people expected comics to come on and say their mother-in-law was fat, and their wife was boring. There are more female comics now and more female audience members. Women didn't used to want to come to gigs because even if it wasn't conscious, they felt unwelcome, attacked by the material."
Whatever is said on stage, the couple are nothing but supportive off it. "At the very beginning when I knew I really fancied John and he was my new boyfriend, I hated having a bad gig in front of him. Now it's so great. It's not just that I've got a friend backstage, I've got someone who loves me," Pascoe says. "You stopped me drinking before gigs too. I was so nervous, I couldn't deal with it, and John said, 'You're supposed to feel nervous. Use it.' So you've saved my liver."
"The amazing thing was when Sara got nominated for the [Edinburgh Comedy] award last year, I didn't feel any professional or personal envy," beams Robins. "We were in a café when Sara got the phone call and I've still got the receipt for our drinks in my memory box."
Sara Pascoe's first book, 'Animal: How a Woman is Made', will be published by Faber next year; John Robins' 'Speakeasy' is at the Edinburgh Fringe from 8 to 30 August
Justin Edwards and Lucy Porter
"I'm absolutely fine with talking about my relationship on stage," says Lucy Porter. "But I don't know how Justin feels about it because I never let him come to see me. He doesn't know what I'm saying about him behind his back." They have two young children but Porter, 42, doesn't talk about them. "I have a certain respect for their privacy that I don't extend to my husband…"
"What do you say?" asks Edwards.
"Well I accuse you of being posh, which I know you're not desperately keen on. And I make fun of your height a lot [Porter is 4ft 11in to Edwards' 6ft 5in], and of you not remembering that I'm left-handed or that I like coconut."
"Are you? Do you?" says Edwards, who is 43. "I do it to wind you up."
"Little arguments are very useful for sparking ideas for stand-up," continues Porter. "Most of the material that works for me is about rows we've had or ways that he's annoyed me. I don't think it's washing our dirty laundry in public. It's cathartic for me and it's nice for audience members to know that even a marriage as perfect and loving and wonderful as ours is occasionally riven by strife."
In the background, Edwards makes sick noises. His marriage "material" is limited to the troubling backstory of his character Jeremy Lion, an alcoholic children's entertainer, who married but was divorced in a matter of weeks. "He's not based on me. I don't have the same confidence to talk about myself on stage that Lucy does. But I don't have a problem with what she does."
"I really wanted to marry Jeremy Lion," says Porter wistfully. "But I ended up getting Justin into the bargain."
It wasn't always like this. Porter's early stand-up shows focussed on the single life. "I'd been single for so long and I felt – in hindsight, completely erroneously – that it was important to my stage persona. That being single was better as a comedian than being in a relationship. It got to the point where I was going to get married and I thought, I've got to own up to this now."
Porter and Edwards have appeared together as husband and wife once, on the Radio 4 panel show Act Your Age. "It was all right," says Edwards.
"We're not that interesting," Porter says. "You need conflict to make a married couple interesting. I used to work for Richard and Judy and they're brilliant because they are feisty with each other. Justin and I are deeply dull people and live a very dull suburban life." (They live in Pinner).
"Children take up so much time", says Edwards. "You can have a long, difficult and exhausting day of filming, or Lucy will come back from a gig, and it's all quickly forgotten because you have to deal with the lunacy of two toddlers wanting to play board games or throw water at you."
So there's no time for comparing notes or overanalysing a performance? "It's really nice having someone who understands what you do, but sometimes I feel like I could get away with more if I had a partner who wasn't in the business," says Porter. "I never feel like I can moan about work because Justin knows I enjoy it, and vice versa." "Exactly," says Edwards. "If you're moaning about getting up early or saying, 'Oh I've had a miserable day filming in my pants in a field', it's not digging roads. It is good fun. We like going to work."
Justin Edwards stars in the fourth series of 'In and Out of the Kitchen' with Miles Jupp, which begins on 5 August on Radio 4. Lucy Porter is a regular on TV panel shows, and is currently making her 2014 play about early feminists, 'The Fair Intellectual Club', into a Radio 4 series and book
Register for free to continue reading
Registration is a free and easy way to support our truly independent journalism
By registering, you will also enjoy limited access to Premium articles, exclusive newsletters, commenting, and virtual events with our leading journalists
Already have an account? sign in
Join our new commenting forum
Join thought-provoking conversations, follow other Independent readers and see their replies