The Saturday Interview
Steve Martin and Martin Short: 'We're past hosting the Oscars – you're just putting yourself out there to get drummed'
The veteran comedy stars have formed a stand-up double act that is coming to the UK. They talk to Adam White about friendship, parenthood, not being cynical and why hosting awards shows has changed in the age of social media... all while relentlessly making fun of one another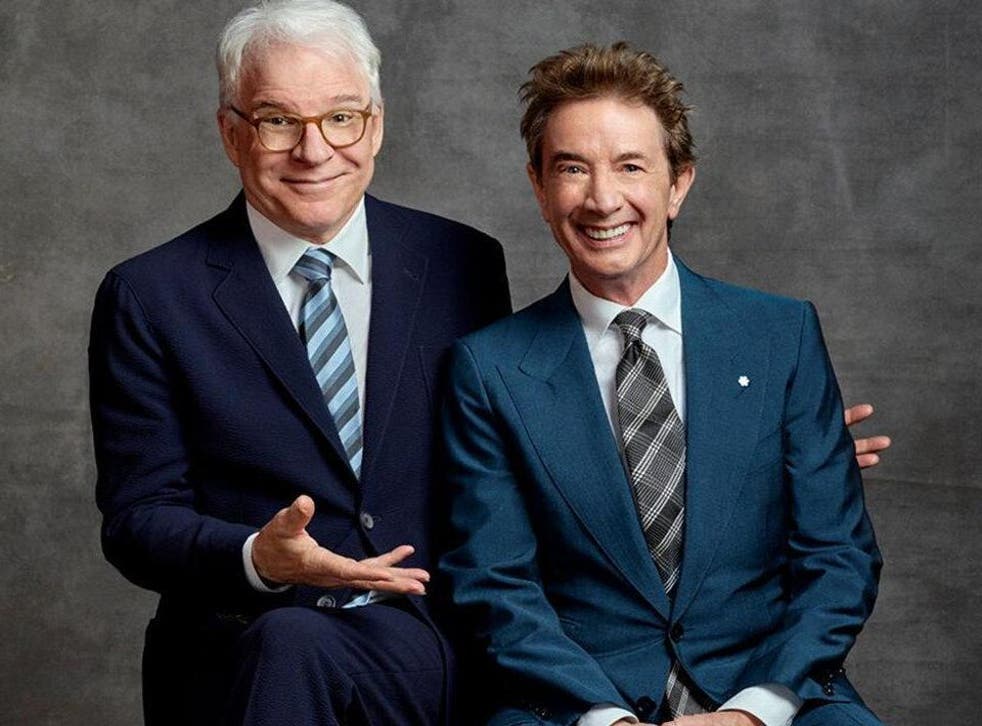 Steve Martin and Martin Short are aware that everyone adores them, but would never dare let it go to their heads. For the most part. "The worst thing a person can think about themselves is that they're beloved," Martin insists. "Not me!" adds Short. "Yeah, but you're not beloved." "Oh, I see."
Martin and Short's friendship, full of merciless mocking and silly one-upmanship, has endured for more than 30 years. It was forged on the set of Three Amigos (1986), the zippy western in which they played, along with Chevy Chase, Hollywood stars mistaken for bona fide Mexican heroes. Their on-screen partnership was further honed in Father of the Bride (1991) and its 1995 sequel, where Short stole scenes as a flamboyant events coordinator named Franck. Today they're regulars on the road, with their acclaimed live comedy show about to hit the UK.
When together, they inhabit very different roles. Martin, 74, has the voice of a cult leader or an incredibly successful car salesman – smooth, persuasive and wonderfully mischievous. Short, 69, is the more serious of the two, and the one better inclined to answer questions, but he still often breaks into deadpan playfulness. "You may talk now, Marty, go ahead," Martin says at one point. "No no, I just want to hear more about you talking about yourself," Short replies. "It's fantastic."
The pair's chemistry, Short says, was "pretty fast from the beginning". "I actually learned from Marty that it's okay to have gentle kidding," Martin adds. "We'd kid each other back and forth, and I kind of enjoyed it. So that's how it began. It began with Marty's hate towards every human."
They have also always shared a true joy at making people laugh, both men avoiding more cynical approaches to comedy. "Someone like Larry David, evidently in the early days of his career, he would do stand-up and if the audience didn't like him, he'd call them idiots and walk off," Short recalls. "At no point did he feel, 'I'm less of a comedian.' He thought, 'They're morons.' So I think in Steve and I's case, we're more oriented towards entertaining the audience so that they go away saying to themselves, 'That was the greatest show I've ever seen.'"
47 funniest movie taglines

Show all 47
It's why their new tour, The Funniest Show in Town at the Moment, feels like such a soothing two hours. Part stand-up comedy and part variety show, it is silly and broad and full of wonderfully self-deprecating put-downs, along with musical support from Martin's bluegrass band Steep Canyon Rangers. The idea for the show struck the pair shortly after they interviewed one another at Chicago's Just for Laughs Comedy Festival in 2011. "We did it again a couple of times after that," Short says, "and that slowly evolved into a bigger and more varied show."
For Martin, who previously stopped performing stand-up comedy in 1981 to focus on his film career, it has been a revelation. "The stage can be stressful [alone]," he says. "But here, with Marty, we split the time 50/50, we're out there together, we're out there alone, and it's relatively breezy. I look at it as fun. Maybe for the first time in my life, as a matter of fact. I'm not kidding."
He's not worried that his 35-year absence from stand-up has left him rusty, either, or that playing to audiences of fans means he won't know if something is truly working or not. "We can discern between a courtesy laugh and an actual laugh," Martin explains. "I should say that Marty is very used to courtesy laughs, so he can really spot them."
Not joining them is Chase, the third Amigo, whose quick exit from their grand comic love affair feels noticeable. They're still on good terms, though... possibly. "We've had conversations," Martin says, somewhat ambiguously. "We've had a dinner. I live in California and he lives in Bedford, New York. So we're not exactly neighbours."
It doesn't automatically mean they've fallen out, however. Unlike Chase, both Martin and Short have often played in similar comedic sandboxes. Both have always had a penchant for the roguish and the surreal in their careers – Martin most memorably playing a young white man unaware that he's any different to his black adopted family in The Jerk (1979), and Short, at the age of 40, playing a maniacal 10-year-old boy in the cult comedy Clifford (1994). The latter is Martin's favourite of Short's roles, while Short loves Martin in Roxanne, his 1987 spin on Cyrano de Bergerac. "It encompasses a lot of who Steve is," he explains. "As far as performing comedy and writing. It's kind of a triumph." "Aww, thank you, Marty," Martin replies, apparently genuinely touched after so much gentle ribbing.
For Martin, the tour also marks a return to the spotlight after years of declining appearances onscreen. Despite being one of the world's best-loved comic actors, Martin has been an elusive presence of late – he's lent his voice to dogs and animated aliens, but his most significant on-camera work in recent years was in Ang Lee's little-seen Billy Lynn's Long Halftime Walk (2016). And he was only in that because it shot for two weeks and his wife – writer Anne Stringfield – and seven-year-old daughter could come with him to the set.
"I'm too entwined with home, and a movie generally takes three months out of town," he says. "I feel like I've done enough movies. Movies are costly, emotionally, so I'm just very happy doing what I'm doing now."
Becoming a father for the first time has also been a factor. To learn that Martin only had a child in his sixties is somewhat jarring, so associated as he is with on-screen depictions of fatherhood – in Father of the Bride, of course, but also Cheaper by the Dozen (2003) and Parenthood (1989). Which is to say nothing of his general ubiquity in a raft of family movies in his pre-fatherhood years, including The Pink Panther (2006) and Looney Tunes: Back in Action (2003). It's another connection he shares with Short, who is likewise baked into the fabric of Gen-Y kids' movies courtesy of Jungle 2 Jungle (1997), A Simple Wish (1997) and The Santa Clause 3 (2006). Despite that, though, they've rarely shown their children their own movies. (Short has two sons and a daughter, all now in their thirties, with the late actor Nancy Dolman, who died in 2010).
Short recalls: "My son Oliver came home when he was about 10 and said, 'Hey Dad, did you know you made a western?' Because he'd seen Three Amigos at a friend's house. But with kids, you tend not to introduce your own work to them. Because then they want to watch it 800 times and every time you come home, you see that movie that you don't need to see again." "My experience is the opposite," Martin adds. "Show them once and they never want to see it again."
Spend even a short period of time with Martin and it becomes clear that he's not one for revisiting his past glories, nor analysing jokes that, in hindsight, may not have worked. Eddie Murphy, his co-star in the glorious 1999 comedy Bowfinger, has expressed regret in recent months about some of his old stand-up material – confessing that it often makes him "cringe". Martin, on the other hand, is uninterested in such an approach.
"I'm not compelled to look back at all," he insists. "I would never do that material again, I would never resurrect it. I am so distanced from it. Sometimes I get it, and sometimes I don't. I just really don't spend the time in that previous world."
Short feels differently about his own work. "A lot of the stuff, in my previous world, I'm still really proud of," he says. "I don't cringe so much, but I also don't go out of my way to watch anything – unless you accidentally turn on the TV. You're gonna be way too critical. It's easier to just let other people tell you what they think."
Since speaking to The Independent, Martin and Short have been confirmed as the stars of a new murder-mystery comedy series for the US streaming service Hulu. What they won't be doing any time soon, though, is hosting the Oscars together. Martin has hosted the annual ceremony three times since 2001, most recently alongside Alec Baldwin in 2010. But he wouldn't go back there again, he says, not even if he and Short were asked to emcee as a duo.
"I think we're kind of past it now," he says. "They need a different type of person to host. Or no host. Didn't they go with no host last year?" He suggests that the reason no one seems to want the job nowadays is because of the internet. "Yeah, it's Twitter," Short adds. "It's the internet in general," Martin clarifies. "You're just putting yourself out there to get drummed."
Live comedy tours, Martin says, are different. "By the time somebody has bought a ticket, they're not there to hate it," he explains. "They're there to like it. It's not as dangerous a forum as being on a television show. Live? It kind of dies the minute it's over."
Steve Martin and Martin Short: The Funniest Show in Town at the Moment UK tour starts in Glasgow on 9 March
Register for free to continue reading
Registration is a free and easy way to support our truly independent journalism
By registering, you will also enjoy limited access to Premium articles, exclusive newsletters, commenting, and virtual events with our leading journalists
Already have an account? sign in
Register for free to continue reading
Registration is a free and easy way to support our truly independent journalism
By registering, you will also enjoy limited access to Premium articles, exclusive newsletters, commenting, and virtual events with our leading journalists
Already have an account? sign in
Join our new commenting forum
Join thought-provoking conversations, follow other Independent readers and see their replies