Still shamelessly entertaining: David Threlfall as Tommy Cooper
Thirty years after his death on stage, the shambolic, superb comedian Tommy Cooper is being brought back to life on screen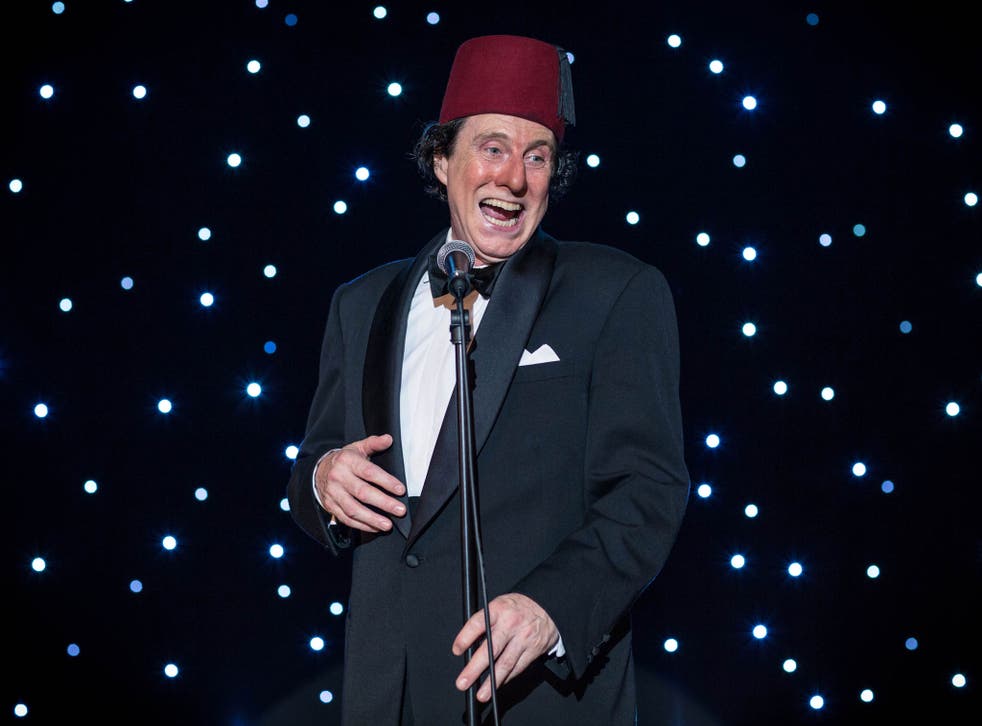 It's the fez I see first. That's when I know I've arrived on the set of ITV's eagerly anticipated new feature-length biopic, Tommy Cooper: Not Like That, Like This. Almost 30 years to the day since his shocking death on live TV, Cooper can still be identified by that one item of headgear.
The fez today is sitting on the head of David Threlfall. Also sporting gigantic size-13 black shoes with pointed toes like a clown's, an outsized suit and a large prosthetic nose that takes an hour and a half to put on each morning, the actor, 60, is sitting on the steps outside the Intimate Theatre in Palmers Green, north London. A few minutes later, inside the auditorium, I join the band of supporting artists in the audience as Threlfall plunges into the scene he had been psyching up for outside.
At the side of the stage, Tommy downs a large whisky and starts muttering nervously to his assistant, Mary (played by Helen McCrory). In that very familiar voice, once the most impersonated in the UK, he is feverishly telling her: "I can hear them out there. They're not going to laugh. Where's the exploding duck? Do I look sweaty? I don't feel funny."
"You don't know how not to be funny," Mary rejoins.
Three decades after his untimely demise at the age of 63, Cooper remains a widely loved figure precisely because he couldn't help but make us laugh. He simply had to walk on stage and the audience would be in hysterics.
When he strides on stage at the Intimate Theatre, Threlfall has the same effect. He snaps into Cooper's hopeless magic routines and self-deprecating, stream-of-consciousness routine – "I can always tell whether you're going to be a good audience. Good night... Shall we join hands and contact the living?... I don't care what you say – I'm going to stay in show business" – and the entire room erupts into helpless laughter. Before our eyes, actor merges into character. Just like that.
One reason why the nervy, vulnerable Cooper was seemingly universally loved was because he was the walking embodiment of failure, and therefore someone to whom we could all relate. Unlike Americans, we like our comedians to be identifiably flawed.
"Audiences already loved Tommy, but when his magic tricks didn't work, they loved him all the more," says Threlfall. "Of course, what Tommy did was much harder than it looked. It's like Les Dawson's piano-playing – you need to know how to do it well in order to do it badly.
"Audiences also lapped up Tommy's banter along the way: 'I've got the best wife in England – the other one's in Africa'. The journey in Tommy's company was always charming. People adored his childlike enjoyment of the world. He was an eight-year-old boy trapped inside a 40-year-old's body."
The drama's executive producer, Andy Harries, adds that: "Unlike, say, Bernard Manning, Tommy hasn't dated. A lot of comedians' material from the 1960s and 1970s feels very old-fashioned now. But the silly, surreal nature of Tommy's material gives it a timeless quality. That's why so many contemporary comedians still love him."
In addition, the comedian continues to be popular because he generated tremendous affection in his audiences. John Fisher, a TV producer and accomplished magician, was a close friend of Cooper's. He wrote the comedian's biography, Always Leave Them Laughing, and is a consultant on the drama.
"Warmth was absolutely one of his greatest qualities," he says. "There was something intrinsically giving about the man. His pockets were always bulging with tricks – that became his way of communicating with people. If he were filming here today, he wouldn't be wasting his breaks resting – he'd be out here entertaining the crew. He constantly wanted to entertain people."
The drama, which uses many of Cooper's original tricks, discovered in the attic of his former West London home where the domestic scenes were shot, is not merely a hagiography about the comedian who earned the title The Funniest Man in Britain. Off stage, he traded in calamity as much as comedy. Scripted by Simon Nye, best known for writing Men Behaving Badly, the compelling film traces Cooper's complex private life.
The troubled, deeply insecure comedian, who was also a heavy drinker and smoker, was for the last 17 years of his life enmeshed in a draining love triangle involving Mary and his unwitting wife, Dove (Amanda Redman).
Despite his evident exhaustion and Dove's protestations that he should concentrate on his TV work, Tommy insisted on continuing to tour. He asserted that: "A miner goes down a mine, a stand-up comedian stands on a stage and looks the audience in the eye." Of course, Cooper was also particularly eager to keep touring, as on the road he could spend all the time he liked with Mary.
Redman, 56, hopes that the drama, which has the blessing of Cooper's daughter Vicky, will not upset his fans. "We've tried to be respectful and not dishonour Tommy. We see the stress the man was under and the fact that he did indeed love two people at the same time. It might be hard to grasp, but he did.
"Some viewers may be quite shocked by this and think, 'I'm seeing him in a new light', but that would be a shame. It doesn't detract from what he was to the public, one of our greatest comedians."
Down the years, Threlfall has played such memorable characters as Smike in the RSC's landmark adaptation of Nicholas Nickleby, and Frank Gallagher in C4's iconoclastic Shameless, which drew to a close last year after 11 seasons.
A shape-shifter, he also has the unusual distinction of having portrayed both Prince Charles (in 1993's Diana: Her True Story) and Prince Philip (in The Queen's Sister in 2005).
For all his challenging roles in the past, Threlfall thinks that playing Cooper has been one of the most rewarding, but also one of the most demanding jobs he's ever undertaken.
"Tommy was the funniest man in Britain – and clearly I am not. He also broke new ground. Previously, magic had been about guys in tails with white gloves and dodgy assistants. When he began doing magic that went wrong, it was both anarchic and revolutionary."
Above all, "Tommy could just enter a room and everyone would start laughing. On Eric Sykes's This Is Your Life, all the other guests convulsed with laughter before he'd even said anything. Whatever else was going on in his life didn't bother people. They loved him, anyway. Was he unique? Absolutely. Has there been anyone else like him since? No, there just hasn't."
'Tommy Cooper: Not Like That, Like This' is on Monday 21 April at 9pm on ITV
Join our new commenting forum
Join thought-provoking conversations, follow other Independent readers and see their replies