The Week in Comedy: Jerry Seinfeld's race rant is no laughing matter
Alice Jones
Friday 07 February 2014 00:00 Comments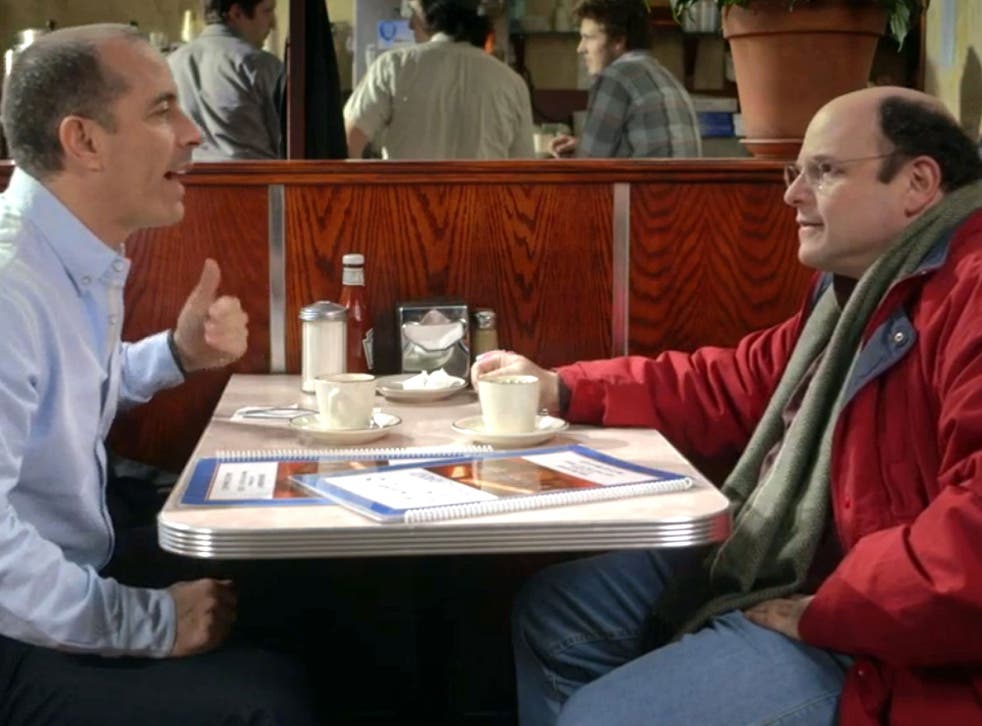 Jerry Seinfeld is the world's most successful comedian. Thanks to Seinfeld, a sitcom about nothing that ran for a decade and is regularly named the best television show of all time, he is now worth an estimated $800m.
The last time he came to the UK, he sold out the O2 in minutes as fans scrapped over £100 tickets to see him talking into a microphone. He has a private jet, a few dozen vintage Porsches and could very easily never crack a joke again and still rake in a £20m salary from re-runs of "The Soup Nazi" and "The Yada Yada". It is not all about the money. Venerated, infallible, mysterious, his stand-up frequently compared to the sublime, he is the closest thing comedians – a heathen bunch – have to God.
Last week, he caused the internet to melt when it seemed that a Seinfeld reunion was imminent. He and Jason Alexander, aka George Costanza, had been spotted filming at their old diner. When it turned out on Sunday that the reunion was merely a two-minute Superbowl spot, advertising a six-minute episode of Seinfeld's internet show Comedians in Cars Getting Coffee, it did not matter. A cool 112 million watched Jerry and George bickering over party plans, debating "over-cheering" in sport, even having a passive-aggressive chat with Newman ("Hallo, NEWman").
The thing is, even when Seinfeld makes a pretty lame advert, fans tend to deconstruct it as a comedy tablet from on high. When he agreed to an Ask Me Anything session on Reddit last month, his answers were pored over for days. As a result, comedian or not, Seinfeld is not a man to say anything lightly. Much is made of how painstakingly he hones each joke over a matter of months, how he challenges himself to keep his act free of smut and swearing – the refuges of the lazy laugh-hound.
So his outburst this week is especially surprising. Asked why the vast majority of his guests over three series of Comedians in Cars... have been white males, he ranted. "Oh, this really pisses me off… People think it's the census or something, it's got to represent the actual pie chart of America. Who cares? It's just funny. Funny is the world that I live in. You're funny, I'm interested. You're not funny, I'm not interested. I have no interest in gender or race or anything like that… To me, it's anti-comedy… PC nonsense."
This has caused the kind of storm one might expect when a first-world, white, multi-millionaire male says that he does not care about gender or race. I do not think that Seinfeld is saying, as some have taken it, that if you are not white and male, you cannot be funny. His regular support act is the black stand-up Mario Joyner. Rather, he is saying that funny is funny, a variation on the famous "No hugging. No learning" creed to which he and Larry David stuck rigidly, gloriously, over nine seasons of Seinfeld. He has built a career out of mining the petty preoccupations and solipsism of New Yorkers just like himself. Diversity is not his shtick.
Still, in dismissing the issue out of hand, Seinfeld sounds a bum note. The debate around the lack of diversity on TV comedies is red hot. To take just two recent examples, when Saturday Night Live's Kenan Thompson said in October that there were no black female comedians on the show due to a lack of "ready" talent, the show's producers immediately held auditions and hired the excellent black actress Sasheer Zamata.
When Lena Dunham was criticised for her all-white vision of New York in the first series of Girls, she opened series two with a scene between Hannah and her new black boyfriend, Sandy. Both shows were enriched. Proof, if proof were really needed, that diversity and humour need not be mutually exclusive. Seinfeld might live in a "world of funny" but there is a real world out there too that no 21st-century comedian worth his or her salt should ignore.
WHAT I WATCHED THIS WEEK
Tickled pink by the Purple one
Who would have thought that Prince had a sense of humour? A special episode of Zooey Deschanel's sitcom New Girl this week saw the megastar poke fun at his image with pancakes, a ping-pong match and, here comes the marketing bit, a funky new song. It was pretty funny, thanks to Prince's inherent oddness and willingness to send it up. Celebrity cameos can be cringe-y but when they work – in the case of Joe Biden on Parks and Recreation, David Bowie on Extras or even Tony Blair sparring with Catherine Tate's Lauren, they can be glorious. One can only hope that David Beckham's appearance on Only Fools and Horses next month lives up to the hype.
Watch Prince's New Girl episode in full here: http://pitchfork.com/news/53796-watch-princes-episode-of-new-girl/
What I Watched…
Rob Delaney
At King's Place, London. A rare UK date for the American king of Twitter. Slick, filthy and very, very funny.
The Bearpit Podcast
At The Invisible Dot, London. There is heaps of promise in this chaotic crew – including John Kearns, Lolly Adefope, Mat Ewins and Adam Hess - who use a fake podcast recording as the peg for a cultish mix of character comedy, improv and YouTube clips.
Inside No. 9
On BBC2. What a joy it is to have The League of Gentlemen back, and with a wardrobe full of the finest talents around - Anne Reid, Katherine Parkinson, Timothy West and Tim Key, to name but a few. http://www.bbc.co.uk/iplayer/episode/b03tvm9q/Inside_No_9_Sardines/
Register for free to continue reading
Registration is a free and easy way to support our truly independent journalism
By registering, you will also enjoy limited access to Premium articles, exclusive newsletters, commenting, and virtual events with our leading journalists
Already have an account? sign in
Join our new commenting forum
Join thought-provoking conversations, follow other Independent readers and see their replies