John Cleese plans 'alimony tour' to pay his ex-wife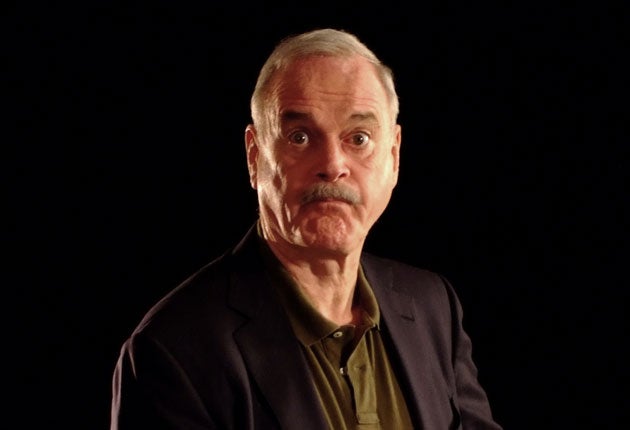 John Cleese is to embark on his first-ever UK tour next year at the age of 71. The comedian, who recently agreed a divorce settlement believed to be in the region of £12m, has dubbed it the "Alimony Tour".
Cleese, who rose to fame with Monty Python, promised the show would be "an evening of well-honed anecdotes, psychoanalytical titbits, details of recent surgical procedures, and unprovoked attacks on former colleagues, especially Michael Palin".
His marriage to his third wife, Alyce Faye Eichelberger, broke down in 2008 and the divorce was settled in December of that year. It is not the first time Cleese has turned to the stage to pay his alimony. He previously took his A Ludicrous Evening with John Cleese ... or How to Finance Your Divorce tour to Scandinavia. He said at the time that he was unhappy at being forced to go back to work.
Cleese said: "I get angry that I have to pack my trunk just to make money. That I, at my age, would have to plan my life anew to pay her all the money she is to get for seven years – well it irritates me. I'd rather have been drinking coffee, reading books and writing. I can't afford that now. But if I really have to earn money, this is as pleasant a way of doing it as I can think of.
"The thing about being in the final stages of my career, is that I can be pretty sure that anyone who's bought a ticket doesn't hate me. So, when I walk on stage, I get a nice reception, and the nerves disappear."
The comedian let slip the size of the payout to his ex-wife, saying: "What I find so unfair is that if we both died today, her children would get much more than mine. At least I will know in future if I go out with a lady they will not be after me for my money."
Cleese also complained about the ongoing payments to his former wife, an American psychotherapist, author and talk radio host, saying: "I mean people are surprised when I say the figures. When Alyce Faye and I split up she got $13m [£9m] and I got to keep $8m. But over the next seven years I have to pay her $1m a year. She needs it."
Tickets for his 2011 tour went on sale yesterday, £36.25 each – or 0.0004 per cent of Cleese's alimony settlement. The run begins in Cambridge on 3 May, and visits Birmingham, Bath, Liverpool, Oxford, Leeds, Edinburgh and Glasgow before finishing in Bristol.
Join our commenting forum
Join thought-provoking conversations, follow other Independent readers and see their replies